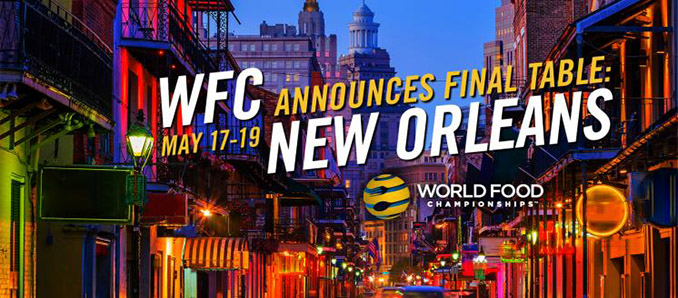 The world's largest cooking competition, the World Food Championships (WFC), announced today that it is looking for the next host city for its $100,000 Final Table event.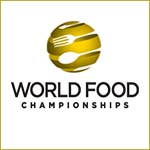 Fresh off its 7th Annual Main Event in November, the Food Sport world is now setting its sights on New Orleans, where WFC's Final Table event will occur in May 2019. Ten culinary champions will cook their way through three Cajun challenges to try and win the ultimate title in food, as well as a life-changing sum of money.
"Our Final Table is one of the most unique events in the culinary world," said Mike McCloud, president and CEO of WFC. "Each champion has already beat out hundreds of chefs and cooks in their own vertical specialty, and now they have to show that they can cook anything by mastering a local cuisine process."
WFC's main event, which just relocated to Dallas, Texas, annually hosts over 500 teams from around the world and tests their culinary skills in a multi-tiered, tournament-style cooking process. After five days of competition, ten new category champions emerge victoriously with a cash bounty of $10,000 each. From there, those champions prepare to reconvene in a Final Table challenge that features a new city, three local challenges and a $100,000 grand prize.
"This is a chance for a great destination to celebrate their culinary scene and integrate their local chefs, institutions and even food brands for an exciting (and delicious!) moment in Food Sport," McCloud stated.
The winning formula for a host city includes, but is not limited to, a professional cooking venue, tourism funding and specialized local talent — from chefs to culinary students — who can be integrated into the event's tournament process.
Those challenges include three rounds of elimination, in which the champs have to create a regional dish, a local favorite menu item, and a surprise celebrity chef challenge. Throughout the process, a panel of certified judges, food influencers, and/or sponsor representatives will score the dishes and crown the next World Food Champion based on a proprietary E.A.T.™ methodology. The entire process is filmed for a special nationwide cable TV show, while also streamed LIVE on social media at times for background profiles and culinary insights.
Parts of the event will be ticketed, making it possible for foodies to see the action up close. Ticket holders will get to attend a reception and then witness the first round of competition, where all ten of the champions are faced with the local cuisine challenge.
Any city with a great culinary pedigree, infrastructure and tourism department is eligible to host WFC's Final Table. For more information on how to submit proposals, contact WFC at info@worldfoodchampionships.com.