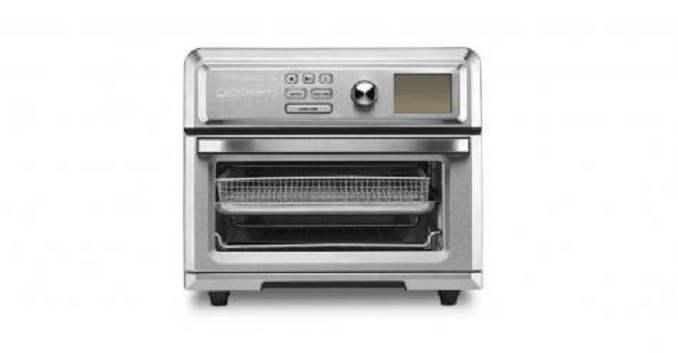 Cuisinart, a leading culinary appliance and cookware brand, announced today that it has name the award-winning New York-based agency Magrino as its new agency of record with an emphasis on public relations strategy and social media influencer campaigns in the U.S. market. Cuisinart has been producing high performance, industry-driven engineered appliances for every home for more than 40 years.
Cuisinart, which first introduced America to the brand with a food processor in 1973, has established a universally recognizable brand name with a portfolio of appliances, cookware, bakeware, cutlery, kitchen tools and gadgets for the professional chef and home cook. Praised for its innovation and best-in-class products, Cuisinart embraces an entrepreneurial spirit and finding solutions to make consumers time in the kitchen easier and more enjoyable.
"As Cuisinart grows and we continue to develop new products, our core mission remains to meet our customers' needs of everyday cooking and outfitting kitchens with innovative, functional, top-quality products that push the boundaries further," said Mary Rodgers, Director of Marketing Communications for Cuisinart. "We look forward to creatively share Cuisinart's rich history with the next generation of cooking enthusiasts."
Magrino will be providing Cuisinart with communications strategy, including new product launch campaigns, media and influencer relations, and industry leadership positioning, to support the brand's overall mission and educate consumers.
SFP-13 — 13 Cup Stainless Steel Food Processor (SRP: $179.95): Home chefs and serious foodies can double up on food prep with the Cuisinart Stainless Steel 13-Cup Food Processor. A 13-cup work bowl for big jobs and a 4.5-cup nesting work bowl for smaller jobs eliminates the need to clean a bowl between tasks — that saves time! And with two stainless steel blades and two discs it offers an almost unlimited variety of food prep options. Puree soup, chop herbs and nuts, slice fruits and vegetables, shred cheese and more. There's not much it can't do with food!
SS-20 – Coffee Center 10-Cup Thermal Coffee Maker and Single-Serve Brewer (SRP: $229.95): The Cuisinart® Coffee Center™ features a fully automatic thermal coffeemaker on one side and a single-serve brewer on the other. Sipping solo or serving a crowd, it's always easy to enjoy the gourmet taste you expect from Cuisinart. Cuisinart®Coffee Bar™ capsules are included for an exceptional single serve experience. One coffeemaker that does the job of two and frees up more space on your counter — that's Cuisinart at its best!
TOA-65 – Digital AirFryer Toaster Oven (SRP: $269.95): Cuisinart makes AirFrying easier than ever, with presets to perfectly fry favorites like wings, fries, chicken nuggets, snacks and veggies. Frying with air instead of oil is delicious and guilt-free, and this large capacity oven fries up to 3 lb. at once. It also offers all the great features of a full-size toaster oven. And that's not all! Unique to the Cuisinart® Digital AirFryer Toaster Oven is a range of low temperatures that lets users proof dough, dehydrate foods and more, taking multifunctionality to a whole new level. With the large digital display and intuitive programming options, selecting presets, temperature, time, and function have never been easier.
AFR-25 — Compact AirFryer (SRP: $99.95): Now anyone can enjoy crispy, flavorful fried foods without the guilt! Engineered to ensure golden brown results, this high-efficiency unit airfries 2.5 lb. of wings and cooks a wide variety of foods with minimal noise and maximum ease. Simple to use– just turn one knob to regulate the temperature, and the other to set the timer. Designed with a spacious, nonstick interior and stylish stainless steel, the Cuisinart® AirFryer is easy to clean and complements any kitchen décor.
TOA-60 — AirFryer Toaster Oven (SRP: $199.95): Introducing an easy way to eat smart, fry healthy — and so much more! The Cuisinart® AirFryer Toaster Oven is a premium full-size toaster oven with a built-in airfryer. It will not only bake a 4 lb. chicken or 12 in. pizza, broil salmon steaks, and toast 6 bagel halves at once, it can also airfry up to 3 lbs. of food using little or no oil. Powerful ultra-hot air "fries" favorites like wings, chicken tenders, and fish and chips to crisp, golden-brown doneness. And since a toaster oven stays on the countertop, this is a fryer that never has to be put away. Enjoy the crunchy texture and tastes you love — no deep fryer required. The AirFryer Toaster Oven, only from Cuisinart!
CSB-179 – Smart Stick Variable Speed Hand Blender (SRP: $59.95): Versatile and durable, this kitchen essential provides the high-performance today's home chefs demand. Equipped with a 300-watt DC motor that delivers maximum power with minimum noise, the Smart Stick® Variable Speed Hand Blender switches from low to high speed at the turn of a dial. The long stainless-steel shaft reaches deep to blend in bowls, pots and pitchers, while the mixing/measuring cup, chopper/grinder and chef's whisk make short work of a wide variety of food prep tasks. From puréeing soup to emulsifying mayonnaise to whipping meringues, this hand blender consistently delivers chef-caliber results.