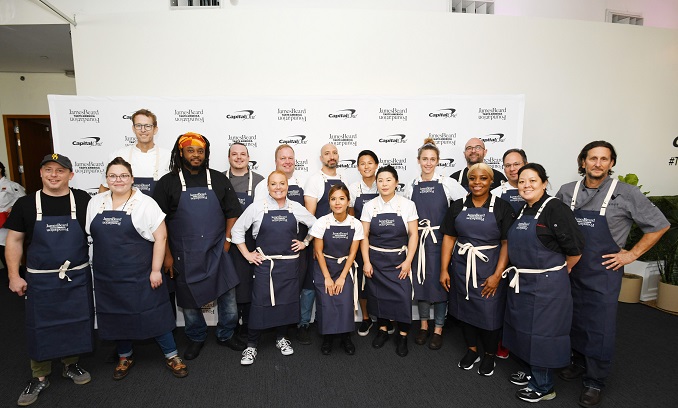 The James Beard Foundation kicked off its 2019-20 Taste America, presented by Capital One, with a first-of-its-kind summer tasting party at Tribeca 360 in New York. The event marked the Foundation's seventh national food tour, scheduled to visit 20 cities to celebrate the diverse flavors, cuisines, and roots of American cooking.
The 2019-20 Taste America celebrates the Foundation's "Good Food for Good" pillars — sustainability, women's leadership, inclusion and chef advocacy — and, Wednesday night in New York, each of these were boldly on display.
James Beard Foundation CEO Clare Reichenbach, alongside Capital One Vice President of U.S. Card Lauren Liss, welcomed guests with a celebratory toast with co-hosts Bellamy Young (Scandal) and U.S. Olympic figure skater Sasha Cohen.
Food lovers mingled over delicious bites and beverages as Good Food for Good came to life through an immersive sensory experience. Leading chefs from across the country, including Mei Lin of Nightshade (Los Angeles), CJ Jacobson of Aba (Chicago), Richard Landau of Vedge (Philadelphia), Caroline Glover of Annette (Colorado), Brad Kilgore of Kilgore Culinary (Miami), and Tiffani Faison of Orfano (Boston), partied with guests to a soundtrack provided by DJ Hesta Prynn.
Sustainability and preventing food waste were centerpieces of the evening. A "full-use kitchen" activation, featuring Esther Choi of Mokbar, Kwame Williams of Vital Dining, and the James Beard Foundation's Culinary Director Jameeale Arzeno, was a highlight. There, chefs created delicious waste-not dishes, and shared tips and techniques for pros and home cooks alike on how to waste less in their own kitchens. In addition, thanks to a partnership with the Food Recovery Network, more than 200 pounds of uneaten food from the event — including 38 pounds of grits, 14 pounds of zucchini and more than five pounds of carrots, squash and scallions — was rescued in accordance with food safety guidelines.
Other notable guests included James Beard Award-Winning Rising Star Chef of the Year Kwame Onwuachi, Top Chef alums Sara Bradley, Richard Blais, Tiffany Derry, Elizabeth Falkner and Nini Nguyen, as well as star chefs Marc Murphy and Tony Messina.