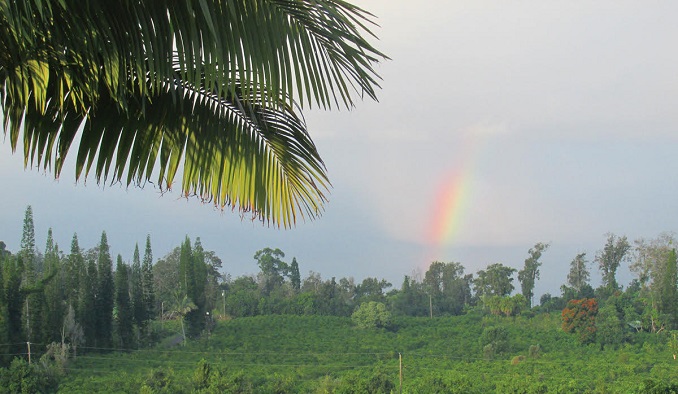 Everyone knows roasted coffee beans are brown, but what happens when you add Blu?
Buddha's Sanctuary in Holualoa on the Big Island are now infusing some of their roasts with UV-B light. Buddha's Sanctuary is the first — and only — coffee plantation in the world using this unique method to enhance flavor and aroma.
It appears to be working, as they earned the highest honors at the 2018 International Cupping Competition in Paris, including a gold medal for Imagine 100% Kona Coffee. Christine Coleman, owner of the 100-acre estate, knows how to navigate the competitive world of the 22-mile tropical Kona region better than most.
The granddaughter of wine legend Julio Gallo, Coleman purchased the estate in 2003. She's an expert in the agricultural business and knows the challenges of producing world-class beans. "The UV-B light creates a cleaner, softer taste," she says.
The beans are infused inside the Blu Room, a patented technology that shields users from the outside world and wraps them in an atmosphere of soft ultraviolet light so the mind is free to relax, free associate or hold a relaxed state of focus without distractions. (Many visitors who take tours of the sanctuary relax inside the Blu Room.)
In September, Buddha's Sanctuary will add a Blu Gro House, specifically designed for plants, that will be used to create disease-resistant coffee plants with an optimal growth rate.
Located 2400 feet above sea level, Buddha's Sanctuary features five estate coffee labels, each with a unique flavor and roast. Coleman and her partner, Master Grower Manny Ochoa, also produce teas, rum cakes and chocolate-covered beans.
Thousands of visitors have experienced the epic views and peaceful surroundings, while enjoying world-class coffee.