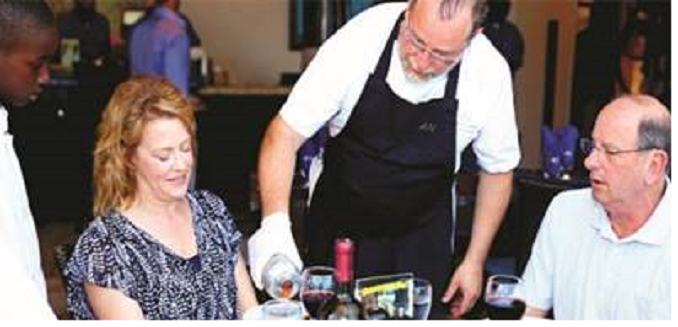 Michelin Star Chef Alyn Williams, known for his incredible culinary creations at Alyn Williams at The Westbury in London, will delight guests at the Grand Isle Resort & Spa in Great Exuma, Bahamas, with three days filled with cooking demonstrations, brunch and specialty dinners. Throughout the weekend, Chef Alyn will work with local Bahamians with an interest in the culinary arts to teach them his gastronomic techniques.
On Friday, August 23, guests enjoying live cooking demonstrations by the Palapa Pool to learn how Chef Alyn creates some of his signature dishes from 5 to 6 p.m.
Saturday, August 24 will have guests dining at 23 North Beach Club, Grand Isle Resort's newly opened ultra-luxe pool club and restaurant, with a special five-course menu and wine pairing created by Chef Alyn, for $99 per person. He will take patrons on a culinary journey with his signature dishes, such as crispy parmesan polenta; snow crab with cucumber, pickled mushrooms, apple, dashi jelly and oyster sauce mayo; local snapper with remoulade, crispy potato and lemon puree; and more.
In addition, Chef Williams will host a poolside Barbeque Brunch at Palapa on Sunday, August 25 from 11 a.m. to 2 p.m. where guests will have the opportunity to enjoy his delicious dishes, such as potato pancakes, barbeque lobster sub, barbeque leg of lamb, barbeque whole grouper and more. The brunch menu is available for $65 per person for adults and $25 per person for kids.
Chef Alyn Williams opened his eponymous restaurant, Alyn Williams at The Westbury, in November 2011 which has received rave reviews from critics around the United Kingdom. In 2012, he received the coveted 'National Chef of the Year' title and his first Michelin Star.
To stay up to date with Grand Isle Resort & Spa or for more information about the hotel, please visit www.grandisleresort.com. Follow Grand Isle Resort & Spa on Facebook, Twitter and Instagram.