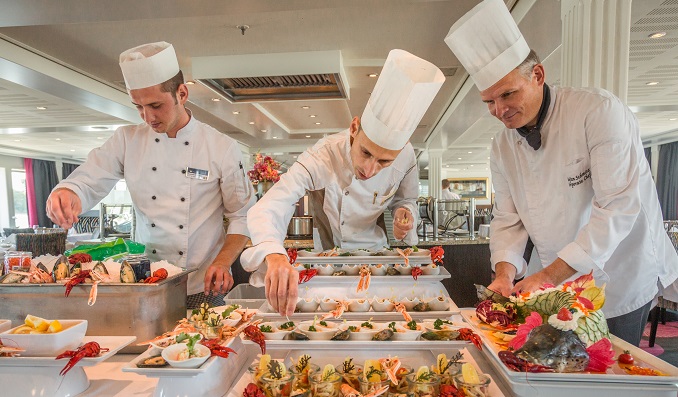 Award-winning luxury river cruise line AmaWaterways–known for their exceptional cuisine and robust Specialty Wine Cruise program–offers an inside look at their unique food & beverage practices with one of AmaWaterways' executive chefs, Daniel Tarase.
As one of the only river cruise lines inducted into La Confrérie de la Chaîne des Rôtisseurs–one of the world's most prestigious gastronomical societies–AmaWaterways views wine and cuisine as an integral part of exploring and appreciating new cultures and destinations, bringing guests a superior travel culinary experience. AmaWaterways leadership team and culinary director work closely with onboard executive chefs to source the freshest ingredients, accommodate dietary needs, and develop creative dishes that highlight seasonal delicacies and draw inspiration from the places AmaWaterways sails through.
Onboard culinary teams maintain strong relationships with local vendors, depending upon their expertise to identify the best meats, produce, and spices available each season. Chef Daniel Tarase shares, "A good example is the inclusion of more fresh asparagus in June along the Danube and of course the fresh apricots from Durnstein area will have a place of honor in our fruit buffets in July." They also rely on their own exploration to discover unique ingredients found nowhere else. Tarase personally likes to shop for his own ingredients, "I like to go into the small villages and look for things like locally made jam that are sold in the markets. In larger cities like Budapest where there are a few markets, my team knows where the good things are, and what stand in each market is best for a specific ingredient. I'll often browse for inspiration as well." Such an intimate knowledge of local purveyors allows the AmaWaterways team to craft dishes inspired by seasonal harvests and immerse guests in authentic regional flavors.
With only one freezer, no microwaves and no large storage space on board, AmaWaterways culinary teams source fresh ingredients regularly throughout each sailing, purchasing what they need and minimizing waste. Soups and sauces are made from scratch alongside fresh-baked breads and pastries. "We do not use frozen goods, so we usually have provisions delivered to the ship 2 or 3 times during a 7-night cruise," explains Tarase. Multiple deliveries also ensure chefs are able to accommodate any dietary restrictions or special requests. The culinary team develops an intimate understanding of guests' dietary needs and daily menus include gluten-free, vegan, vegetarian, and other special diet options so that every guest can enjoy their culinary journey. AmaWaterways also offers a wide variety of health-conscious yet delicious options across their onboard menus. Recent additions include vitamin-rich breakfast smoothies, detox water stations, and a variety of nutritious breads including whole grain rye. Guests also benefit from numerous ways to customize their healthy choices including breakfast omelets with cage-free eggs, lunch Pho soup stations with crate-free pork, and dinner options with fresh, locally sourced fish.
AmaWaterways' unique Chef's Table experience brings some of the behind-the-scenes magic to guests table offering an intimate, multi-course gastronomic showcase that lets guests observe the chef cooking in an exhibition kitchen. Private and secluded from the rest of the ship, dining at the Chef's Table requires no additional cost, only a reservation, and presents the ideal opportunity to learn about the cruise line's unique food & beverage practices while meeting fellow epicurean travelers. Sample creations include Heirloom Tomato Carpaccio, eggplant caviar; Lemon Pepper Salmon, turnip-cucumber Tatar, vegetable vinaigrette, chickpea mousseline; Carrot Ginger Soup, tabbouleh, crème fraiche, cumin ciabatta; Skin Grilled Pike Perch, citrus sauce, celery mash, beluga lentil ragout; and Rum-Raisin Crumble, apple tartelette, vanilla ice cream.