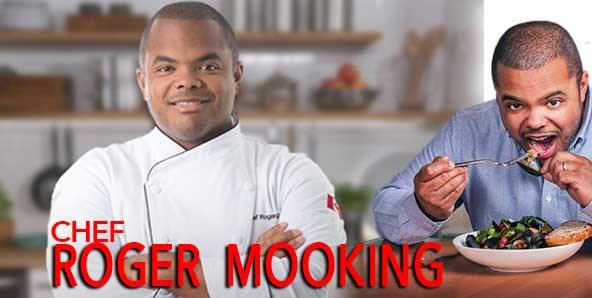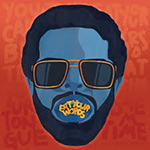 Celebrity chef, restaurateur, television host, cookbook author and Juno (Canadian Grammy) award-winning recording artist Roger Mooking has earned an international reputation as a renowned chef executing a culinary style that showcases his globally inspired vision and his musical stylings.
Roger is best known for being the host of Cooking Channel's "Man's Greatest Food" (currently airing new episodes), Cooking Channel's "Man Fire Food," Travel Channel's Greatest of America, the host and co-creator of the internationally broadcast television series Everyday Exotic on the Food Network, and co-host of Heat Seekers on the Food Network alongside celebrity renowned chef Aarón Sanchez. New episodes of "Man's Greatest Food" currently air Wednesday nights at 9pm on the Cooking Channel where he sets out on a culinary odyssey around the country on the ultimate search for Man's Greatest Food from mouth-watering steaks to smoky barbecue, seafood from the Pacific to the Atlantic and down to the bayou, sandwiches, pork, large pizzas, and a favorite of American households, juicy hamburgers. This season, Roger will be scouring the US to find the best dishes that are all about the sauce, soul food, street eats, and hidden treasures! As if he didn't already have a full plate, Roger (also a Juno Award winning artist) recently released the second single off of his album EAT YOUR WORDS titled – "2 Bad 2 B Tru." Roger's Greatest Moments
Taking his talents outside of the kitchen, this Juno award-winning recording artist has released albums and performed on stage for the last two decades. Abiding by the mantra "food feeds the body, music feeds the soul," Roger first stepped into the spotlight as a member of the soul trio, Bass is Base. Their early single "Funk-mobile" garnered the band a deal with A&M Records and their debut album First Impressions for the Bottom Jugglers, won a Juno Award in the Best R&B/Soul Recording category in 1995. As exotic as his food, blending Trinidadian and Venezuelan vibes to curate a kaleidoscopic Samba/Calypso experience, Roger's highly-anticipated album 'Eat Your Words' integrates sounds of authentic and old school hip hop, rock, and funk elements. Eat Your Words is currently available on all mainstream platforms including Spotify, Apple Music and Tidal.
The Trinidad-born, Canadian-raised chef is influenced by his culturally rich family background, his love of people and travel, and interest in global flavors to create new culinary experiences. Roger has also trained under Japanese, Chinese, French and Swiss German chefs including his formal training through the esteemed George Brown Culinary Management Program where he graduated with Top Honors. Over the years, Roger's restaurants and affiliated projects have garnered many accolades including the prestigious "Premiers Award" in Ontario for excellence in the field of Creative Arts and Design.
His culinary talents have led him to travel worldwide and has made appearances throughout Southeast Asia, India, North America, Australia, the Caribbean and Latin America, and include features on The Today Show, Good Morning America, Top Chef Canada, Iron Chef, Guy's Grocery Games and Chopped as a guest judge as well as winning the special All-Star Chopped celebrity chef episode. Although Roger may be one of the busiest men in the entertainment culinary world, being a husband and father of four daughters is the most important to him. He enjoys educating himself and learning about different cultures by reading books on religion, anthropology, philosophy, and history and stays fit by boxing/kickboxing, weight training, yoga and living an active lifestyle.