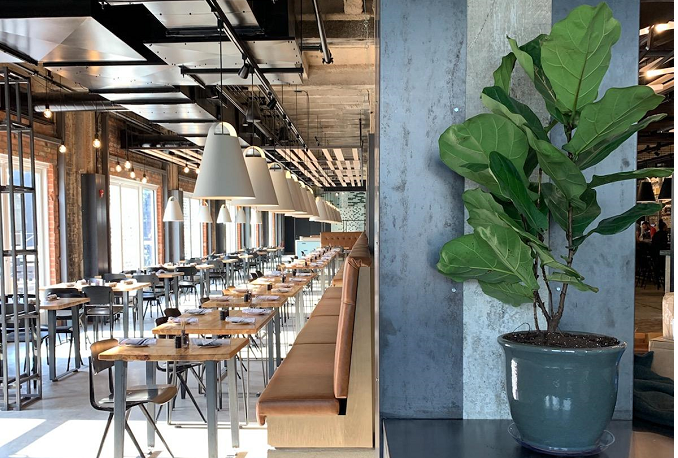 Celebrating the history of Detroit and the people who have given so much to its culinary landscape, Smith & Co. will open on September 20 at 644 Selden St. in Detroit's Midtown neighborhood with an inventive take on Detroit cuisine. The new restaurant will feature a menu focused on the cultural blend that makes the city so unique, with locally sourced ingredients and a deliciously Detroit vibe.
"What we're hoping to build is a restaurant that honors the flavors and cuisines that this city has been serving for years," said David Mammel, general manager of Smith & Co. "This neighborhood and building are the perfect place to do this with both having a rich, storied presence."
Smith & Co. will offer casual dining and be open every day for dinner, plus lunch on Saturdays and Sundays with brunch specials on those days.
Guests can enjoy the Detroit-centric culinary creations of small plates, sandwiches, salads, entrees and desserts courtesy of Chef Greg Antioho. Menu highlights include a Sugar Plum Salad, Empanadas with chorizo from Corridor Sausage in Detroit, sandwiches made with Detroit's Avalon International Breads, and McClure's made-in-Detroit pickles.
Ingredients also come across the state from Chelsea's Fluffy Bottom Farms, Ypsilanti's Sugarbush Farm's, Ann Arbor's White Lotus Farms, Grand Rapids' Mrs. Dogs mustard, Okemos' shrimp, Otto's chicken, and Harrietta Hills' trout.
Blending the historic Detroit theme into desserts, Vernors and Faygo Rock & Rye ice cream floats pay homage to the city's soft drink pioneers while daily paczki offerings represent Detroit's unique cultural offerings.
Inventive cocktail choices range from signature tapped or house-bottled creations to mixed-to-order options. The beer list is comprised of unique local craft beers from a variety of breweries, along with the exclusive beers from Nain Rouge Brewery set to open later this year.
While maintaining components from the original building built in 1917 from which family-owned Smith Welding Supply & Equipment Company operated for 90 years until 2007, architectural and urban design group, VolumeOne Design Studio, LLC, an international firm with a Detroit office, has created an atmosphere that encompasses the natural beauty of the Michigan outdoors with a mix of urban elements. The 7,000-square-foot facility is a combination of wood, metals, brick, and concrete. With seating for up to approximately 160 in the dining area, it can easily accommodate very large parties. A unique concrete bar seats 19 for drinks and full-service dining with a surrounding lounge serving bar snacks and the beverage menu. Full-service dining will be available on the patio, which will share a courtyard with the brewery and another business, Barcade.
Smith & Co is being developed by owners Jon Carlson, Greg Lobdell and Chet Czaplicka. The restaurant's daily operations will be handled by General Manager David Mammel and Executive Chef Greg Antioho.
Chef Greg Antioho will head the kitchen coming over from Blue Tractor BBQ & Brewery. Previously, he came from SavCo Hospitality. He received his Culinary Arts degree from Johnson and Wales University in Rhode Island.
Smith & Co. will be open every day. Hours of operation will be Monday — Thursday, 4 — 11 p.m.; Friday, 4 p.m. — midnight; Saturday, 11 a.m. — midnight; Sunday, 11 a.m. — 10 p.m.
Carryout and delivery will be offered starting on opening day. Delivery will be provided through DoorDash and ordered online at www.smithandcodetroit.com.
Reservations can be made on the website through Wisely.
For more information and grand opening updates, please visit www.smithandcodetroit.com, follow on Facebook at Smith &Co, Twitter at SmithCoDetroit, and Instagram at smithandcodetroit.