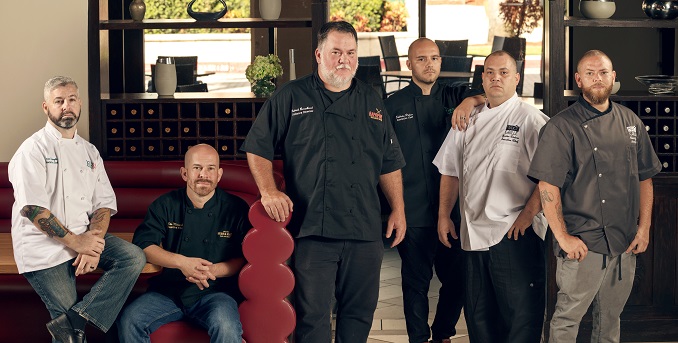 Anyone familiar with restaurateur Burt Rapoport knows several things — he has been an instrumental force in South Florida's emergence as a serious culinary destination since the 1980's; he owns/operates many of Palm Beach's top restaurants and he has always had an eye for talent. So, it's no surprise that as 2019 comes to a close and the new year looms Rapoport is announcing a stellar new team of chefs, each ensuring the restaurants in the Rapoport's Restaurant Group (RRG) portfolio will have full seats in the year to come and beyond. "As a business owner, especially as a restaurateur, surrounding oneself with the right people is one of the most important factors in being successful," says Rapoport, a third-generation restaurateur who started his career with the trend-setting Raffle's restaurant in Miami and went on to be a driving force in the South Beach restaurant renaissance of the 1990's. "The 'company culture' at Rapoport's Restaurant Group is of the utmost importance to me and I think the philosophies behind everything we do is a huge factor in our history of attracting and working with talented chefs."
Instrumental in cultivating the culinary team is RRG Culinary Director Patrick Broadhead, who has worked with Rapoport for over 20 years. An overview of the talented toques that have recently joined RRG follows:
Now at the helm of Burt & Max's Bar & Grille is Executive Chef Chris Miracolo. A staple on the South Florida culinary scene since the late 1990's, Miracolo served most notably with The Restaurant People (TRP), one of Broward County's leading restaurant hospitality companies. During his time with TRP he worked on a number of concepts in a number of capacities, including stints at Tarpon Bend as well as S3 and TRP Taste, both of which he served as executive chef. Now at Burt & Max's, Miracolo has rolled out a new menu evoking the classic comfort-driven cuisine it's known for with fine dining flourishes that will please loyal fans and newcomers alike.
Italian cooking is the foundation upon which chef Fabrizio Pintus has built an illustrious career. Hailing from Milan, Italy, Pintus — the newly-appointed executive chef of Prezzo, RRG's signature Italian trattoria — has worked in a number of top-tier restaurants. Classically trained, his most recent work includes positions at Four Seasons, Dublin, a six-year stretch as executive chef of Tiramesu Restaurant on Miami Beach and, prior to joining RRG, he served as executive chef of Il Fornaio in Santa Clara, California. A new Prezzo menu, rich with concept classics and new creations by Pintus, will be unveiled in early-November.
Rounding out the new additions is chef Bruce Feingold. A graduate of The Culinary Institute of America in Hyde Park, New York, Feingold is best known as the former executive chef/managing partner of Delray Beach's famed Dada restaurant. There, his inventive cuisine and professional oversight helped made Dada one of Delray Beach's most popular, acclaimed and successful restaurants. He has taken over as executive chef of Deck 84, for which he is preparing an inspired, flavorful new menu that will complement Deck 84's colorful waterfront setting.
The trio join Hector Cintron, executive chef of the group's modern American bistro, Max's Grille. A graduate of the Florida Culinary Institute, Cintron — who has been with Max's Grille for 11 years — cut his teeth at Delray Beach's famed 32 East and also served as executive chef of Timpano Italian for close to two years. At Max's Grille, he oversees one of the city's busiest commercial kitchens, executing 800+ covers a day all the while maintaining the restaurant's reputation for consistently delicious California-inspired American fare.
Interviews and photography available upon request. Additional news from all RRG restaurants forthcoming.
Prezzo is located at 5560 North Military Trail in Boca Raton, Florida.
Telephone: (561) 314-6840; www.prezzoboca.com
Deck 84 is located at 840 East Atlantic Avenue in Delray Beach, Florida. Telephone: (561) 665-8484; www.deck84.com
Burt & Max's is located at 9089 West Atlantic Avenue in Delray Beach, Florida. Telephone: (561) 638-6380; www.burtandmaxs.com
Max's Grille is located at 404 Plaza Real Mizner Park in Boca Raton, Florida. Telephone: (561) 368-0080; www.maxsgrille.com
About Rapoport's Restaurant Group
Led by veteran restaurateur Burt Rapoport, Rapoport's Restaurant Group has been pleasing the palates of South Florida diners for 30 years. Dedicated to providing high-quality cuisine for a good value, a warm and welcoming ambiance, and truly attentive service at all of his restaurants, Burt Rapoport has redefined dining in Palm Beach County. For more information visit www.rapoportsrg.com.