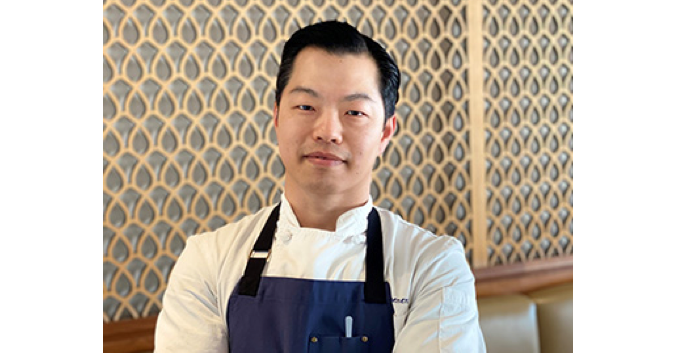 Marina del Rey Hotel in Los Angeles is delighted to announce the appointment of Chef Peter Coenen as the new Executive Chef. Chef Coenen will spearhead the culinary team at SALT Restaurant & Bar, the hotel's modern American restaurant.
Chef Coenen spent the earlier years of his career honing his skills at luxury properties around the country, namely The Ritz Carlton in St. Thomas, U.S. Virgin Islands and The Inn at Palmetto Bluff in Bluffton, South Carolina. Soon after, Coenen moved to Chicago where he continued to enhance his culinary expertise starting at one Michelin starred Boka Restaurant in 2010. During his nine years in the Windy City, Coenen served as Executive Chef at The Gage Restaurant and later the Chicago Athletic Association Hotel, where he oversaw all operations of the hotel's four food and beverage offerings, including his fine dining restaurant, Cherry Circle Room, a James Beard Awarded restaurant, as well as two freestanding restaurants as the company's Corporate Executive Chef. Coenen's renowned flavors and success earned him recognition in 2018, earning a StarChefs "Rising Star Chef" award. Under the oversight of Coenen, Michelin recognized his work at Lonesome Rose with a Michelin Bib Gourmand in 2018 within one year of its opening.
Chef Coenen's exceptional talent and desire to break into the Los Angeles food scene brought him to SALT where he aims to tempt guests' taste buds at every visit and enhance the restaurant's reputation for delivering seasonally-inspired and locally-sourced Californian cuisine. A master at his craft, the passionate chef fuses his love for seafood with sumptuous modern flavors, establishing divine taste experiences through premium ingredients and minimalist plating while staying true to his contemporary influences. Inspired by global flavors and techniques, Chef Coenen intends to redefine coastal cuisine with refined rusticity in the heart of Marina Del Rey.
For more information on SALT or to make a reservation, call (424) 289-8223 or visit marinadelreyhotel.com/SALT-restaurant-and-bar.
About Marina del Rey Hotel:
Marina del Rey Hotel offers a coastal chic ambience from its 164 modern guest rooms and suites overlooking the marina to SALT Restaurant & Bar, serving fresh California cuisine for breakfast, lunch, and dinner in both indoor and outdoor settings. Featuring breathtaking waterfront views, this boutique hotel is a coastal retreat for romantic getaways, leisure travelers, families and corporate retreats. Unwind and indulge in equal balance with delectable onsite dining, a heated pool & spa, and a premier location. The property also offers a range of event spaces from indoor meeting rooms to a private outdoor waterfront lawn, perfect for weddings. The Marina del Rey Hotel is one of the leading Pacifica Hotels properties in the California region, and is located at 13534 Bali Way in Marina del Rey, CA 90292.
For additional information about the hotel, please call (310) 301-1000 or visit www.marinadelreyhotel.com.
About Pacifica Hotels:
Pacifica Hotels was formed in 1993 to consolidate the hospitality operations of Invest West Financial Corporation, which has been involved in the acquisition, development, refurbishing and operating of quality hotel properties and other commercial real estate properties for almost 30 years. Today, Pacifica Hotels is the largest owner and operator of boutique hotels on the Pacific coast. Pacifica Hotels' 40 independent and flag properties in key California cities from San Diego to San Francisco, as well as Hawaii, feature outstanding locations, AAA 3 and 4-diamond ratings, upgraded amenities and high standards of guest service. For complete hotel descriptions and reservations, visit www.pacificahotels.com
For additional information about the hotel, please visit www.pacificahotels.com