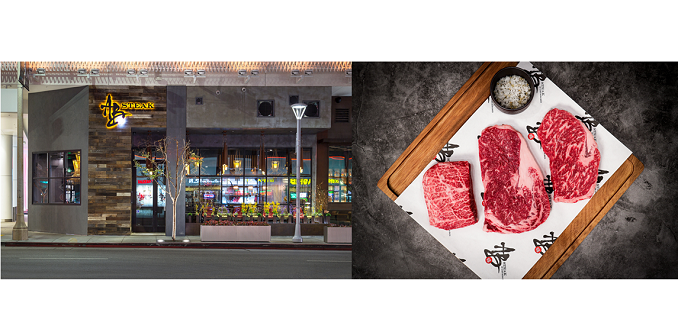 ABSteak by Chef Akira Back opens its doors at Beverly Center in Los Angeles surrounded by the finest in fashion and lifestyle. Boasting Michelin Star talent in Back, and accolades like "Global Winner for Luxury Steakhouse" from the concept's original Jakarta, Indonesia location, ABSteak is poised to make an immediate splash with its U.S. debut.
ABSteak is a revolutionary, modern Korean Steakhouse, combining and refining the best elements from Korean Barbecue and classic American steakhouse. Chef Back stays true to his take on cultural merging, mixing the flavors and tastes of his Korean heritage along with a variety of other cuisines in an exotic fashion. Executive Chef and California native, Brian Huskey, will bring the concept to life in Los Angeles with Tsuyoshi Yoshikawa, the Director of Operations, leading the management and beverage team.
Guests can expect a thoughtfully-curated experience from the moment they enter ABSteak, which features a specialized dry-aging room onsite and smokeless grills at every table. This signature dry-aging process and premium select cuts from the U.S., Australia and Japan ensure that ingredients, cooking and eating take center stage in a dynamic, social setting.
"I'm constantly inspired by people, places and culture. The vibrancy of Los Angeles and its food scene make it the ideal place for me to bring something new to U.S. audiences," says Chef Back. "Taking the original ABSteak concept and making it uniquely American, uniquely Los Angeles, has been an incredible journey and I cannot wait for everyone to be able to experience it starting this week."
Following an impressive string of international restaurant openings including Dubai, Toronto, Singapore, Seoul, Bangkok and more, Chef Akira Back will delight diners in the U.S. with the new offering of ABSteak. ABSteak Los Angeles serves as the concept's second location globally, following its inaugural launch in Jakarta in April, 2017. Foodies are in for a treat, as Chef Back has big plans to develop the ABSteak brand rapidly throughout the coming year, also bringing it to San Francisco, Boston, Saudi Arabia and Qatar.
Including these ABSteak debuts, Chef Back has 8 total restaurant openings planned for 2020 alone. In addition to an extensive U.S. push, Chef Back will bring his creative concepts to a private island in Seychelles North Island and Paris, France.
Chef Back has seen great success in growing his restaurant empire by teaming up with some of the best hotels and brands in the world, and his expansion into the Los Angeles market is certainly no exception. Known for its one-of-a-kind experiences, VIP services, and a collection of the best in international fashion and dining, Beverly Center is the perfect new partner for ABSteak.
"We are very excited to welcome world-renowned Chef Akira Back's ABSteak to Beverly Center's lineup of fast-casual and fine dining restaurants," said William S. Taubman, Chief Operating Officer for Taubman Centers, Inc. "With the addition of ABSteak, we're continuing to expand our dining portfolio while catering to our customer's ever-growing appetite for unique dining experiences."
Follow all things ABSteak Los Angeles at @absteakla on Instagram and @ABSteakLAbyAB on Facebook.
News and updates from the Beverly Center can be found at @beverlycenter on Instagram and @BeverlyCenter on Facebook.
Lastly, keep up to date with Chef Akira Back's upcoming adventures and restaurant openings at @chefakiraback on Instagram and @ChefAkiraBack on Facebook.