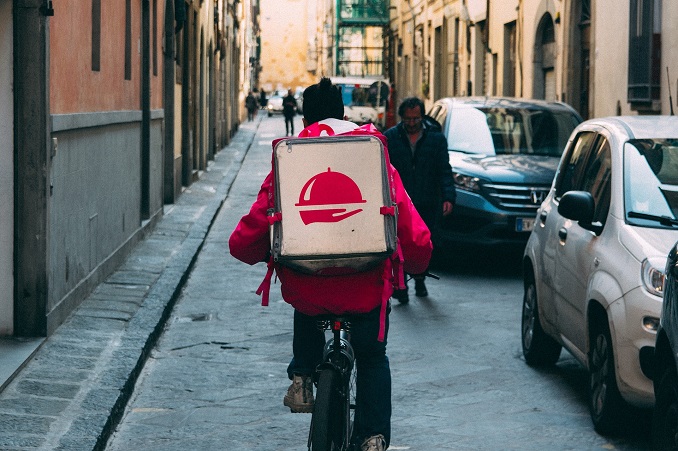 By Nicholas Rubright
In the wake of COVID-19, it's no question that the restaurant industry is struggling. While necessary, government regulations and fear of catching the virus are keeping people at home. Some states have done away with dine-in options altogether.
For new and established restaurants alike, putting together a restaurant delivery service may be the perfect way to combat the situation.
Thankfully, launching a delivery service isn't as complicated as figuring out how to open a restaurant. In this guide, we'll go over how to choose a delivery aggregator, how to promote the fact that you offer delivery, and how to take steps to ensure cleanliness.
Step 1: Choose a Delivery Aggregator
Previously, restaurants would need to set up their own delivery systems. This typically involved logistics planning and hiring delivery drivers.
Now, with the advent of delivery aggregators like UberEats and GrubHub, any restaurant can offer delivery – and get some additional promotion – without much upfront investment. Additionally, all of these services offer marketing support by featuring you in their app, which can lead to an increase in new customer acquisition.
Here are some of the most popular of these services.
UberEats
UberEats allows you to leverage their fleet of Uber drivers to offer delivery from your restaurant. The same drivers that give rides will now be able to pick up and deliver orders for customers that place orders within the UberEats app. You can get your restaurant on UberEats by signing up here. Normally, Uber charges 30% of a restaurant's listed price to be a part of this service, but they've waived this fee during the COVID-19 pandemic.
GrubHub
If you prefer to access a fleet of drivers that are exclusively doing food delivery, GrubHub is a better option. Not only that, but GrubHub's fee for restaurants varies from 10-30% depending on a number of factors, such as the amount of marketing support you request. If you have an established brand and just want to offer delivery from your website, you can do so with a small 10% commission plus a processing fee. If this sounds like a good fit, you can get your restaurant on GrubHub here. The service is also taking a number of steps to help restaurants during this crisis.
DoorDash
Like GrubHub, DoorDash has a fleet of drivers that are exclusive to food delivery. DoorDash doesn't disclose their rates openly, but it's expected to range from 10-25%. You can sign up as a DoorDash merchant here. The company is offering forms of commission relief and marketing support for restaurants during the COVID-19 crisis.
Step 2: Promote deliveries on social media
When you start offering delivery for your restaurant, the next step is to promote it.
Here are a few ways to do that.
Post on all of your accounts
On Twitter, Facebook, Instagram, and any other social media accounts you use, let customers know that you offer delivery. A nice looking image with your restaurant's logo and the logo of the delivery aggregator you chose is a great way to effectively communicate this.
Share your online only menu
If you need to reduce your food costs, you'll likely need to operate your delivery service on a reduced menu. Make sure you create this menu and share it on your social media accounts and your website so it's easy for your customers to find.
Advertise
It can be tough to spend money right now, but if you have the budget, Facebook or Instagram ads can help you spread your message even further. If you have an email list of your current customers, you can target these people on these platforms, or expand your reach by creating a lookalike audience. If you're low on funds, look into Facebook's COVID-19 grant program for advertisers.
Step 3: Keep your restaurant clean
During the COVID-19 crisis, it's important to communicate the fact that you take your customers' health seriously.
To do this, implement the following and tell your social media followers about it. This will prove that you're taking steps to back up your claims.
Have managers work remotely
COVID-19 has an incubation period of four days in some people, meaning your workers can be infected and contagious before they show symptoms. By having managers work from home, you further reduce the risk of the virus spreading among your restaurant's workforce.
Ask sick employees to stay at home
When your workers call in sick, take them at their word for it. Customers will be more concerned now than ever if they hear your workers aren't feeling well. If necessary, fill in the empty shifts yourself to make sure you can fulfil your orders.
Require hourly hand washing
If your workers are regularly handling food, keeping their hands clean is a must. Implement hand washing guidelines for your staff that include washing their hands once per hour and signing a log sheet that shows they've done so. Have them sign the sheet before they wash their hands to further prevent the spread of germs. Having your employees wear and regularly change gloves is another great way to keep things clean.
Once you've implemented the above, post about it on your social media accounts so that your followers know you take their health, and the health of your employees, very seriously.
Hopefully, this guide will help your transition into food delivery just a little bit easier.
Stay safe!
Author Bio
Nicholas Rubright is a digital marketing specialist for Aptito – a user-friendly restaurant POS system that runs on iPad. Outside of the restaurant industry, Nicholas spends his time playing and writing music.