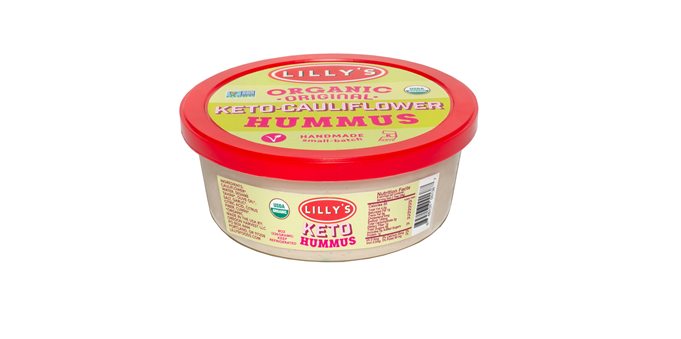 Lilly's Foods, an Oregon-based company leading the hummus and salsa categories with its non-GMO, small batch recipes, is breaking the special-diet food mold with a first-of-its-kind Organic Keto-Cauliflower Hummus in the following flavors: Original, Golden Milk, Buffalo and Ranch Dill. This first ever, category-changing hummus won a NEXTY award for Best New Organic Food from Natural Products Expo East. It was crafted with the goal of providing a keto-friendly, low carb option to consumers seeking to meet their lifestyle needs and still enjoy the savory hummus flavor. The new Keto line is vegan, gluten free, Non-GMO Project Verified, USDA Organic certified and kosher certified, making them appealing to those with other dietary restrictions as well. Consumers can find Lilly's newest Keto-Cauliflower based hummus products online and in major retail deli cases nationwide at an SRP of $3.99.
Today's consumers seek new flavors and exciting food experiences that reflect their values and lifestyle. Lilly's Foods is continuously seeking ways to elevate the hummus category in just that way. The Organic Keto-Cauliflower Hummus recipe is created with blended cauliflower, sesame tahini, salt, garlic and olive oil, following Lilly's Foods' standard for clean, simple ingredients.
"Lilly's Foods is always looking outside the standard hummus offerings in order to offer our consumers flavors they desire," shares Lilly's Foods Founder Lilly Miscoe. "We aren't here to follow the rules. We saw a need for those on a low-carb diet that were still craving the hummus flavor and texture. Lilly's Foods found a way to meet those needs while still staying true to our mission and standards."
Lilly's Foods has made its mission to create more than superior hummus. A focus on environmental sustainability, organic ingredients and ethical sourcing has helped to steer each decision on the brand's part. From retail store shelves to foodservice partnerships, Lilly's strives to offer consumers a product that brings more than better tasting food to the table. Lilly's strives to offer quality ingredients to those looking for a better way to feed the ones they love. Lilly's newest keto-friendly hummus innovation will continue to promote the quality that Lilly's stands behind.
About Lilly's Foods
Lilly's Foods prides itself on using clean, honest ingredients and a traditional kettle-cooking process. Reduction of pre-packaged ingredients through cooking their own beans, and roasting fresh vegetables in-house is a part of their mission of environmental sustainability. Lilly's Foods is naturally gluten-free, and some varieties are also tahini-free (for those with allergies to sesame). Lilly's is also Non-GMO Project Verified, KOF-K Kosher Certified and vegan.