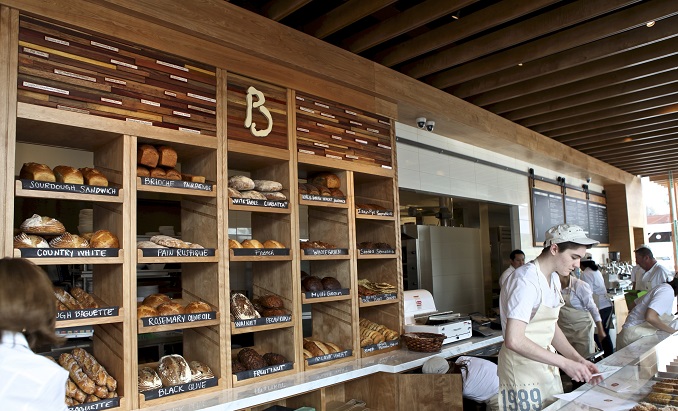 The COVID-19 lockdowns and stay-at-home advisories, while necessary, have taken a significant toll on many businesses and communities. La Brea Bakery has made it their mission to support their local Los Angeles community and continue providing uninterrupted service to their national customers.
The artisan bakery is working tirelessly to keep their bakeries running at full capacity in order to stock grocery stores nationwide with fresh and parbaked breads for consumers to buy. Knowing that consumer needs have changed, and some may be looking for long term storage, La Brea Bakery breads can be enjoyed day of purchase or frozen for future use.
The brand is also making sure that safety is the top priority for their bakery workers. In addition to their safety and sanitation protocols, they're working to maintain social distancing, which includes reconfiguring lines, staggering start times and putting physical barriers to keep people separated as best as possible.
La Brea Bakery's flagship café in Los Angeles has also been deemed an essential business and will keep its doors open to the public for takeout and delivery throughout the duration of the quarantine. Freshly baked pastries will be available daily, in addition to artisan breads at a 25% off discount when picked up directly from the café.
In addition to maintaining its full menu, the Los Angeles staple has also instituted several initiatives to help the local community members during this unprecedented time:
Just this month, the La Brea Bakery Café began their Frontline Meals Program, providing all healthcare workers and first responders a free meal at their café. Healthcare employees just need to show proof of employment to receive a free sandwich, cookie, and bag of chips.

They've also donated thousands of breads to local nonprofits and businesses in need of food supply. These include:
o 5,000+ loaves to the Restaurant Workers Relief Program, a partnership between La Brea Bakery's Founder Nancy Silverton and Maker's Mark to feed the Los Angeles unemployed restaurant community.
o 5,000+ bread rolls to the Villa Luren, an assisted living facility in Downey, CA seeking bread for their elderly residents.
o 60 loaves to the Sisters of the Poor in San Pedro, CA looking for donations for bread for their low-income, elderly members.
o 150+ cases of bread to Caterina's Club, a nonprofit that prepares meals for over 25,000 children who reside in motels on a weekly basis.
"We realize this is an unprecedented time, particularly for restaurants and foodservice operators, and as a company we want to support the communities in which we live and work in any way that we can. We are proud to provide quality meals and handcrafted breads to the essential workers who are risking their lives to protect our city, while fully understanding the pressures the restaurant industry faces so feeding our peers is something we take seriously," says Jon Davis, SVP of Innovation at La Brea Bakery.
As COVID-19 continues to severely impact businesses and the lives of millions of Americans, La Brea Bakery is doing everything to continue operating at full capacity while ensuring the safety of all employees. The goal has always been, and will continue to provide consumers, both locally and nationally, access to freshly baked breads.