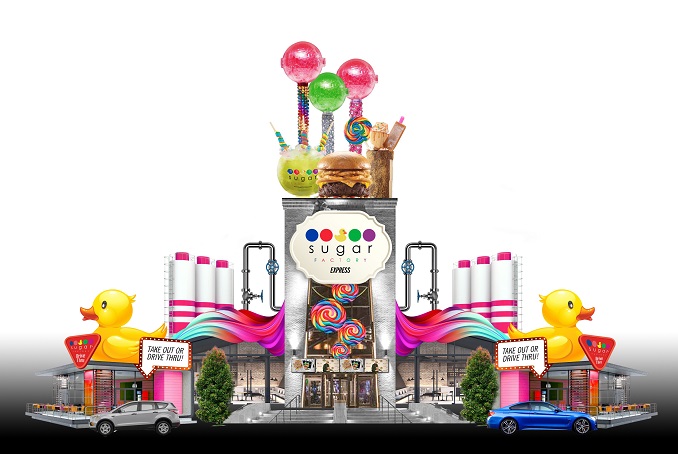 By Debbie Hall
American Brasserie makes the world a sweeter place and will introduce a new breaking concept, Sugar Factory Express, later this year.
People love to eat out, enjoy scrumptious food, and delectable cocktails. Sugar Factory relishes the delight of the inner child while savoring the pleasure of adulthood. Its American Brasseries envelop guests in a carnival for grown-ups and children. Think MTV meets Willy Wonka. Sugar Factory Express will now expand the fun to include fast food dining.
Sugar Factory will open up their Express outlets with two models. One will be the stand-alone model where guests will walk up to the counter, order their food, and be given a number when orders are ready for pick up. The other model will be the traditional drive-through. Sugar Factory's famous candy store and extensive retail offerings will be available through drive through as well. Additional options for guests include ordering online, curbside pickup, and third-party delivery services.
"Sugar Factory Express will focus on restaurant-quality food with amazing packaging, incredible service, and unbelievable Instagrammable items in a fast-food setting with approachable pricing," explains Charissa Davidovici, owner of Sugar Factory.
"We want to bring back the casual kids birthday party you used to go to at fast food restaurants. You don't have to make a reservation to have a kids party at Sugar Factory Express, you simply walk in and have an elevated, restaurant-quality experience with the Sugar Factory personality."
Children (and their parents) will love the kids' goblets, candy slushies, and Happy Boxes. The menu features Sugar Factory's signature Insane Milkshakes, over-the-top Sundaes, Overstuffed Cookies, and birthday cakes. One of its specialties and biggest sellers, Candy Goblets, will also be available as a to-go item.
Its breakfast program is packaged for on-the-go with breakfast biscuit sliders, mini waffles sliders, and toasted brioche buns. All will be available in several different pack sizes. The over-the-top coffee menu features the Sugar Factory Cappuccino, Toasted S'mores Latte and the Classic Rich Hot Chocolate all served in fun and unique ways. Combo meals will be well priced at $6.95 and come in several different varieties featuring Sugar Factory's famous rainbow sliders, chicken sliders and much more.
"We are pivoting part of this company into an experiential fast-food environment," says Charissa.
Regardless of what is occurring in the world around them, people still take selfies and photos of food. Sugar Factory has always been known to create Instagrammable moments. Fast food restaurants have not been known to offer photo-ops in the past and Sugar Factory is ready to change that with their Instagram-worthy sweets and treats.
Corporate parties, birthdays, going away parties, anniversaries, or other celebratory to-go packages will also bring the great Sugar Factory party element and flavor to anyone's home or office.
"We are known for our party packages. Fun is our No. 1 ingredient and we are always working to create unique packages for our customers. We're working on several different packages including a pink-colored Princess Box with all pink burgers for any celebration. The Princess Box comes with tiaras, can be customized with a pink birthday cake, and pink balloons. We're making it easy for our customers to bring the Sugar Factory party home with our to-go party boxes available for curbside pick-up or they can enjoy the party inside a beautiful Sugar Factory Express location. We want to make the party easy and affordable for everyone."
In the food and beverage industry, remaining ahead of the trends is essential for continued success, and Sugar Factory Express has been in development for over three years. The original target date was scheduled for 2022 after building and operating 30 Sugar Factory American Brasserie locations (there are currently 20 locations open). The first Sugar Factory Express is now planned to be built and operating later this year.
It was through careful planning and research that the Sugar Factory Express model was created. "Sugar Factory is such an experiential place, and it wouldn't be feasible or profitable to open 300 restaurants. We want to make the signature Sugar Factory experience available to everyone at an approachable price point," she explains.
Another difference is the full bar of adult beverages will be available to pair with delicious bites. As part of the experience, children will enjoy non-alcoholic goblets while their parents can enjoy Sugar Factory's extensive list of cocktails and goblets. Celebrity partners with signature goblets include Drake, Bruno Mars, The Chainsmokers, Nick Jonas, and Pitbull.
Sugar Factory will open several flagship Sugar Factory Express locations around the country. Orlando, Florida, is the intended site of the first Sugar Factory Express since the Sugar Factory American Brasserie, located in Orlando, produces significant revenue with a large percentage generated by tourism. Las Vegas and New York City are also on the radar as other Express locations.
With 20 locations around the world and six on the horizon, Sugar Factory American Brasserie is known for their sweet treats and delectable eats. Launched in 2009 in Las Vegas, Sugar Factory has grown into a celebrity-loved brand with locations in Florida; New York City; New Jersey; Seattle; Los Angeles; Atlanta; Orlando; Bloomington, Minnesota (Mall of America); Biloxi, Mississippi; Atlantic City; and many more of the world's metropolitan areas including Dubai.
"We will continue to build our American Brasserie flagship restaurants as well. But with our planning and development, I don't think anyone can compete with what we are offering. Sugar Factory Express will change the model of fast food," states Charissa.
For locations, menus, and more locations, visit sugarfactory.com.