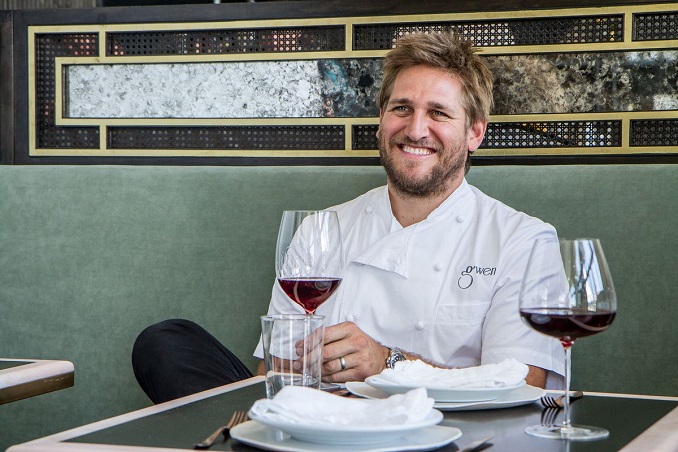 The Grove, Los Angeles' premiere retail, dining and entertainment destination announced today that Picnic Society by Gwen, a new concept by world renowned-chef and restaurateur Curtis Stone will open its doors on September 14 for an exclusive four-month residency.
With a menu influenced by Stone's critically acclaimed, world-class butcher shop Gwen in Hollywood, Picnic Society is a brand-new full-service restaurant and extensive grab and go picnic market featuring salads, sandwiches, and European classics alongside a curated selection of spreads, cheeses, charcuterie, vegetables, and delicacies. Alongside the al fresco-ready menu Picnic Society will offer pre-made baskets, miniature tables, blankets, and cutlery for a seamless and sun-soaked outdoor picnic. The restaurant is pleased to partner with WonderTent Parties to bring the magic of that experience to life on its second-floor terrace as well as with its baskets to- go to recreate a unique and relaxed meal virtually anywhere."
Inspired by the new behaviors of communities grappling with global change, Stone and his team wanted to create a safe and convenient way for individuals to find solace in the shared experience of simply enjoying a meal together. "The world has changed in recent months, and so has the way that we enjoy food and come together. I began thinking back to the stories of early 19th century gatherings of 'picnic societies' in Europe," said Stone. "With good food and the right company, you can really make anywhere in the world your restaurant, and I look forward to elevating this experience for the Los Angeles community."
"I'm thrilled to welcome one of the finest chefs in the country, Curtis Stone, and his exceptional team to The Grove" remarked Rick Caruso, Founder and CEO of Caruso. "With several of his concepts in Los Angeles garnering Michelin stars, I'm truly inspired by his creativity and ingenuity in the kitchen as well as the innovative concept he plans to introduce through Picnic Society."
Highlights of Picnic Society's menu include:
Steak Frites and Mustard
Lobster Roll
Salad Niçoise
Picnic Society will be located at 189 The Grove Dr, Los Angeles, CA 90036. For more information and updates, please visit thegrovela.com or follow @thegrovela and @picnicsocietyla on Instagram. 
About Curtis Stone 
Curtis Stone is a Los Angeles-based Michelin-starred chef, restaurateur, author and culinary entrepreneur. Curtis began cooking at the Savoy Hotel's five-star restaurant in his hometown of Melbourne, Australia at the age of 18. He moved to Europe when he was 21 to further his education and classical training under renowned chef Marco Pierre White for eight years, a foundation that would inform his subsequent career in Los Angeles. In 2014, Curtis opened his first solo restaurant, Maude (Beverly Hills, CA), to immediate acclaim. Following the success of Maude, Curtis opened Gwen Butcher Shop & Restaurant (Hollywood, CA) in July 2016 with his brother Luke Stone. The brothers open their second restaurant together, Georgie, modeled after Gwen, with restaurateur Stephan Courseau in Dallas, Texas in fall 2019. In addition to the restaurants, Curtis operates Curtis Stone Events in Los Angeles, a full-service events and catering company that crafts personalized occasions for guests.
Outside his restaurants, Curtis is widely known for his appearances on television programs such as Take Home Chef (TLC), Top Chef Masters (Bravo) and the Emmy-nominated Top Chef Junior, an extension of the NBC Top Chef franchise. In fall 2019, Curtis debuted Field Trip with Curtis Stone on PBS, a six-episode series inspired by his global travels to research the regional menus at the newly minted Michelin-starred Maude. Season One is streaming on Tastemade with Season Two scheduled to air this fall. A New York Times bestselling author, Curtis has authored six cookbooks including his most recent, Good Food, Good Life. In 2007, Curtis developed Kitchen Solutions, a collection of sleek and functional cookware, which has now become the best reviewed brand and top-selling culinary line on the Home Shopping Network. Curtis is married to actress Lindsay Price and the couple live in Los Angeles with their two sons.
About The Grove 
Developed by Caruso in 2002, The Grove is one of the country's most acclaimed shopping, dining and lifestyle destinations, offering the best mix of retail, restaurants and entertainment in Southern California. Set on 20 acres adjacent to the historic Original Farmers Market in Los Angeles, The Grove offers a welcoming park-like setting with a vibrant pedestrian streetscape and first-class retail experience that successfully marries hometown charm with high-end shopping. This unique mix has earned The Grove recognition as the heart of the city – a "see and be seen" destination, a neighborhood gem and a community all its own. The Grove's award-winning design, first-class Concierge service and community-like ambiance have garnered numerous awards and recognition throughout the retail industry, including being named the "#1 Shopping Destination in Los Angeles" by TripAdvisor, and ranking #2 of Fortune's "10 Highest Sales- Generating Shopping Centers" in the country. The Grove also tops Shopping Center Today's list of top 10 shopping centers in the world based on sales per square foot. For more information, please visit The Grove at www.TheGroveLA.com or on Instagram @TheGroveLA.