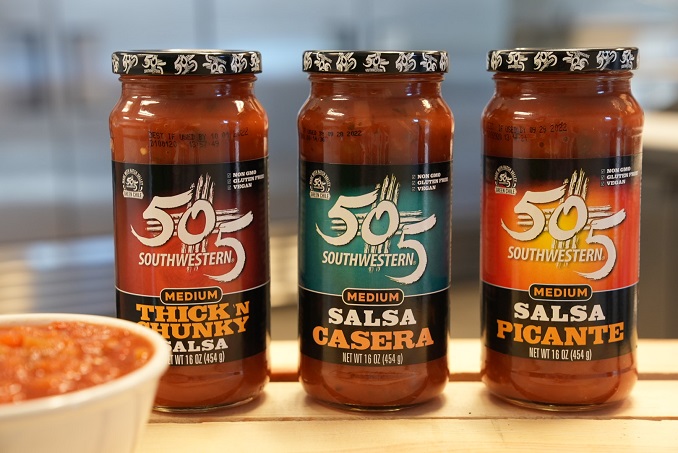 505 Southwestern® (505SW™) proudly unveils a new line of  tomato-based salsas with Southwestern flare that pays homage to the company's New Mexican heritage:  Thick 'N Chunky, Salsa Casera and Salsa Picante. True to the company's commitment to the Hatch Valley, each salsa features 505SW™'s signature hatch green chiles and, unlike many other mainstream salsa brands, 505SW™'s salsas use only fresh, natural ingredients. The new salsas, like the rest of 505SW™'s offerings, have no artificial preservatives, flavors, or thickeners, nor any chemical stabilizers. The salsas are 100% made in New Mexico.
"As the No. 1 premium green chile brand in the country, 505SW™ was ready to expand into the massively successful tomato-based salsa category," said Rob Holland, Executive Chairman of 505 Southwestern. "We recognized many popular brands often use sugars, dyes and artificial flavors in their recipes, so we created salsas that only use the freshest, highest quality ingredients. And at 505SW™we believe that everything is better with green chile—which is precisely why we incorporated green chiles straight from the Hatch Valley into each of these distinctly different red salsas."
The Thick 'N Chunky salsa is a Southwestern take on the classic with hand-picked serranos and jalapenos and just the right amount of Hatch Valley roasted green chile. The salsa has fresh diced tomatoes and a fresh-from-the-garden flavor.
The Salsa Casera is an authentic Mexican salsa made from a traditional homemade Mexican recipe with a Southwest twist that includes serrano peppers blended with a taste of Hatch Valley roasted green chile. Casera means "homemade" and this bright, authentic, flavorful salsa tastes like it came straight from your kitchen.
The Salsa Picante is a Texas Original with a touch of Southwestern flavor. This Picante blends hand-picked jalapeno peppers and Hatch Valley green chile with a variety of spices creating an unforgettable flavor.
The new product line is being rolled out now in Albertsons and Safeway stores in the Intermountain Region with wider distribution slated for 2021.
Crafted in New Mexico, 505 Southwestern® sauces and salsas are all made with its famous Flame Roasted Green Chile.  The brand is one the fastest growing in its categories and is sold in all 50 U.S. States.  The brand has partnered with the Denver Broncos, the Jacksonville Jaguars, the Arizona Diamondbacks, the Colorado Rockies, and Alterra Mountain Resorts to provide its unique green chile products to stadiums and venues across the country.
About 505 Southwestern®
505 Southwestern®, together with its family of brands and affiliates, is one of the leading premium green chile-based products companies in the country. The brand's core lineup of shelf stable, premium New Mexico salsas, sauces, and flame roasted green chile is the fastest growing of its kind in the USA and is currently sold from London to Los Angeles. The brand's portfolio also includes queso as well as frozen stews and diced green chile.  505 Southwestern® has a commitment to giving back and formed the 505 Southwestern®-New Mexico True Scholars program in conjunction with the State of New Mexico to support a future generation of farmers through its scholarship program.  The company is based near Denver with its manufacturing headquarters in New Mexico.