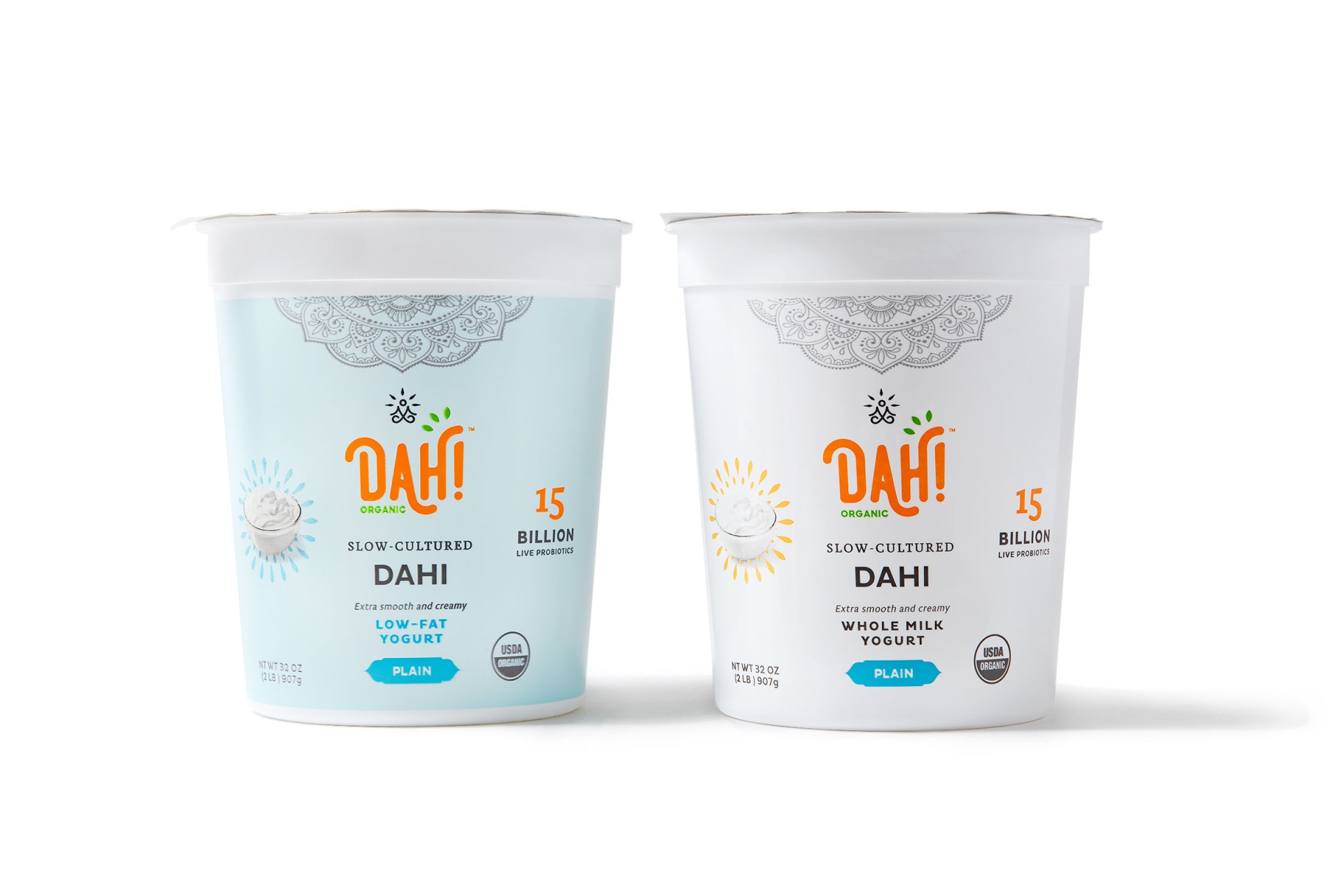 DAH!, America's #1 India-style yogurt, introduces Dahi, a staple yogurt used for cooking found in many Indian households. DAH! rolls out this new brand addition at all Wegmans Food Markets (www.wegmans.com) as of September 15, 2020.
Dahi is a traditional yogurt developed in India that is made through the slow culturing process, with whole or low-fat milk. This yogurt is organic, low calorie, high in probiotics, and filled with protein. Dahi's texture is smooth and creamy, with a slightly sweet flavor profile, and can be enjoyed by itself or used in dishes for breakfast, lunch, and dinner. This yogurt is very versatile and is typically used to make a sweet Lassi or a savory curry. It's a healthy addition to your diet.
"We are in the business of providing authentic food experiences. It was important that the taste, texture, and health benefits of our Dahi matched those of a traditional Indian Dahi. We were able to import Dahi cultures from India and stayed away from 'tricks of the trade' like gums, thickeners, and stabilizers to create a healthful Dahi with a naturally rounded and creamy taste and a silken texture. I am thrilled to bring this product to the marketplace." – Co-Founder, JD Sethi
DAH! offers three lines of yogurt: Lassi yogurt smoothies, Dahi, and a non-dairy Almond Milk yogurt cup.  The dairy line consists of Lassi (the Hindi name for drinkable yogurt) in 32oz and 7oz bottles and Dahi, whole milk, and low fat in a 32oz tub. The plant-based line consists of Almond Milk Yogurt in one 5.3oz size. The Lassi flavor varieties currently being offered by DAH! include Alphonso Mango, Field Strawberry, Wild Blueberry, Golden Milk, Madagascar Vanilla and Plain.
The Dahi products will be available in a 32oz size and retail for $5.49
The DAH! yogurt line can be found at select natural and conventional retailers across the country, including Whole Foods, Erewhon, Bristol Farms, Market Basket, Safeway, Walmart, Publix, Wegmans, and other specialty grocery stores.  
About DAH!
DAH! is the leading India-style yogurt company in North America. The company's traditional, slow-cultured process and unique India-style platform make its product lines a leader in the yogurt category. Dah! offers traditional Lassi and Almond Milk Cups in a variety of flavors including Plain, Alphonso Mango, Field Strawberry, Wild Blueberry, Golden Milk, and Madagascar Vanilla.  The latest offering to join the brand is Dahi, a traditional yogurt made through the slow-culturing process made with whole or low-fat milk. The 2020 Sofi Award Winning brand took home the Gold Award in the 'Yogurt & Kefir' category for its 32oz Lassi Alphonso Mango and the Bronze Award in the 'Plant-Based-Other Dairy' category for its Alphonso Mango Almond yogurt. The company's products can be found in Market Basket, Safeway, Walmart, Publix, Wegmans and specialty grocery stores. DAH! is a KEEN Growth Capital portfolio company. KEEN Growth Capital is a venture fund that invests in and develops early-stage food and wellness companies with meaningful social impact. Live DAHliciously!  www.dahlicious.com | Follow @Dahlicious on social media.
About Founders JD Sethi and Ajeet Burns:
DAH! founder JD Sethi was raised in Meerut, India, at the elbow of a mother whose talents with ghee, turmeric, and chili powder built both his love of good food and educated his palate. As his young appetite grew more demanding, she sagely taught him to make his own Lassi each morning. After a lifetime of learning the rhythms and character of the delicious and nutritious yogurt beverage, Lassi, he now produces one of the finest Lassis' in the world, from Leominster, Massachusetts. Additionally, he has applied his considerable formulation talent to plant-based yogurts, yielding a world-class almond-based version. While looking to grow his fledgling business, JD serendipitously encountered an American-born, India-raised, fifth-generation Oregon entrepreneur by the name of Ajeet Burns. Together, their shared values and mutual passions are at the heart of the meteoric rise of DAH! — the finest Lassi (and plant-based yogurt) on the market today.