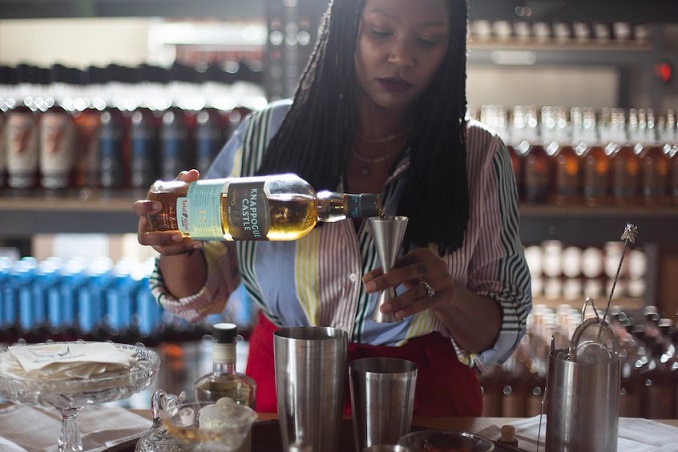 As a way to honor iconic and influential women across the country and beyond, Knappogue Castle Single Malt Irish Whiskey has enlisted 12 celebrated female bartenders across US to create cocktails for the women who have inspired them in their careers. Starting from October 1st, Knappogue will launch one of these specially created cocktail recipes on their social media channels every two weeks until International Women's Day on March 8th.
The lineup of talented women creating cocktails for the series includes award-winning bartenders Ezra Star (Boston), Meaghan Dorman (New York), Devon Tarby (Los Angeles), Mariena Mercer (Las Vegas), and Jenee Craver (Chicago). As part of the campaign, Knappogue Castle is encouraging all female bartenders to get involved. For every additional female-inspired recipe they receive, the brand will make a donation to a women's charity of their choice.
The first recipe in the collection comes from Denaya Jones (owner of DEEstilled drinks events company in D.C.). Denaya's cocktail, Black is Gold, combines Knappogue Castle 12 Year with Nocino Walnut Liqueur, house-made plum-honey compote, and egg white. It is elegantly garnished with gold flakes and an Angostura Bitters crown. "Black is Gold represents a multitude of women of color who all share key things in common," says Denaya, "They are fearless, unapologetic, and true bosses – all of which inspire me to continue in my own career pursuits. This cocktail represents those women both in taste and in aesthetic. Strong, yet soft; brown and beautiful, with a delicate golden crown."
Jon Dubin, Knappogue Castle's Brand Director comments: "We feel humbled to be partnering with some of the top female bartenders in the US for our Women in Whiskey campaign. In addition to being great ambassadors for the brand, we look forward to throwing the spotlight on these women and their careers. We can't wait to share their extraordinary stories as well as their delicious Knappogue cocktails".
Since many of the women contributing to the series are currently displaced from their beloved bars, and therefore unable to make drinks for patrons directly, their recipes have been devised so they can be easily recreated at home. At an uncertain time for the bartending community, the series intends to fire up the next generation of bartending talent, celebrating its present heroes with a nod to those who paved the way before them.
To find out more, please visit www.knappoguewhiskey.com and follow on Instagram @knappoguewhiskey #KnappogueWomenInWhiskey #SheWhoShakes.
About Knappogue Castle Irish Whiskey
Knappogue, pronounced Nah'pogue, translates to "hill of the kiss" in Gaelic and is named after a beautiful 15th-century castle that stands in County Clare, Ireland. The castle was purchased in the 1960s by Mark Edwin Andrews and his wife. He was a pioneer, known for collecting and bottling single malt and pure pot still whiskey at a time when only blended whiskey was popular in Ireland and around the world.
Knappogue Castle Single Malt Irish Whiskey, owned by Castle Brands Inc., is made from malted barley, triple distilled a batch at a time in copper pot stills, and aged in ex-bourbon oak casks. The Knappogue Castle portfolio includes the 12, 14 and 16 year old expressions, the limited-edition 21 year old and Wine Cask Finish Series expressions, and the renowned Knappogue Castle 1951, revered by connoisseurs as the oldest and rarest Irish Whiskey commercially available.