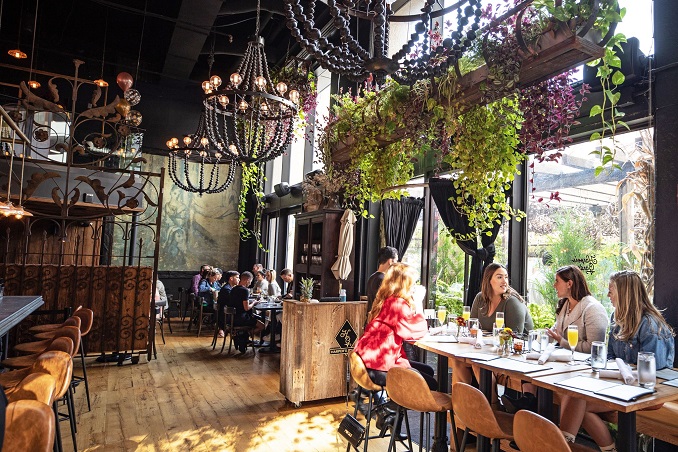 FCM Hospitality and owner Avram Hornik announce the re-opening of Concourse Dance Bar at 1635 Market Street, Back Entrance. Starting Friday, October 9th, and continuing until it is safe for bars and nightclubs to re-open, Concourse will return and operate temporarily as a restaurant serving up a special pre-paid three course, small-plate menu of Philadelphia food favorites that are paired with three cocktails (or non-alcoholic mocktails). Guests will enjoy their food and drink pairings as they move through three rooms of the 15,000 square foot space. Masks are required at all times when not seated, and all seating is a minimum of six feet apart. While moving through the space, socially-distanced patrons will step back in time for a full sensory experience filled with nostalgia, 90s tunes, eclectic and vintage decor, Instagrammable art, colorful lights and lasers – and the brand new Philadelphia-inspired ice room. Hours will be Thursday to Sunday, from 5:00pm to 11:00pm. Pre-paid tickets are $35.00 per person and include all food and drink. Tickets are on sale now at www.concoursedancebar.com. Tickets and advance reservations are required.
"The nightclub business is not coming back until we have a vaccine and that vaccine has been delivered to a substantial portion of the population of Philadelphia," said Hornik. "Facing this fact, our team at FCM Hospitality have reimagined how to use one of our largest spaces for a non-nightclub use in a way that is safe for both patrons and staff, and that is in compliance with all government guidelines."
Concourse Dance Bar has been closed to the public since winter in compliance with shut-down orders due to the global pandemic. During this time, Hornik and his team worked to finish up exciting additions and renovations inside the region's top nightlife destination. In March of this year, as the pandemic was sweeping into the United States, FCM Hospitality was on the verge of debuting a brand-new 1,000 square feet ice bar unlike anything that has ever existed in Philadelphia. The plans for the ice bar were put on hold until now, when FCM Hospitality will give patrons a special preview of the space during this all-new dining experience. For Hornik, he wants to give patrons a taste of what's to come, give people something to look forward to as the light at the end of the tunnel, and provide some much needed safe fun and relief.
"Philadelphia has been able to enjoy outdoor dining and activities all Spring and Summer but it will soon be dark and cold outside," said Hornik. "People will need safe places to go and activities to do this winter or, as we are social creatures, people will gather together in unsafe ways. While the infection rate in Philadelphia remains low, having indoor door dining is safer than the alternative – and it is important we work together as a community to come up with options that are safe and smart."
He added, "While keeping our doors shut for the next six to twelve months would have been easier, we have an important role in the community – to provide the opportunity for some levity and safe fun during the most mentally challenging of years. If we can do our job safely, we have an obligation to our patrons, employees, disk jockeys, and vendors to be opened."
For the reopening of Concourse, patrons will socially distance and move through three rooms of the newly reimagined 15,000 square foot space. Each patron and their guest (limit up to four people that arrive together) will be seated at tables in three rooms that are at least six feet apart. While seated, guests will be allowed to remove their masks and enjoy one course of their meal paired with one cocktail (or mocktail) from their server. Guests will be required to put on their mask before leaving their table and move to the next room. No socialization between tables will be permitted.
As fully masked guests move from room to room, they are directed to a one-way line where six feet of social distance will be maintained and enforced at all times. Along the way, the guests will enjoy the new fun and whimsical decor, 90s music curated by Philadelphia's best DJs through a concert quality sound system, and see the digital 256 dynamic colored lights that have made Concourse Dance Bar one of Philadelphia's top nightlife destinations.
As they move between rooms, guests will pass through several new exciting features of Concourse Dance Bar – including a new infinity mirror room and the new ice bar featuring 20 Philadelphia-themed ice sculptures designed by award-winning ice sculpture Peter Slavin.
While waiting to be seated in the final room of the experience, guests will wait in "social circles" on the dance floor – with each social circle being large enough for up to four people in the same party and yet stay at least six feet away from other circles and groups.
FIRE AND ICE – AND NEW ADDITIONS
Concourse was already a staple for everyday people to leave their troubles at the door and head out on the town for a night of low-pressure fun. These new attractions were conceptualized and built to keep the overall motif of Concourse intact and add to the unpretentious vibe where music, fun and positive energy intersect.
Upon entry, patrons will experience their first course and pairing in a newly appointed mezzanine where seated patrons are front and center of a brand new art room. As patrons dine on their first course, they will have a 360 degree view of funky finds, imperfect matches, oversized furniture, and Instagramable art pieces.
Next, patrons will chill out in Philadelphia's only ice room that is a 1,000 square feet celebration of the very best of Philadelphia. Nationally recognized ice sculpture Peter Slavin has created his very own personal love letter to the City of Brotherly Love with 20 unique art pieces that include Philly favorites such as the Liberty Bell, Rocky and many other surprises.  The ice room, kept at a cool -5 C will be sure to heighten the senses as guests walk through to see the incredible, sculpted artwork. Patrons will also pass through an infinity room,  giving a nostalgic nod to everyone's favorite fun house with an adult twist. For a warm-up, patrons can opt for cocktails in fire or stick with the ice theme with all-new cocktails that add to the sensory experience.
Finally, patrons will enter the largest room that will throw things back to the 90s with an all new laser and light show where guests will take to their social circles and step back in time.
Along the evening's journey, look for hints of Philadelphia's favorite sports teams, Philadelphia musical references, and Philadelphia inspired art to pair with the Philadelphia food favorites.
Concourse's Philly-centric food menu will include Philly soft pretzels, Tasty cakes and, of course, a Philadelphia cheesesteak. Cocktails will add to the unique experience with an assortment of unique flavors and eccentric garnishes, presented in various new styles for Concourse using dry ice, smoke and other surprises.
Concourse has re-finished all the floors, added a new light show, refinished the walls, and added additional bathrooms as part of the renovations and upgrades.
HEALTH AND SAFETY PROTOCOLS
For the health and safety of all patrons, vendors and employees, Concourse Dance Bar will operate around the following set of safety and operational guidelines:
* Concourse will now operate as a restaurant that closes by 11:00pm.
All patrons must wear a mask unless they are seated at a table which is 6-feet from any other patron.

All patrons will be asked about possible exposure to COVID and will go through a temperature check prior to entry.

While inside patrons will either be seated at a table or wearing a mask while moving to their next table. No socializing between groups.

All staff will be in N95 masks and face shield, with daily temperature checks.

Staff, including tipped employees, will be paid for any missed shifts as a result of illness or possible COVID exposure.

All staff will receive ride-share credit for those who don't want to take public transport.

Free telemedicine for all employees at any FCM Hospitality property.

All bars inside the complex will remain closed. Only table service will be offered.

Every ticket includes food paired with a drink. Food is required as part of the experience as this is a restaurant.

Six foot social distance rules will be strictly enforced from entering the front doors to the exit.

Reservations and pre-payment are required.

Only 25% capacity will be permitted – even as the city moves to 50%.

Only 35 people will be admitted every 30 minutes.
* Concourse will now be cashless. All food and beverage are pre-purchased as part of the meal/drink package to minimize staff interaction.
Communal activities (ball-pit, slide, & dance floor) will be closed.
"We would not consider opening up concourse unless we could do it safely," said Hornik. "After reading and analyzing the guidelines set up by the City of Philadelphia and the State of Pennsylvania we developed this dining concept that would allow our guests to have fun while remaining safe. The nightlife and entertainment sector of the economy has been hardest hit by the corona shut-down and will be one of the last to return. We support the governor and the mayor for making these hard choices to protect us all and think the sacrifice of the temporary closing of nightlife is required for the health and safety of all of us. After living with this virus for six months, we all have a better understanding of what is safe and how to operate under the new normal."
TEAM
General Manager – Rylan Murphy
Cocktail Designer – Matthew Deutsch, Beverage Director of FCM Hospitality
Director of Operations- Dana Canalichio
Owner of FCM Hospitality – Avram Hornik
CONNECT
For more about Concourse Dance Bar and the new dining concept, follow Concourse on social media at @ConcourseDanceBar. For tickets and safety protocols, visit https://www.concoursedancebar.com.
ABOUT CONCOURSE
Before COVID 19, Concourse Dance Bar was known as "the" place to be on the weekends! Known for its Instagram-famous ball pit, this massive two-story nightclub in Center City is decked out with eclectic, retro flair. Concourse was designed to bring people together for a night of dancing and fun, with music and vibes instead of VIP sections, dress codes, or bottle service. Rotating guest DJs played a variety of throwback tunes from the 80s, 90s, and 00s. Tucked away between Market St and JFK Boulevard, Concourse is Philly's underground adult playground!
While a night of dancing and tunes is not possible due to the global pandemic, Concourse looks forward to better days ahead – and hopes to keep up everyone's spirits with this special all-new dining experience and first-look at the new ice bar. Concourse the dining experience is a celebration of everyone's favorite tastes and sites of the City of Brotherly Love.
ABOUT FCM HOSPITALITY
FCM Hospitality is a Philadelphia-based hospitality and entertainment company, managing bars, restaurants and seasonal pop-ups throughout the region. The company is owned by Avram Hornik, a leader with more than 20 years in the hospitality industry, who has developed some the city's most popular permanent and temporary venues such as Morgan's Pier, Concourse Dance Bar, Harper's Garden, Rosy's Taco Bar, Winterfest, and the 2013 PHS Pop-up Garden. For more information about FCM Hospitality, visit fcmhospitality.com or call 215.568.1616.