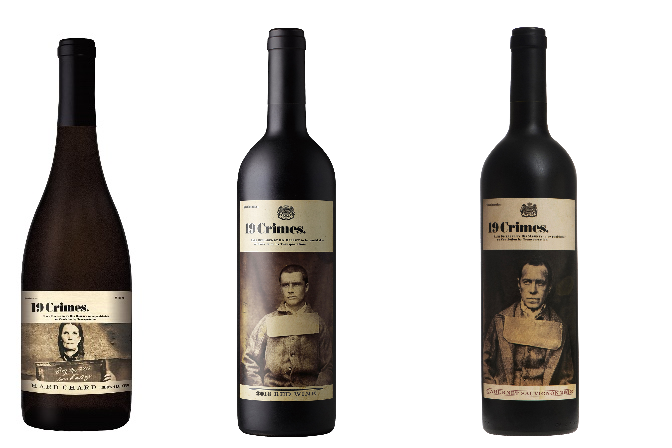 Are you ready for spooky season? 19 Crimes puts the "boo" in booze this Halloween with wines that come alive right before your eyes.
Trick and treat this year with 19 Crimes' eerie AR feature that animates "The Infamous" through the Living Labels app. The faces pictured on each label represent the brave figures who went from criminal to colonist and live through the app to tell their tales of sentencing and survival. You can check it out during social-distanced Halloween festivities by downloading the app and simply scanning your phone over the label.
19 Crimes 2019 Hard Chardonnay (SRP $10)
 Bold and strong in character, this deep rich and golden Chardonnay is filled with stone fruit aromas and a sweet textured palate. The criminally intense toasty oak notes have hints of butterscotch and honey balanced with layers of ripe fruit. This full bodied, powerful wine finishes with rich notes of butter and vanilla.
19 Crimes 2018 Red Wine (SRP $10)
 Intense, lifted vanilla aromas are balanced with riper red to dark berry fruits that rise in defiance from the glass. The vanilla aromatics carry through on the palate and complement subtle flavors of chocolate and a cedary spice. Full and round on the palate, with a distinct sweetness giving a rich and round mouthfeel. The palate finishes soft, fruity and so fresh, it should be a crime.
 19 Crimes 2018 Cabernet Sauvignon (SRP $10)
Bright red to crimson hues, this wine confidently takes charge with intense lifted vanilla aromatics balanced with red currants, violets, and mulberry fruits. Firm and full on the palate with a subtle sweetness giving rich mouth feel. The vanilla aromatics carry through on the palate and complement subtle flavors of red currants, dark cherries and chocolate. The palate is filled with dark berry fruit and the soft tannins provide a lingering finish.