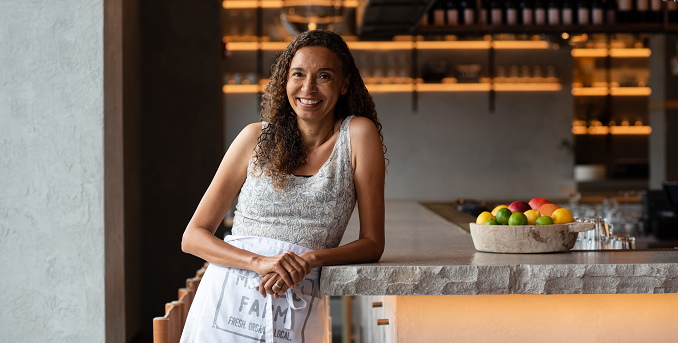 This past week, the Port of San Diego inked a monumental lease with Malibu Farm. Co-owned by celebrity chef Helene Henderson and her husband, actor-director John Stockwell, Malibu Farm currently has eight locations globally, including Malibu, Miami, New York and Tokyo. With their sights set on San Diego, the duo has found the perfect home for their ninth and largest investment in San Diego's Seaport Village.
Through a multi-million-dollar renovation, Malibu Farm will transform a 40-year old, two-story waterfront property into an indoor-outdoor venue that'll include, in addition to full-service dining, an ice cream and espresso bar and a home goods store. Construction on the 14,000-square-front property is anticipated to begin in fall 2021 and open for business by summer 2022.
The addition of Malibu Farm is a palpable glimpse into Seaport Village's forward evolution. While currently onboarding several high-caliber dining and retail tenants—including the opening of "Eats By Sam" this week by Emmy-award winning television personability Sam "The Cooking Guy" Zien—future arrivals within the next few months include beloved local brands such as Mike Hess Brewing, City Tacos, Mr. Moto Pizza, Spill the Beans specialty coffee and bagel shop, San Pasqual Winery Tasting Room, and more.
In the wake of the pandemic, Seaport Village's restaurant and retail renaissance is attributable to the Port of San Diego's tactful investments since assuming ownership in 2018. The four-decade-old waterfront center is destined for an eventual redevelopment as part of an ambitious $2 billion plan encompassing a total 70 acres, however the project is still years off and pending numerous approvals. In the meantime, the Port focuses on site enhancements, activations, operational improvements and safety at the Seaport Village center. The Port currently has lease agreements with 60 tenants at Seaport Village, with 43 of those retail outlets and 17 of them food and beverage tenants. There remain nine vacancies.
Helene Henderson, founder of Malibu Farm: "We are thrilled to be opening Malibu Farm at Seaport Village.  I have always been very cautious and specific about where we open a location as the guest experience is of critical importance to me. The spectacular waterfront location at Seaport reminds us of when we first opened on the Malibu Pier which had not been enjoying the popularity and acclaim it deserved and which is now a thriving bustling destination. We always work to be inclusive, offering up food and beverage options that everyone in the family can enjoy, and have thrived in places where an outdoor, healthy lifestyle is welcome and cherished and that is what Seaport Village affords to us."
Chair Ann Moore, Port of San Diego Board of Port Commissioners: "We welcome Malibu Farm to our table and are delighted they want to plant a seed on our beautiful San Diego bayfront. The Port has invested a lot of time, money and effort in bringing more locals and visitors to Seaport Village, and it's really paying off. Malibu Farm and what they'll add to our community will help us continue to fulfill our promise to enrich the relationship people and businesses have with our dynamic waterfront."
Tony Gordon, Port of San Diego Director of Real Estate. "It's hard to overstate how big a deal this lease is for the port. They are highly sought after, an internationally renowned restaurant operator, and tenants of this caliber do not come easily. It's not a tenant you pursue, they pursue you. This also is a big deal for Seaport Village. It will increase foot traffic to the entire shopping center as a bridge between the two sides of Seaport Village."