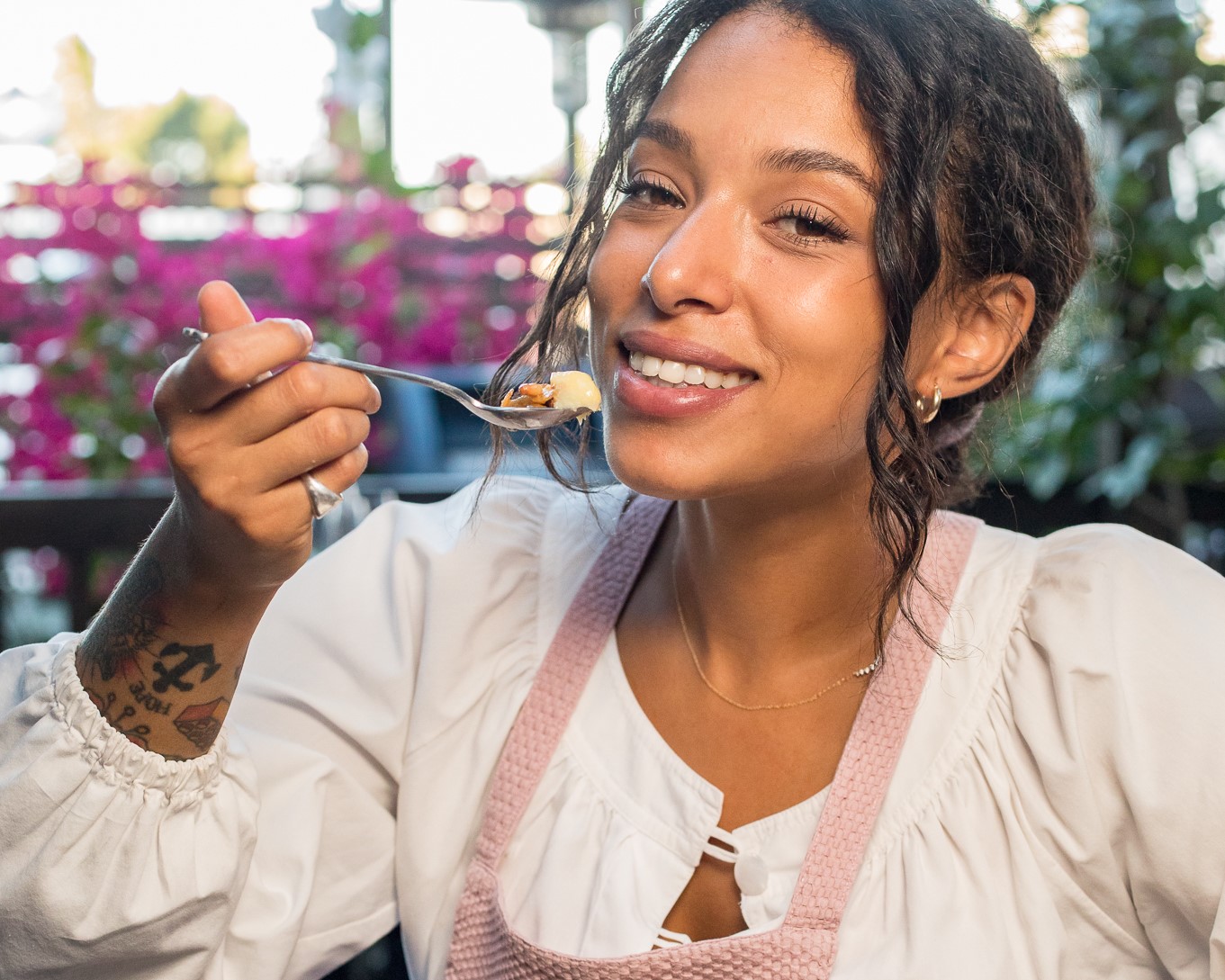 A 26-year-old BIPOC chef with Italian roots, Cesarina Mezzoni is making a name for herself within SoCal's dining scene. Born and raised in Rome, Mezzoni was indoctrinated into the world of food from a young age. Her mother, who immigrated to Italy from the East African islands of Seychelles, was a talented home chef who mastered the intricacies of traditional Italian dishes. Cesarina fondly reflects on the hours she'd spend in the kitchen alongside her mom and attributes these nostalgic memories to her passion for cooking.
While pursuing a college degree in marketing, Cesarina pivoted her professional trajectory to follow her dream of becoming a professional chef. Soon after, she met Niccolò Angius, who would later become her husband and business partner. Together, they moved from Rome to California in 2015, quickly making their first imprint on San Diego's slow food movement with the launch of their farmer's market pop-up, offering vegan handmade pastas and all-natural sauces. An aspiring restauranteur, the Mezzoni worked tenaciously for several years to grow her roving business before eventually acquiring a brick-and-mortar venue in San Diego's coastal Point Loma neighborhood. Upon opening its doors February 2019, the eponymous restaurant (Cesarina Ristorante) quickly emerged as one of the city's "Best Restaurants of the Year." Just one year later, Cesarina was halted by the industry-wide devastation of COVID-19. Despite the turbulence of the pandemic, the ownership team—including Chef Cesarina— pledged to support their family of employees, raising more than $22,000 in 2020.
Despite the pandemic, Mezzoni continues to invest in the future of her burgeoning brand. Having recently acquired a space directly across the street from her flagship restaurant, Cesarina is preparing to build-out a commercial kitchen, which will accommodate the restaurant's ever-growing production needs. Once completed, the facility will become the epicenter of Cesarina's high-volume pastificio and bakery, giving way to several exciting subsidiary concepts including gourmet retail, made-to-order cakes and off-site catering. Chef Cesarina's sophomore restaurant is also in its early stages of development, however additional details on the concept have yet-to-be-announced. Embodying perseverance and determination, this young female chef is an up-and-comer to be watched.