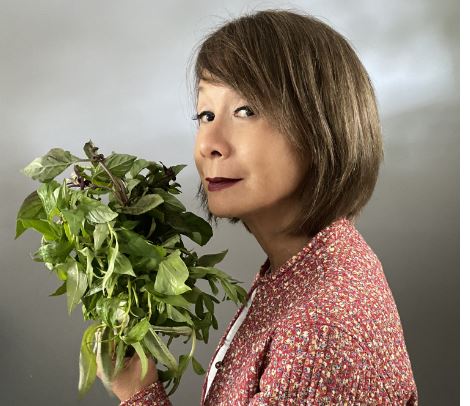 A storyteller and homecook, KimChi Tyler is on a never-ending journey to share stories about Vietnamese culinary methods and experiences. Her particular focus is on Vietnamese herbs because of the central role they play in Vietnamese cuisine.
Throughout the culinary world, herbs are integrated into recipes to add flavor dimensions to dishes. More familiar herbs such as rosemary, thyme and basil tend to dominate Western recipes and thus mindshare when discussing cuisine. What is left undiscovered is a vast world of regional herbs, which have a history and story all to their own, providing context to the culture and people who use them.
Herbs often play a starring role in Vietnamese cuisine. One of the many hallmarks of Vietnamese cuisine is its freshness and lightness, achieved primarily through the use of fresh herbs and vegetables served alongside the "base" dish. This practice puts the control of flavors back into the hands of the individual who can customize their dining experience to their own tastes. In this way Vietnamese cuisine is quite flexible, helping to explain its worldwide appeal.
Vietnam's diverse growing regions – from tropical deltas to mountainous highlands – are perfect settings to cultivate an amazing variety of herbs. Combine this with micro-cultures with Thai, Laotian, Cambodian, and other Southeast Asian influences, and one can see how the exploration of Vietnamese herbs is worthy of a lifetime full of study and cooking.
For many Western palates, the exploration of Vietnamese cuisine and herbs starts with phở. But that is just the start of exploring the expansive Vietnamese culinary and herbal universe. Below KimChi shares some of her personally favorite dishes, using herbs she's grown in her own garden (zone 9b):
Gỏi Cuốn is a fresh spring roll wrapped in rice paper with a savory meat or protein, rice noodles, herbs, and vegetables. At home, KimChi's gỏi cuốn DIY experience features Vietnamese grilled pork sausage (nem nướng) and fried tofu, and then adds cucumbers, Kent mangos and star fruit. She enhances the rolls with different combinations of herbs like cilantro, sweet basil, rice paddy herbs (ngò ôm), fish mint (diếp cá), and Chinese chives (hẹ). A peanut hoisin dipping sauce is a common accompaniment, however because of her child's peanut allergies, her dipping sauces are seasoned Vietnamese fish sauce (nước chấm) or soy sauce with lime and chilis.
Bún Chả Giò is a rice noodle bowl that combines fresh shredded iceberg lettuce, rice noodles and chả giò (fried egg rolls). KimChi's noodle bowl takes on a different spin by using green or red leaf lettuce for more flavor, lemongrass marinated fried tofu or skirt steak, cucumbers, beansprouts, and varieties of mint. She then tops it with a sprinkle of nước chấm or plain soy sauce.
Bánh Xèo is a crispy Vietnamese crêpe (also called Vietnamese pancakes) made with rice flour, coconut milk, and turmeric. Bánh xèo is filled with pork, shrimp, bean sprouts, and scallions. For a more transformative experience, wrap these crunchy crepes in a large lettuce leaf with cilantro and basil leaves. Dip in nước chấm for a robust, floral flavor.
Some Vietnamese herbs may be hard to find in your area, but don't fret. Let KimChi be your guide in sourcing these herbs and possibly growing them in your own garden. Contact her on IG @food.n.flora
About KimChi
KimChi life's passion has been to convey the human experience in deeply emotional ways. She has done this to great effect as a broadcast news producer, corporate communicator, small business owner, and documentary filmmaker. Her documentary film, Chắc, was made possible by grants from The Jerome Foundation and the New York State Council for the Arts. It screened at the AMNH and the MoMA in New York, the Smithsonian, NYU, Columbia University, and Wellesley College. The film received best documentary at The Bangkok Film Festival and Lena Sharpe Choice Award at Seattle's Women and Cinema Film Festival.
She is fascinated with the food cycle, from garden to plate and back into the ground, and from raw ingredients to full dining experiences. This led her to start her own backyard garden with composting, to experiment with fresh produce and herbs in the kitchen, and to explore global cuisines and cultures through travel.