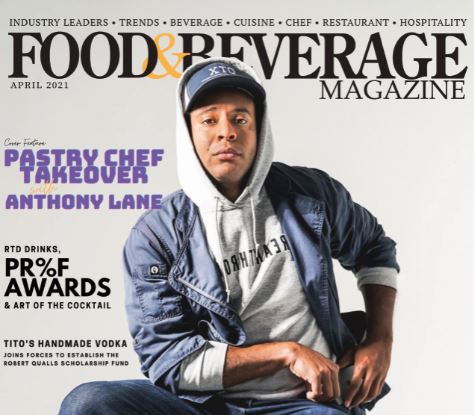 Taste the Passion
Lane & Simple showcases the true meaning of success in the F&B industry.
By Debbie Hall
The award-winning Lane & Simple sweetens the soul with unique wedding cakes and desserts. Based in Houston, Anthony Lane, chef and owner of Lane & Simple, started his business over five years ago and is experiencing tremendous growth despite the pandemic and economy's challenges.
"It was a love of chocolate chip cookies that started it all," he laughs. "The nuance of cookie dough is such an art. People think cookie dough is just putting ingredients in a bowl and mixing it. There is so much more. First, there is the creaming of the butter and sugar for a very extensive period of time to get a nice and chewy cookie with a subtle crust. I have to thank Christina Tosi for that tip. There are so many variations in texture and taste, depending on the ingredients and how the dough is made."
His business then expanded into bespoke wedding and celebration cakes with savory catering options as well.
"Find me a kitchen, and I can make it happen" could be his motto as Lane has delivered cakes to locations in many southern states. He is an active participant on the social app, Clubhouse, and through that app, he has found new clients with destination weddings.
When Lane first started his company, one of his goals was serving people first and serving them well while giving back. He lives by the saying, "People over profit," and while he understands that this might not be taught in a traditional business school and might not be a popular opinion, this is how he chooses to operate his business. His philosophy has been proven successful as he continues to care for people as Lane & Simple grows.
"I try to provide awesome customer service and really listen to people about what they want. I work hard to be able to create their dream wedding cakes and desserts by going the extra mile—even with a full-time job."
The name Lane & Simple is a combination of his last name and the simplistic but elevated style of his wedding cakes and desserts while also simply being ready to serve. He enjoys the artistry of creating beautiful cakes and pastries and part of his success is that Lane is proficient in many areas, not just pastry. Lane has competed in competition against some of the finest restaurants and chefs in Houston and won awards with his special gumbo and simple pound cake, adding to his expertise with savory foods. He has also worked under an executive chef as a pastry chef at a restaurant in Houston. Lane credits his development as a chef and business owner after joining Clubhouse, participating and leading conversations.
During his time on Clubhouse, Lane connected with James Beard Award winner and writer Jennifer English, or Momma J, as he nicknamed her, who hosts several podcasts for Food and Beverage Magazine along with other amazing minds in different rooms on the app. Lane met other chefs, foodies, and content creators with similar interests, which "curated more hallways of food and entertainment content.
"It has just exploded, and I see the platform continuing to expand its reach," says Lane.
He experienced a change in how he interacted with Clubhouse when he spent more time in the Food and Beverage Magazine rooms and helped connect several people with others to be successful in their life and business. This is one of the social app goals—to provide authentic and genuine networking relationships through the medium of voice. It soon became apparent to Lane that developers of Clubhouse wanted the opportunity for people to help elevate and lift each other up, and that is what he also wants to do.
A connection Lane made on Clubhouse, Janelle Copeland, founder of The Cake Mamas with many appearances and wins on the Food Network, is now his business mentor. She guides Lane on his next steps to continue to grow his business and continue turning his "passion into profit" as she says.
Lane is especially excited and extremely humbled about being on the cover of this month's Food and Beverage Magazine issue. "I am simply a guy who loves food and started a business in something that I love and believe in its success. I am not classically trained by any means, and I will admit that every time. I am thankful for this opportunity. I was just being myself on Clubhouse and I am thrilled."
Some laughed and criticized him for starting a baking business. However, he understands that life comes with criticism. "People even criticize me for how much time I spend on Clubhouse. But I am successful today, and my business is still growing."
Lane hails from Louisiana as a proud graduate of Louisiana State University, where he studied interdisciplinary studies focusing on English, history, and human resources, emphasizing leadership and development. He has always had an enormous love of food and grew up preparing different cuisines and styles.
"Everyone cooked, men and women, all of my relatives including my great-grandmother, grandparents, mom, aunts, and uncles. Everything tasted amazing, and I am proud to be part of that heritage," he says.
"I come from a long line of cooking and baking talent, and I decided I had to give it a shot," Lane explains. "I am pumped how Lane & Simple has grown, and it also allows me to give back to the things that I care about."
He has worked in the hospitality industry since he was 16 years old and credited his upbringing for his work ethic. Eager to work as soon as he could as a teenager, Lane's friend's mother, Christina Quakenbush, was a chef for Semolina Restaurant in New Orleans, and she was able to offer him his first job as a host.
This was the time for him to learn all aspects of the restaurant business, including bussing, waiting tables, side prep, and cooking. While attending college at LSU, Lane worked at Fuzzy's Taco Shop, Fleming's, Quarters, Tin Roof Brewing Co., Tap Room, and The Little Village, as well as a server and bartender at Stadium Bar and Grill in L'Auberge Casino & Hotel in Baton Rouge. His other jobs included working as an executive assistant at a private insurance agency and as a runner at a prominent law firm (which he still credits as being one of his favorite jobs)
All of this experience would prepare Lane for his next steps.
"It's a new day, and a new generation is starting to rise and take over in unconventional ways. If someone has the passion, understanding of flavors, is always learning, and can help lead people in a positive way in food, business, kitchens, and life, then that is a chef to me. If you think Gen Z is going to care about being classically trained, that is not going to matter, and there is a change coming."
Along with his business Lane & Simple, Lane also ministers and works full time as the high school youth outreach director for a large church in Houston.
"I am amazed at how my journey with food has evolved, but it also makes sense. I think I was built for hospitality because I am a people person. I love connecting with others, and food is an amazing way to do that. I want to thank Michael Politz [publisher of Food and Beverage Magazine] and Jennifer English. They treated me well and always welcomed me to speak and contribute in their spaces on the platform Clubhouse. I also want to thank Lauren Kane, editor-in-chief, and the entire staff of the magazine. I am excited to learn what my future holds in this space. Success, in my eyes, is not measured by money but measured by how you build authentic relationships. That will take you farther than money ever could.
Join Clubhouse for new magic in conversations and make sure to follow along and chat with Lane and join his Cake Artist Mastermind rooms on Clubhouse, which takes place under Food and Beverage Magazine, Wedding Cake Collective, and Lane & Simple Hospitality. Also, on Clubhouse, start mornings right with motivation and inspiration on Breakfast with Champions founded by Glenn Lundy with contributions by Lane. Then chill out at night in Lullaby Club, founded by Axel Mansoor, a Clubhouse icon.
He is always looking to connect, collaborate and build relationships. Reach out to Anthony Lane on Clubhouse @simplylane and Instagram @lane.and.simple and @simply_lane.