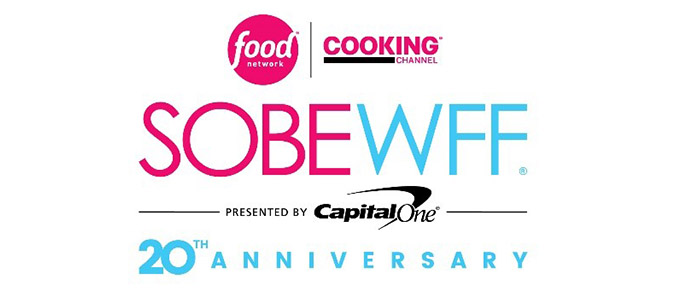 This year's Food Network & Cooking Channel South Beach Wine & Food Festival – Presented by Capital One – Expected to be an Epic Post-Pandemic Culinary Comeback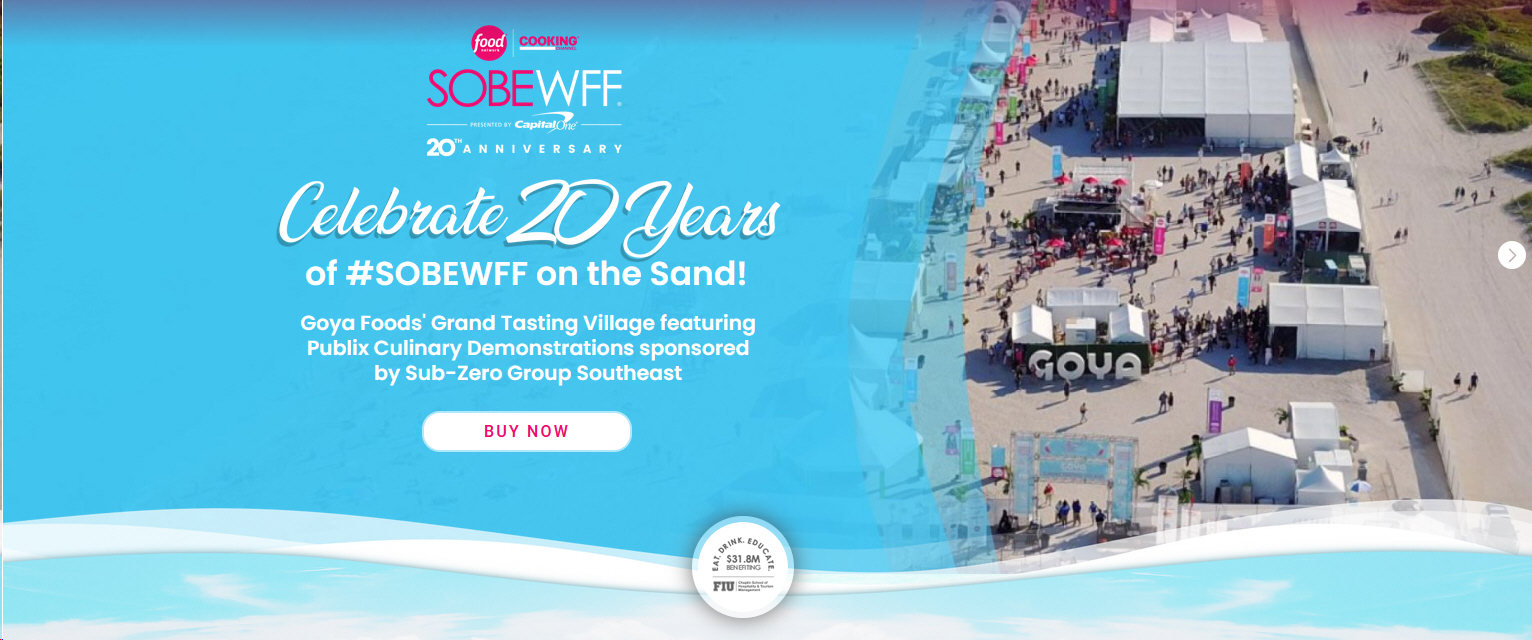 With the Food Network & Cooking Channel South Beach Wine & Food Festival Presented by Capital One (SOBEWFF) set to take the South Florida gastro-scene by storm for its 20th year this coming May 20-23, there is a cornucopia of flavor-fueled activities poised to satiate the hearts, minds and palates of foodies throughout the multi-day fest. As always, the event will showcase the best of the region's flourishing cuisine scene and the ever-talented creators, both locally and from afar, whose culinary ingenuity ensures our epicuriosity endures.
As one of the most revered events of its kind in the United States and certainly the largest in all of Florida, this year's 20th anniversary SOBEWFF is poised to impress. As always, the event's action-packed agenda is brimming with activities, including intimate dinners, late night parties, brunches and lunches, walk around tastings, seminars and more.
And, rest assured, that the event is returning with new protocols dedicated to delivering a safe and comfortable event experience. The Festival will look and feel different this year, but the commitment is unchanged–to eat, drink and educate. This in support of its educational mission to cultivate the future leaders of the hospitality industry at the Chaplin School of Hospitality & Tourism Management at Florida International University (FIU) and also to aid the South Florida hospitality industry during the regrowth phase by giving participating chefs, bartenders and restaurateurs a platform to promote their businesses.
To ensure the safety of Festival-goers and Festival staff, SOBEWFF has consulted with the FIU Healthcare Committee on COVID-19 Health & Safety Protocols that follow guidance from the Centers for Disease Control and Prevention (CDC), State of Florida Department of Health, Miami-Dade County, and the City of Miami Beach. Among them, attendees can expect to provide proof and/or attestation of a negative PCR COVID-19 test dated no more than 72 hours prior to the event(s) or alternatively proof of completed COVID-19 vaccination; presentation of a cleared SymCheck™️ QR Code; a contactless ticketing system; and temperature checks at all events. Apart from the Wine Spectator Wine Seminar Series, all events will take place outdoors with new additional measures on capacity restrictions, cleaning, sanitization, limited physical contact, and mask requirements.
The 20th annual Festival will kick-off Thursday, May 20 with Carbone Fine Food presents Italian Bites on the Beach sponsored by Havas House hosted by Giada De Laurentiis and the revelry ramps up from there. With the festival offering so many options, here are a few top reasons why this year's event is a can't miss occasion:
Top Talent The 2021 class of chefs, winemakers and tastemakers that will host or otherwise appear at this epic festival filled with food, wine and culture boasts some of the most elite folks in their fields. From nationally-recognized celebrity chefs, legendary winemakers, guest mixologists and James Beard Award-winning authors to Master Sommeliers, brewmasters and artisans, this year's lineup is designed to delight, entertain and make your taste buds sizzle at every turn.

Among the culinary elite that'll be on-site this year is Bobby Flay, Guy Fieri, Martha Stewart, Molly Yeh, Robert Irvine and Melba Wilson.These are in addition to throngs of other industry movers and shakers hell-bent on leaving attendees longing for more.

Locavore Cultural Immersion As the festival is ensconced in one of the country's premier beach regions, it's fitting that event goers can partake in an all-star dinner celebrating Miami's finest culinary talent, all curated by baking all-star and local culinary super-personality Zak Stern – otherwise known as "Zak the Baker.' He's gathered some of Miami's hottest chefs for an intimate dinner experience that is guaranteed to bring the heat!

Joining Stern will be Chefs Luciana Giangrandi and Alex Meyer, fellow 2020 James Beard Award semifinalists (Best Chef: South), and the masterminds behind Boia De, one of Miami's most buzzed about restaurants. Giangrandi, having cooked at world-renown Carbone and award-winning Scarpetta, brings her own unique, Miami-influenced flavor to her culinary ventures, and Meyer has a resume that boasts stints at big-name eateries like Animal Restaurant in Los Angeles, CA to The Nomad in New York, NY where he served as sous chef.

Cooking alongside this talented trio, will be Festival first-timer, Carey Hynes, the chef behind Jaguar Sun in Downtown Miami. Hynes, known for upping the bar-food game, is often praised for curating a soulful and satisfying menu at the much-loved dining locale. Together, this hyper-local quartet will serve up an incandescent dinner reminiscent of the Magic City, under the starlit eaves of Lot 6 (the pop up dining location from the founders of Jaguar Sun) and perfectly paired with wine pairings from the Southern Glazer's Wine & Spirits portfolio.

To offer the safest experience and adhere to each restaurant's unique seating capabilities, tickets will be sold in specific table configurations listed at checkout.

Edu-Tastings Abound Beyond incredible eats, Oenophiles can also rejoice that this year's SOBEWFF offers a range of educational experiences and wine seminars vis a vis the Wine Spectator Wine Seminar Series. Options are comprehensive and include Heitz Cellar: The Evolution of An American Icon; Graham's Port: Two Families & 200 Years; Ridge Vineyards: Six Wines from Famed Monte Bello Vineyard; Delas Frères: A Rebirth in the Rhône Valley; Roederer Estate:Sparkling in California Since 1982; Icons of Burgundy: Bouchard Père & Fils and William Fèvre; Dom Pérignon: The Pinnacle of Champagne; and Joseph Phelps Vineyards presents Blending Napa Valley's Iconic Insignia.
First-of-its-Kind Experiences A number of new and exciting events will debut this year, including the Explore Delray Beach Market hosted by Nick DiGiovanni; Rockin' Sushi hosted by The Succulent Bite; and Sunset Happy Hour presented by Santo Tequila.

During the delicious Explore Delray Beach Market eating experience hosted by up-and-coming television chef, Nick DiGiovanni. Harvard-educated DiGiovanni, one of TikTok's top U.S. food content all-stars, a fan-favorite Instagram food influencer, and the youngest-ever finalist on MasterChef, will bring to life the excitement and adrenaline of food hall dining, paired with wines and spirits from the Southern Glazer's Wine & Spirits portfolio. Delray Beach Market is more than a food hall—it's a lifestyle experience.

Rockin' Sushi hosted by The Succulent Bite will be a little rock, a little roll, and a whole lot of fun as you join culinary explorer Nico Norena, founder and creator of The Succulent Bite, for an epic late-night party unlike any other poolside at The Ritz-Carlton, South Beach. A longtime Festival friend, Norena is one of Miami's favorite foodie Instagram influencers and content creators, and he's bringing his passion for sushi and rock 'n roll tunes to South Beach this year! Put your chopsticks to work as you indulge in some of the best sushi, sashimi, hand rolls and more that the Magic City has to offer – all curated by Norena himself.

For some amped up fun, join Sunset Happy Hour presented by Santo Tequila being held on the water at The Deck at Island Gardens. Sip the day away as the sun sets and Emmy Award-winning rockstar Chef Guy Fieri's high-energy style kicks off the night! For double the trouble, Fieri will be joined by rocker Sammy Hagar, who was inducted into the Rock and Roll Hall of Fame as a member of Van Halen in 2007, to kick this happy hour into overdrive with his high-voltage charm! Watch Miami Beach come alive with  stunning picturesque views of Downtown Miami and Biscayne Bay, as you indulge in hearty stone crabs from Roger Duarte and George Stone Crab, savory croquetas and medianoches from Nicole Valls and her family's iconic Versailles Restaurant, decadent pies from the man himself, Derek Kaplan of Fireman Derek's Bake Shop and coastal fare from The Deck at Island Gardens' own Executive Chef Joseph Bonavita. The legendary rocker and Fieri, who joined forces to bring to life Santo Tequila—made from only the finest 100% Blue Weber Agave from the highlands of Jalisco, Mexico—will offer guests a chance to sling back refreshing cocktails from Santo Tequila while they rock into the dusk. Happy hour just got elevated to a new level at The Deck at Island Gardens – Miami's most exquisite super-yacht marina outdoor lounge, the perfect environment for guests to sip, savor and dance outdoors.

The Grand Tasting Epic Ending

As the days-long eating and imbibing ends, during which thousands of patrons are expected to partake, many will come together to celebrate the spirit of food and frivolity at the monumental Goya Foods' Grand Tasting Village on Sunday, May 23. It will feature Grand Tasting Tents and Publix Culinary Demonstrations sponsored by Sub-Zero Group Southeast.

This event is sure to refresh and tantalize your taste buds with offerings from more than 30 restaurants and an array of wines and spirits from Southern Glazer's Wine & Spirits. Pace yourself as you take a refreshing stroll through an unending array of scents and tastes in the Grand Tasting Tents while celebrating all areas of South Florida as participating restaurants represent distinct districts across South Florida—from South Miami and Coral Gables to Brickell, Wynwood, South Beach and on into Fort Lauderdale and Palm Beach. Fans will continue to enjoy more places to relax and absorb this grand experience—whether it's with a cocktail under the shade or your hips swaying to the rhythm of the palm trees on the beach. Here you can remove your sensibilities as you enter the new and improved world devoted exclusively to sampling bold cuisine, stylish wines, carefully creative spirits and watching your favorite chefs, authors and culinary personalities dice it out on the Publix Culinary Demo stages.

Honoring a commitment to ensuring the health and safety of staff, talent, attendees, sponsors, participants, and community, this event will be split into two sessions this year. Both sessions will have the same chefs, wine and spirits, and sponsors, but the capacity will be greatly reduced from that of previous years.

The complete line-up of events for the 20th annual Festival is available online at sobewff.org. You can also stay up-to-date all year long by following along with the #SOBEWFF hashtag on Instagram, Twitter and Facebook.
I fervently believe that the most valuable things in life these days are not tangible, but rather are memorable and meaningful experiences that move us from our normal, often mundane, every day state-of-being to a place of mind, heart and spirit that makes you revel in the moment, be fully present, and have gratitude for the "here and now." Those like me who are wanderers, travelers, foodies and adventurers thrive on awe-inspiring moments—and those moments that concurrently tease and please the taste buds and inspire a sense and desire of discovery drives us ever forward. So do yourself a favor and move forward with your own plans to attend one more of the fabulous SOBEWFF 2021 events. I envisage the experience will leave you chomping at the bit to return year after year.
~~~
Forbes Business Council Member Merilee Kern, MBA is an internationally-regarded brand analyst, strategist and futurist who reports on noteworthy industry change makers, movers, shakers and innovators across all categories, both B2C and B2B. This includes field experts and thought leaders, brands, products, services, destinations and events. Merilee is Founder, Executive Editor and Producer of "The Luxe List" as well as Host of the nationally-syndicated "Savvy Living" TV show. As a prolific consumer and business trends, lifestyle and leisure industry voice of authority and tastemaker, she keeps her finger on the pulse of the marketplace in search of new and innovative must-haves and exemplary experiences at all price points, from the affordable to the extreme. Her work reaches multi-millions worldwide via broadcast TV (her own shows and copious others on which she appears) as well as a myriad of print and online publications. Connect with her at www.TheLuxeList.com and www.SavvyLiving.tv / Instagram www.Instagram.com/LuxeListReports / Twitter www.Twitter.com/LuxeListReports / Facebook www.Facebook.com/LuxeListReports / LinkedIN www.LinkedIn.com/in/MerileeKern.
Some or all of the accommodations(s), experience(s), item(s) and/or service(s) detailed above may have been provided or arranged at no cost to accommodate if this is review editorial, but all opinions expressed are entirely those of Merilee Kern and have not been influenced in any way.