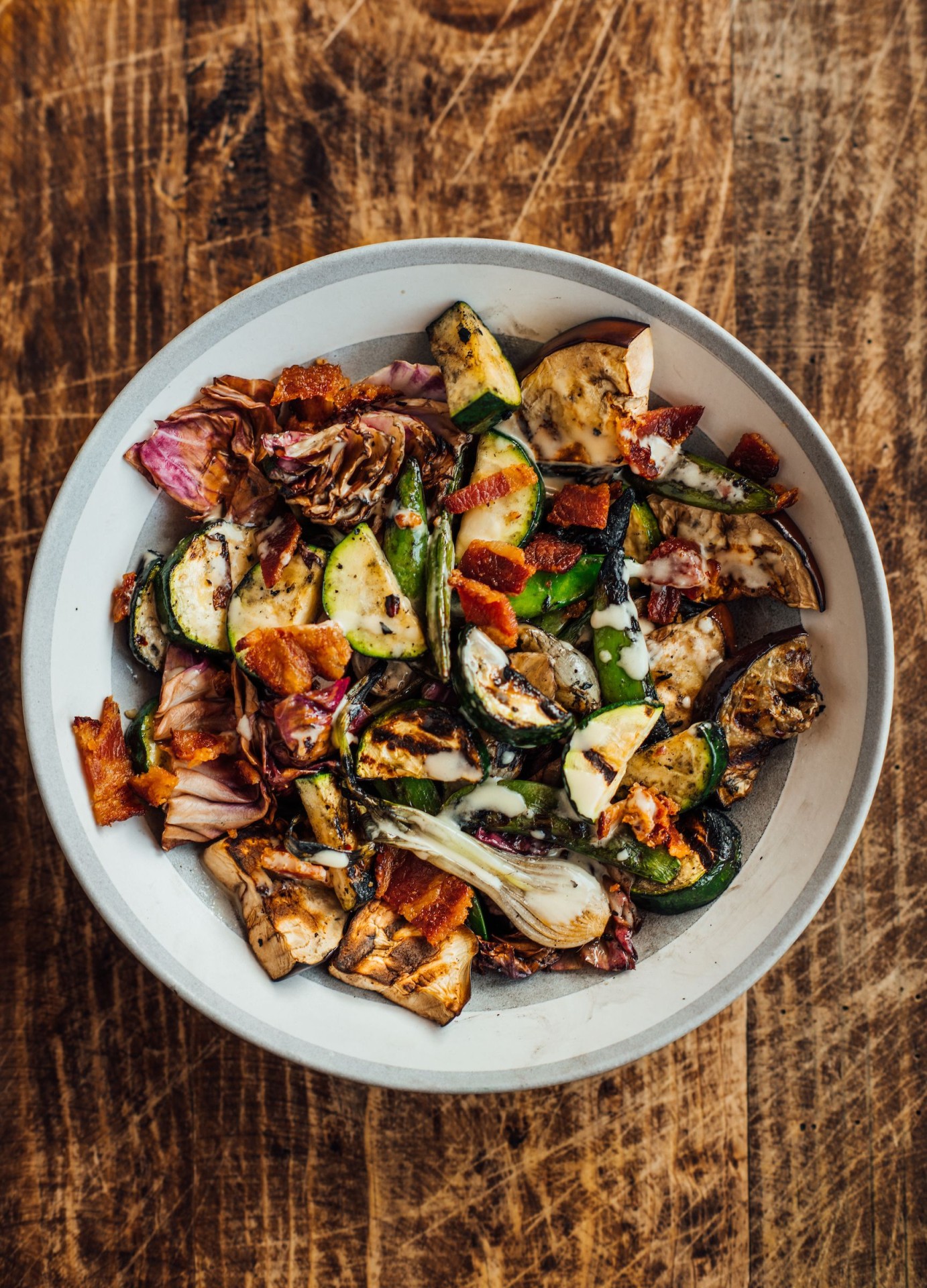 GRILLED GARDEN VEGETABLES WITH BACON VINAIGRETTE
Want to make your vegetables taste better and have your friends love you? Char the hell out of some on
the grill and then toss them in a bacon vinaigrette. These are vegetables so unhealthy a Cajun might
actually eat them. You can do this dish year-round with whatever is in season: eggplant and zucchini, radishes, green beans, radicchio, or others. If the vegetable is sliceable, slice it. If it's broccoli or cauliflower, cut into quarter-size florets; if green beans, leave them whole. 
Serves 4
8 slices thick-cut bacon
5 cloves garlic, peeled
3 anchovy filets
½ cup apple cider vinegar
½ cup canola oil
1 pound assorted vegetables, cut into ¼ inch slices
1. teaspoons kosher salt
1 teaspoon ground black pepper
½ teaspoon crushed red pepper flakes
1 tablespoon extra virgin olive oil
› Preheat the grill to high (about 500°F). Preheat the
oven to 400°F.
› Place the bacon slices on a rimmed baking sheet and
cook in the oven for about 20 minutes, until the bacon is
crispy. Remove the bacon and reserve the baking sheet
with the rendered fat. Crumble the bacon and set aside.
› In a blender, combine the garlic, anchovies, and
vinegar and put the lid on. Turn the blender on and
slowly drizzle in the canola oil. This is never going to
be a fully emulsified vinaigrette, so don't fret if it looks
like it's breaking. Add the reserved bacon fat (about 1.
tablespoons, but if you have more from cooking your
bacon, just toss it all in) and keep the blender buzzing
for 5 seconds to combine all the ingredients. Keep
warm. I like to put it in a metal container, like a mixing
bowl, and keep it by the grill while I cook the vegetables.
The vinaigrette doesn't need to be hot, just not too cold
because the bacon fat will congeal if you let it.
› In a large bowl or on a rimmed baking sheet, toss the
vegetables with the salt, pepper, pepper flakes, and
olive oil. Place the vegetables on the hot grill in a single
layer and cook on each side for about 2 minutes. They
should char on the outside while keeping the crunch or
snap of fresh crudites. They should be really crispy and
charred, not all wimpy and overcooked; high heat is key
here. Remove the vegetables from the grill and put in a
nonreactive bowl.
› Toss the grilled vegetables in the bacon vinaigrette.
Top with the crumbled bacon. Serve.