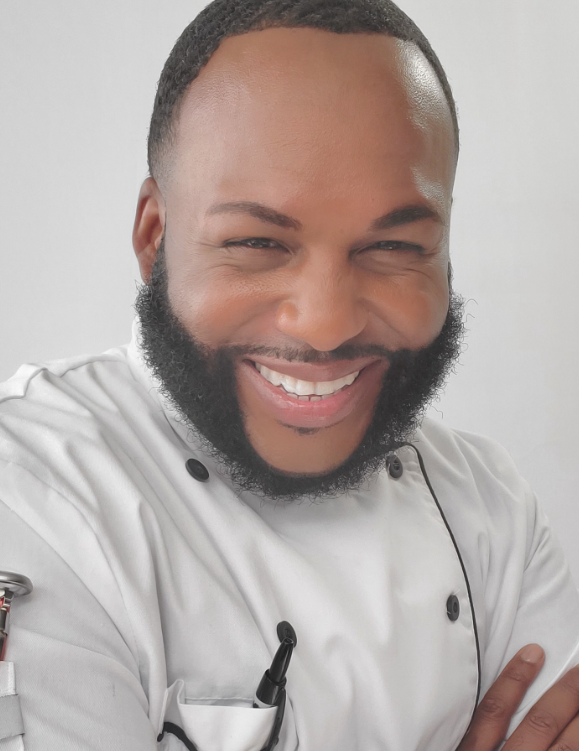 It all started when Chef Ju'von could smell those onions caramelizing…
With a southern background of Greenville, SC- born and raised in New York.
The Award-Winning Celebrity Chef and owner of Chef Ju'von's Personal Chef Services, is thrilled to give back by way of sharing Kidney Failure Awareness, which he experienced himself. He is a recipient of "A Miracle in God's Eye", a successful kidney transplant 13 years ago, and is now 5 years medicine free.
Chef's abstract spin on food comes from various cultures and ethnic backgrounds.
Chef Ju'von is an Award-Winning Celebrity Chef of the Year, he has worked with celebrities such as Rick Ross, RnB sensation Bad Boy Total, Erica Mena (Love & Hip Hop), Duchess (VH1's Black Ink), retired NFL player Corey Graham, some of the NBA players in the Bubble like Kyle Kuzma, JaVale Mcgee, and in Orlando Laron Profit.
Chef has also been featured on the Michael Colyar Morning show, WKMG-TV News 6 and WFTV News 9 in Orlando.
Chef Ju'von is a Personal Chef that will cater to you and your guest needs with excellence and expertise in the privacy of your own home. Chef Ju'von trained in The New York National Guard Challenge Program but more from Google University and Youtube Community College.
Chef Ju'von Personal Chef Services specializes in fine dining. Specialties include Braised Rack of Lamb with a Port & Berry reduction, (a planned bottling is in the works). Jerk Shrimp and Grits, which was recently featured in Edible Orlando, and his star of the evening dessert is his spin on Flambé Banana Foster with edible 24k. gold.
You can see more of Chef's team putting out fires on his social media with his signature flambé dinners served with excellence: @chefjuvon