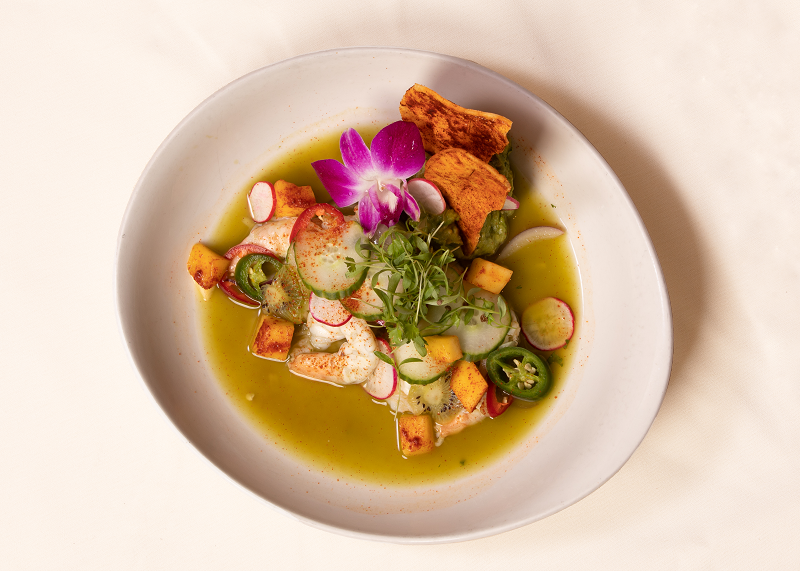 Amara Resort and Spa's signature restaurant, SaltRock Southwest Kitchen, has launched a fully revitalized fall menu in tandem with the announcement of its new Executive Chef David Duncan.
Duncan, a native Arizonan, has integrated seasonal flavors and autumnal elements into these classic Southwest dishes while creating a menu that still matches the vibrancy of the surrounding atmosphere and iconic red rock views. While many signature favorites remain, this is the largest menu refresh to take place since SaltRock opened seven years ago.
Guests will enjoy standout dishes such as the Lobster Al Pastor Tacos ($28) with blue corn tortilla, pineapple and jalapeño crema; Summer Squash Relleno ($28) with roasted poblano pepper, grilled button-onion, golden raisins, pepitas, Oaxaca cheese and forbidden black rice; and SaltRock's current best seller, the Tiger Shrimp Tamal ($36) with garlic lime butter, charred corn polenta, crispy kale and chimichurri oil. In the Trout Vera Cruz ($34), featuring enchanted black rice, tomato consommé, brown butter, Veracruz relish, green olives, tomato and onion, the rainbow trout is caught just 10 miles up the road from the restaurant.
"Each dish truly pops on the plate due to the vivid colors and the stunning presentation," Duncan said. "My team and I have worked diligently to create a menu that is a personification of Arizona in culinary form. It incorporates a lot of flavors that I love, including black garlic, poblano peppers and chiles, while promoting local purveyors wherever possible. Being born and raised in the state gives me a unique perspective and appreciation for the desert and I want that homegrown love to translate into each dish."
The new menu complements the recently revamped cocktail program, created by SaltRock's Assistant Director of Food and Beverage Ardi Dulaku. With libations that bring the beloved dining destination back to its roots with Mexican and Sedona-inspired flavors, visitors can pair their dishes with drinks such as the Vortex Therapy ($18) with turmeric infused Tito's Vodka, passionfruit, inner-peace flower elixir, agave, lemon and pink peppercorn; the Botanical Bee ($16) with Suncliffe Gin, ginger-thyme infused local honey and lemon; and the Oaxacan Negroni ($18) with cacao infused mezcal, Campari, vermouth, mole bitters and earl gray cube.
"Throughout the brainstorming process, our team strived to ensure that the updated menu would complement SaltRock's extensive beverage program," Duncan said. "When you dine with us, you can feel confident that there will also be a variety of cocktails to choose from that cohesively pair with your dish and further elevate your overall culinary experience."
Guests will also enjoy SaltRock's overall ambience which equally matches the quality of the cuisine and cocktails. Amara recently underwent a multimillion-dollar, property-wide renovation that completed in the fall of 2021. The restaurant's revitalized interior offers expanded seating in a space that emulates Sedona's warm and inviting culture. Outside, the expansive patio provides the perfect destination for alfresco dining and it recently completed a renovation in the summer of 2022 that added heaters, shade sails and misters, so guests can enjoy the stunning views of the famous Cleopatra and Snoopy Rocks year-round.
For more information about SaltRock Southwest Kitchen or to make a reservation, visit www.amararesort.com/eat-drink/saltrock or call 928-340-8803.
ABOUT AMARA RESORT AND SPA
Tucked along the banks of Oak Creek Canyon, Amara Resort and Spa offers Southwest sophistication infused with a modern interpretation of Sedona's Native American heritage in every aspect of the resort's services, amenities and aesthetic. Consistently named one of the U.S. News & World Report's "Best Hotels", the resort offers 100 spacious guestrooms and suites that blend thoughtfully with the unique design elements and local landscape. Just steps away from the bustling Uptown Sedona, panoramic views of the surrounding red rocks can be enjoyed from Amara's expansive open-air courtyard; heated, infinity-edge pool; or inviting outdoor fire pits that offer a lively social space during weekly stargazing sessions hosted by local astronomy experts. The resort also features a signature restaurant, SaltRock Southwest Kitchen that showcases a menu of Southwestern-inspired cuisine featuring fresh, light and seasonal dishes and ingredients inspired by the Verde Valley; and the award-winning, full-service Amara Spa. Amara Resort recently completed a multimillion-dollar renovation as of fall of 2021. To learn more, visit www.amararesort.com or call 928-282-4828.