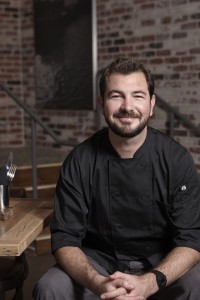 Located in San Diego's kinetic, community-centric East Village, JSix is a neighborhood bar and restaurant offering warm hospitality alongside culinary whimsy and craft cocktail ingenuity. With a seasonally-driven menu committed to hormone-free, sustainable and organic "farm-to-fork" dishes, JSix patrons are sure to experience stellar food and drink with a side of gracious hospitality.
My personal favorite aspect of the offerings at JSix is its cryptic "Chef's Mercy" experience—an entirely customized and randomized five-course tasting menu allowing chefs to go "off road" and dish up whatever suits their fancy—with the goal of dazzling the awaiting palate, of course. Unlike a typical "chef's choice" menu where actual menu items are tapped for selection, JSix's Chef's Mercy allows executive chef, Christian Graves, and his able brigade to prepare any dish they can conceive based on that day's, or moment's, available ingredients and inspirations. The result is an enigmatic epicurean adventure well worth the price of admission—certainly the $65 cost-per-head or $85 with wine pairing.
If you're a culinary control freak who needs a little more convincing, here are six reasons to succumb to the JSix Chef's Mercy menu:
1. Dishes are a manifestation of what the chef feels is the best use of, and result from, that day's ingredients. JSix prides itself on utilizing organic ingredients that support local farmers and the local economy, so the printed menu changes seasonally and the Chef's Mercy menu, well, in real time based on what's in the refrigerator, the pantry and the heart when the order presents. Chef Graves also strives to utilize as much of the ingredient as possible, whether it's an animal protein or produce, which also can affect the dishes making it into a Chef's Mercy course. I had the pleasure of interviewing Chef Graves recently and he emphasized his lighthearted approach no matter which menu direction a patron decides to go: "To have fun while you cook, which translates into the dish. To keeps things fresh, playful and unfussy. The ingredients speak for themselves, staying true to their flavors."
2. The Chef can express his culinary prowess with more creativity and flair than the more "mass appeal" items inscribed on the menu. Chef Graves boasts an impressive background with accolades that include being named San Diego's hottest chef by Eater and winning the Silver Fork Award from San Diego Home and Garden. While regular menus are typically strategized to best ensure dishes will resonate with the masses, Chef's Mercy allows the kitchen crew to stretch their culinary legs and take imaginative risks they may not have the opportunity to otherwise. As well, in addition to creating incredible flavor and textural profiles on-the-fly, JSix dishes are always a visual delight with impeccable plating duly showcasing the high level of culinary skill and technique.
3. Allows patrons to savor a more complex cross-section of flavors available at the eatery. JSix's seasonal fare is "as eclectic as the East Village neighborhood." Chef Graves creates each of his dishes in response to what is available locally at the given time, including ingredients indigenous to California's coast. As the Chef's Mercy courses unfold, in total the experience delivers a diversity and range beyond what a typical dinner would entail.
4. Gives adventurous, non-finicky eaters the chance to participate in informal "field testing." Since the menu at JSix is ever-evolving with Chef Graves continually considering menu items to add up ahead, the Chef's Mercy menu allows patrons to actually help shape the culinary direction of the eatery—something hardened foodies will especially appreciate. Not only is the Chef's Mercy menu a brave, fun, exciting and mysterious culinary adventure for the guests, it's also an adventure for Chef Graves and his team as well. While the dishes are based entirely on Chef's whim and what is available, as well as what has stimulated him in that day or moment, the intrepid guests' reactions to the fare could actually shape future iterations of the regular menu.
5. Through expertly strategized pairings, patrons can experience a wide cross section of domestic and international wine varietals by the glass. The wine pairings for each course are impeccable and often showcase international and domestic varietals from boutique wineries that you may not otherwise know about—or consider pairing with a certain kind of food. Being introduced to these wines with low commitment by the glass, oenophiles can readily expand their repertoire and their own wine pairing prowess. Of course, in addition to copious wine varietals, JSix has an impressive artisan craft cocktail menu spearheaded by head bartender, Chris Burkett, who balances a classic approach and timeless techniques with ingredient-focused concoctions.
6. It's distinctive dining at its finest. The JSix Chef's Menu proffers a dining concept not readily replicated elsewhere and, of course, the dishes themselves are entirely unique—perhaps never to be seen again. That's what makes the Chef's Mercy menu an experience unlike any other: the dishes and pairings you taste have probably never been tasted before, and may never be tasted again. So many factors contribute to the creation of these meals, it's like capturing culinary lighting in a bottle. The possible combinations and endless variety make every Chef's Mercy menu a gastronomic marvel.
So there you have it. Six rock solid reasons that will hopefully inspire you to head to JSix for a Chef's Mercy exploit all your own. Amid the excitement and mystique of impulse-induced fare, rest assured you'll be served scratch-cooked American cuisine that's curated with care.
~~
"The Luxe List" Executive Editor Merilee Kern scours the luxury marketplace for exemplary travel experiences, extraordinary events, and notable products and services. Submissions are accepted at www.TheLuxeList.com. Follow her on Twitter here: www.Twitter.com/LuxeListEditor and Facebook here: www.Facebook.com/TheLuxeList.
Some or all of the accommodations(s), experience(s), item(s) and/or service(s) detailed above were provided at no cost to accommodate this review, but all opinions expressed are entirely those of Merilee Kern and have not been influenced in any way.