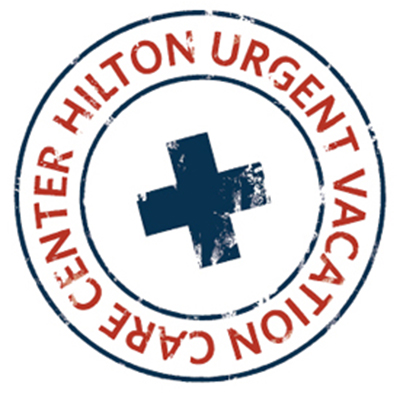 Updated Hilton Urgent Vacation Care Center Promotes Weekend Getaways and Leisure Packages to Alleviate Global Epidemic and Encourage Workers to Take Unused Vacation Days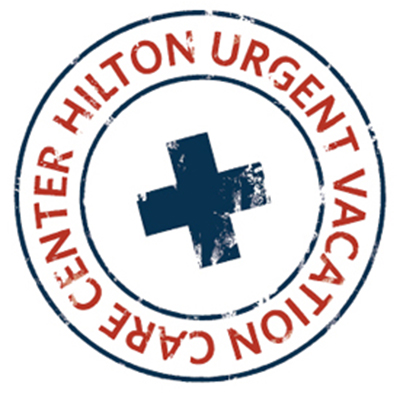 With vacation days expiring for many workers at the end of the year, Hilton Hotels & Resorts announces "International Use It or Lose It Week," a holiday campaign from November 18 – 22, 2013, that encourages working professionals everywhere to use their hard-earned vacation days and enjoy leisure time with friends and family this holiday season. The campaign is part of a larger effort by Hilton Worldwide's flagship brand to combat "Vacationitis," defined as an "epidemic creating high levels of stress and claiming countless hours of unused vacation time as it spreads among employees who have not taken enough time off this year." Patients can seek emergency care, including the chance to win one of 15 weekend getaways, at www.vacationcarecenter.hilton.com.
"A vacation is as important as watching your cholesterol or getting exercise," said Joe Robinson, a stress management and work-life balance consultant and author of Work to Live. "An annual vacation can cut the risk of heart attack in men by 30 percent1 and in women who take two vacations a year by 50 percent2. No health food can give you that benefit."
To reinforce the "Use It or Lose It" message and encourage workers to take time off, Hilton today unveils the updated Urgent Vacation Care Center with new quiz questions for diagnosing Vacationitis; a countdown clock reminding people that their vacation days are expiring; and humorous materials to download and share, including "out of office" email messages, a vacation approval letter and the 14 symptoms of Vacationitis. Upon completing the quiz, visitors will also be entered into a sweepstakes where 15 winners will receive two complimentary nights at any Hilton Hotels & Resorts property in the world.* The interactive site, featuring personal diagnoses of vacation needs and customized prescriptions, launched in January 2013 to urge workers to take breaks, weekend getaways and longer vacations.
Robinson continued: "Vacations also cure burnout, the last stage of chronic stress. They are a crucial balancing tool, not just for your health, but also for your work. They increase performance and reaction times. It turns out humans are like cell phones – we need to be recharged, too."
With leisure packages offered by Hilton, it is easier than ever to use vacation days before the end of the year in destinations ranging from Seychelles to New York and British Virgin Islands to Europe, among many others. The "Instant Getaway" package includes a drink coupon upon arrival, in-room breakfast for two and late check-out.
** Travelers looking for a more resort-style getaway can book the "Leisure Escapes" offer at participating properties to receive a $50 on-property credit to play golf, enjoy lunch by the pool, unwind at the spa and more.***
"Today's group of working professionals are putting in more hours than before and neglecting their much needed vacation time to relax and recharge," said Rob Palleschi, global head, Hilton Hotels & Resorts. "Our Vacationitis campaign champions leisure travel and we're encouraging workers to take advantage of their unused vacation days before they expire."
Hilton also tackles Vacationitis in the United Kingdom as a recent Hilton Hotels & Resorts survey of 2,000 British workers, conducted by OnePoll in November 2013, states that 4.5 million British employees are leaving more than six days of annual vacation on the table each year. While the average Brit is entitled to 23 days of leave each year, 40 percent rarely, or never, use their full allocation and three out of 10 workers spend their vacations worrying about their job. During "International Use It or Lose It Week," Hilton Hotels & Resorts ambassadors will be positioned at five commuter rail stations across London distributing branded Oyster card holders to remind consumers to visit the Hilton Urgent Vacation Care Center website and use their hard-earned vacation time.
Social media users can engage with Hilton at www.facebook.com/hilton and follow the conversation at #Vacationitis on Twitter, Instagram and Pinterest at @hiltonhotels. Media can download images and access more information at http://news.hilton.com. Fans are also encouraged to share photos depicting "I'd rather be there, than here" – contrasting images from their daily lives, such as their office, with places they might rather be, like a beautiful beach in the Caribbean. Fans can see more at Instagram.com/hiltonhotels.
* No purchase, donation or payment of any kind is necessary to enter or win. Must be a resident of Canada (excluding Quebec), China, Costa Rica, Fiji, Germany, Guam, India, Ireland, Japan, Malaysia, Maldives, Mexico, New Zealand, South Korea, U.K. and the U.S., who are the age of majority in entrant's jurisdiction of residence at time of entry, are eligible to enter. Starts November 18, 2013 at 12:00:01 a.m. EST, and ends on December 31, 2013 at 11:59:59 p.m. EST. (15) total winners each receive two (2) Be My Guest Certificates each valid for one night of free lodging (one (1) standard room and corresponding taxes) at any Hilton Hotels & Resorts property worldwide. The approximate retail value (ARV) of each prize is $380.00 USD. Odds of winning depend on the number of eligible entries received. Cure Vacationitis with Hilton sponsored by Hilton Worldwide. Void where prohibited. Additional terms, conditions & restrictions apply. See complete Official Rules at www.vacationcarecenter.hilton.com.
** The Instant Getaway Package is offered at participating hotels from 1 January 2013 to 31 December 2013. Book Plan Code RP. Limited availability; advanced booking required. Rate will vary by property, length of stay and by date. Availability and rate will be confirmed at time of booking. Rates are based on double occupancy and do not include resort/service fees, taxes, incidentals or gratuities. Rate, taxes, applicable dates, advance deposit, credit guarantee and reservation cancellation policies may vary by hotel; please inquire at time of reservation. Not valid for use during convention or meeting dates. Access to health club where available; excludes spa services. Food and beverage portions of offer do not include applicable gratuities and taxes, or alcoholic beverages. Full American breakfast includes eggs, breakfast meat such as bacon or sausage, toast, juice, coffee and breakfast potatoes. On stays beyond one night, buy one lunch or dinner entrée and receive a second one of equal or lesser value at no additional cost. Sparkling wine included in package only where permitted by law to those of legal drinking age; non-alcoholic sparkling cider may be substituted upon request. One breakfast certificate per hotel stay only. One entrée certificate per hotel stay only to be used at the hotel's designated restaurant.
*** Offer is subject to availability at participating Waldorf AstoriaTM Hotels & Resorts, Conrad Hotels & Resorts, Hilton Hotels & Resorts, DoubleTree by HiltonTM and Embassy Suites Hotels. View a complete list of participating properties. Blackout dates, early departure fees, and deposit and cancellation restrictions may apply and vary by hotel. This offer is not applicable to existing reservations or group bookings, and may not be combined with other select promotions, discounts, or offers. Participating properties are subject to change without notice. To book room by phone, please call +1-800 HHONORS or view a global list of Hilton Worldwide Reservation centers. You must book the "Leisure Escapes" package or Plan Code "RPTVS1" or "TVS." $50 resort credit included can be used towards any on-property activity including dining, spa and golf. Hilton HHonors membership, earning of Points & Miles and redemption of points are subject to HHonors Terms & Conditions.
About Hilton Hotels & Resorts
Founded in 1919 as the flagship brand of Hilton Worldwide, Hilton Hotels & Resorts continues to build upon its legacy of innovation by developing products and services to meet the needs of savvy global travelers at more than 550 hotels across six continents. Hilton is the stylish, forward-thinking global leader in hospitality with Team Members shaping experiences in which every guest feels cared for, valued and respected. Access the latest news at http://news.hilton.com and begin your journey at http://www.hilton.com or http://www.hilton.com/offers for the latest hotel specials. View a list of official social channels at http://www.hilton.com/social. Hilton Hotels & Resorts is one of Hilton Worldwide's ten market leading brands.
About Hilton Worldwide
Hilton Worldwide is a leading global hospitality company, spanning the lodging sector from luxury and full-service hotels and resorts to extended-stay suites and focused-service hotels. For 94 years, Hilton Worldwide has been dedicated to continuing its tradition of providing exceptional guest experiences. The company's portfolio of ten world-class global brands is comprised of more than 4,000 managed, franchised, owned and leased hotels and timeshare properties, with more than 665,000 rooms in 90 countries and territories, including Waldorf Astoria Hotels & Resorts, Conrad Hotels & Resorts, Hilton Hotels & Resorts, DoubleTree by Hilton, Embassy Suites Hotels, Hilton Garden Inn, Hampton Hotels, Homewood Suites by Hilton, Home2 Suites by Hilton and Hilton Grand Vacations. The company also manages an award-winning customer loyalty program, Hilton HHonors. Visit www.hiltonworldwide.com for more information and connect with Hilton Worldwide at www.facebook.com/hiltonworldwide, www.twitter.com/hiltonworldwide, www.youtube.com/hiltonworldwide, www.flickr.com/hiltonworldwide and www.linkedin.com/company/hilton-worldwide.