Ingredients:
Olive oil
1 large butternut squash
Kosher salt
Black pepper
1 medium onion, chopped
1 lb. Elbow macaroni
1 stick butter
½ cup flour
5 cups whole milk
4 cups Jarlsberg cheese, grated
½ tsp. ground black pepper
¼ tsp. nutmeg, freshly grated
1 C. Panko breadcrumbs
4 Tbsp. butter, melted
1 tsp. dried parsley
Directions: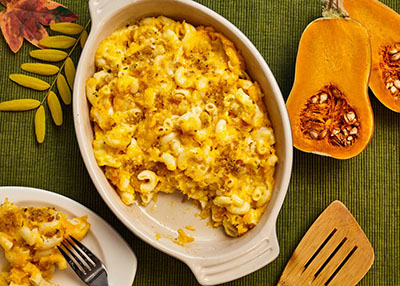 Preheat oven to 375 degrees. Cut butternut squash in half, remove seeds and place on an aluminum paper lined baking sheet. Brush with olive oil and season with salt and pepper. Place in oven and cook until browned, about 1 hour. Set aside to cool and scoop out squash in a bowl.
In the meantime, add 1 Tbsp. olive oil in a small sauté pan and cook onions on medium heat until browned. Mix onions with butternut squash.
Bring 6 quarts of water to a rolling boil and add 1 Tbsp. salt. Add pasta and stir gently allowing it boil for about 7-8 minutes, until "al dente". Remove from heat, drain well and place in a large bowl. Set aside.
Spray a 9X13 deep casserole dish with non-stick spray.
For the béchamel sauce, start by making a roux in a medium stock pot. Melt butter under medium heat and whisk in flour. Keep whisking under medium heat until roux is browned, about 5-6 minutes. Gently whisk in the milk until properly combined. Continue whisking the sauce until it thickens and begins to simmer, about 10-12 minutes. Whisk in 1 tsp. salt, ¼ tsp. pepper and nutmeg.
Remove from heat and add shredded Jarlsberg. Use a rubber spatula to mix until cheese is completely melted. Combine cheese sauce with butternut squash until smooth. Then mix in pasta.
Mix Panko breadcrumbs, melted butter and dried parsley in a medium bowl until combined. Pour mac n cheese inside casserole dish and top with breadcrumb mixture. Bake in oven for 20-25 minutes, until browned and mac n cheese is heated through.
Serves 10-12 people