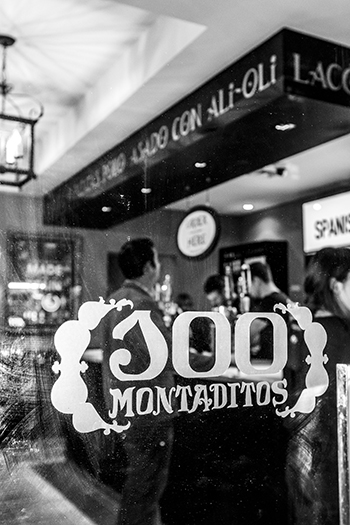 Opening Friday, November 22nd in Greenwich Village 100 Montaditos is named after its signature product, the Montadito – a crunchy, baked-to-order tapas-sized roll deeply rooted in Spanish tradition. The restaurant is actually found all over Spain and now has crossed the ocean to make its debut in NYC. The menu features Montaditos in 100 variations filled with authentic high-quality tapa ingredients such as Serrano ham, chorizo and queso manchego, ranging in price from $1.00-$2.50. They also offer beers and wine for $4, a variety of Sangrias, salads and charcuterie platters. It is super affordable and great quality!
It is set in a casual, fun and high-energy environment reminiscent of the classic early 19th century tavernas found throughout Spain, the first location will debut prior to Thanksgiving at 176 Bleecker Street between Sullivan and MacDougal streets in the heart of NYC's Greenwich Village.
Named after its signature item, the montadito, 100 Montaditos offers crunchy, baked-to-order tapas-sized bread rolls jam-packed with 100 variations of traditional Spanish tapa fillings such as Serrano ham, chorizo and Iberian cheeses. The restaurant also serves salads, traditional Spanish beers and wines and a variety of Spanish drinks including; cava, a sparkling white wine similar to champagne; orange sangria; a blend of red wine and orange soda; lemon sangria, a blend of red wine and lemon-lime soda; and clara, a blend of Spanish draft beer and lemon-lime soda.
100 Montaditos, transports its guests clear across the Atlantic for a True taste of Spain. With a distinctly modern European flare for personalized service, 100 Montaditos redefines fast casual dining. The atmosphere is youthful, vibrant, and inspiring. The sleek, inviting space is alive with the celebration of clinking beer glasses and camaraderie; a festive frenzy reminiscent of the famed 19th century Spanish taverns.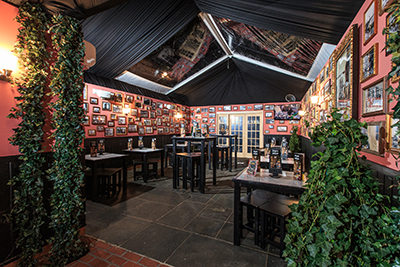 The restaurant is outfitted with 6 flat screen TVs to join friends old and new in cheering on your favorite sporting event, as well as an outdoor garden, indoor seating, and availability for private events.
Additionally, each Wednesday 100 Montaditos will offer a "Dollarmania" promotion, in which every montadito will be priced at only $1 each and all beverages will cost only $2.
Inspired by the atmosphere of a typical Spanish tavern from the 19th century, our comfortable, traditional and cheerful locations are places customers like to stay. Our restaurants feature hardwood or tile floors, granite countertops and tables, mood lighting and authentic old images from Cadiz, a beautiful city from the South of Spain. The combination of dark wood and vibrant cherry red walls enhances the cozy and trendy ambient. It has a unique and stylist mixture of classic yet modern look details such as elegant forged iron lamps, white marble, ceramic tiles and old style framed pictures all over the walls. 100 Montaditos prides itself on being a place to enjoy a delicious slice of Spanish cuisine and culture in a relaxing and friendly environment. Such casual dining places are an important part of the Spanish way of life. The vibrant deep red walls, the cozy yet modern look and the tavern ambiance sets it apart from any other bar in NY.
To learn more visit 100Montaditos.com and follow them on Facebook and Twitter.
*All photos credited to Will Cadena Photography
About Will Cadena
Will Cadena is a photographer who combines a modern, edgy look with traditional photography. Shooting since he was 13 years old has given him the experience to break the rules of traditional photography and deliver a whole new look to his images without retouching. He is a member of Professional Photographers Association and Wedding & Portrait Photographers International for many years. He has been photographing clothing campaigns, high profile events, and much more for over a decade both here in the US and internationally. To learn more visit Will Cadena Photography on the web.