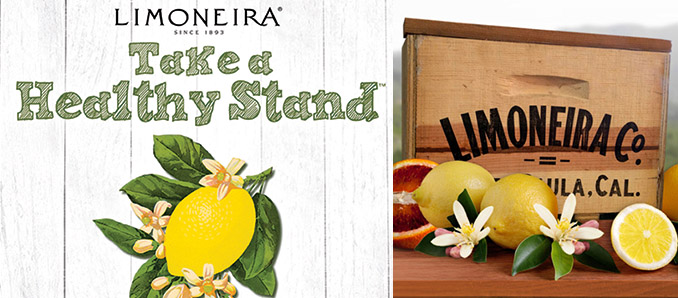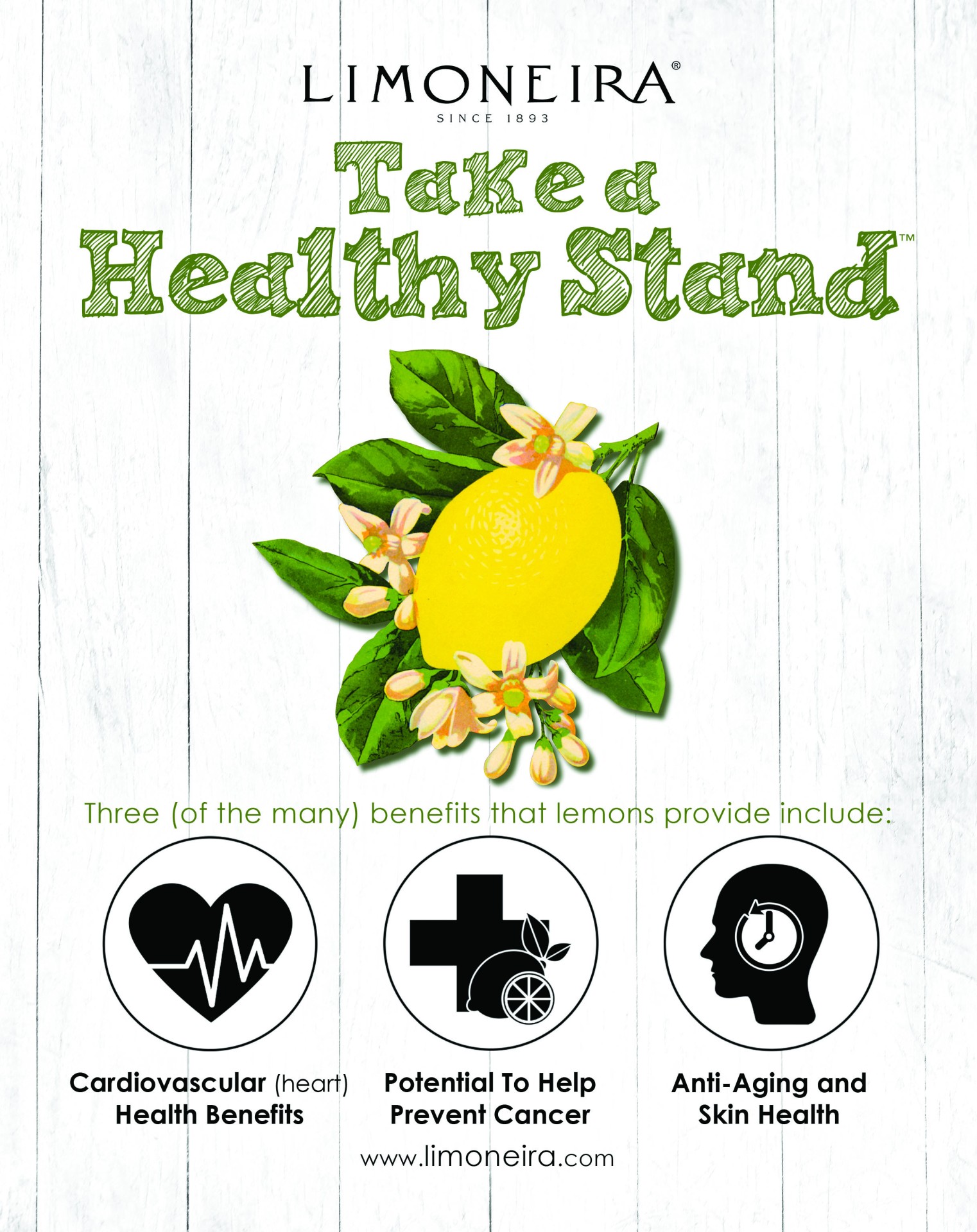 Attention all lemon-lovers. Just because summer is over doesn't mean it's time to go sour on this highly versatile and healthy citrus. In fact, consuming lemons proffers a wide array of wellness benefits, which is why Limoneira.com has launched its new "Take a Heathy Stand" awareness campaign.
According to a spokesperson from Limoneira—an organization dedicated to preserving and promoting benefit, tradition, heritage and legacy of lemon agriculture, their "Take a Heathy Stand" initiative is intended to showcase the many ways that lemons can play a key role in helping the body fight serious health issues. This can even include heart disease, high blood pressure, autoimmune diseases and even cancer. On the lighter side, lemons can also help provide relief and promote healing for an array of other annoying afflictions like bug bites, cold sores/fever blisters, gingivitis, itchy skin, sore throat and more. And, did you know lemons can help prevent dehydration, lower cholesterol and prevent and treat osteoarthritis? These are all just some of the wellness-oriented reasons that lemons are such a prized and prolific fruit.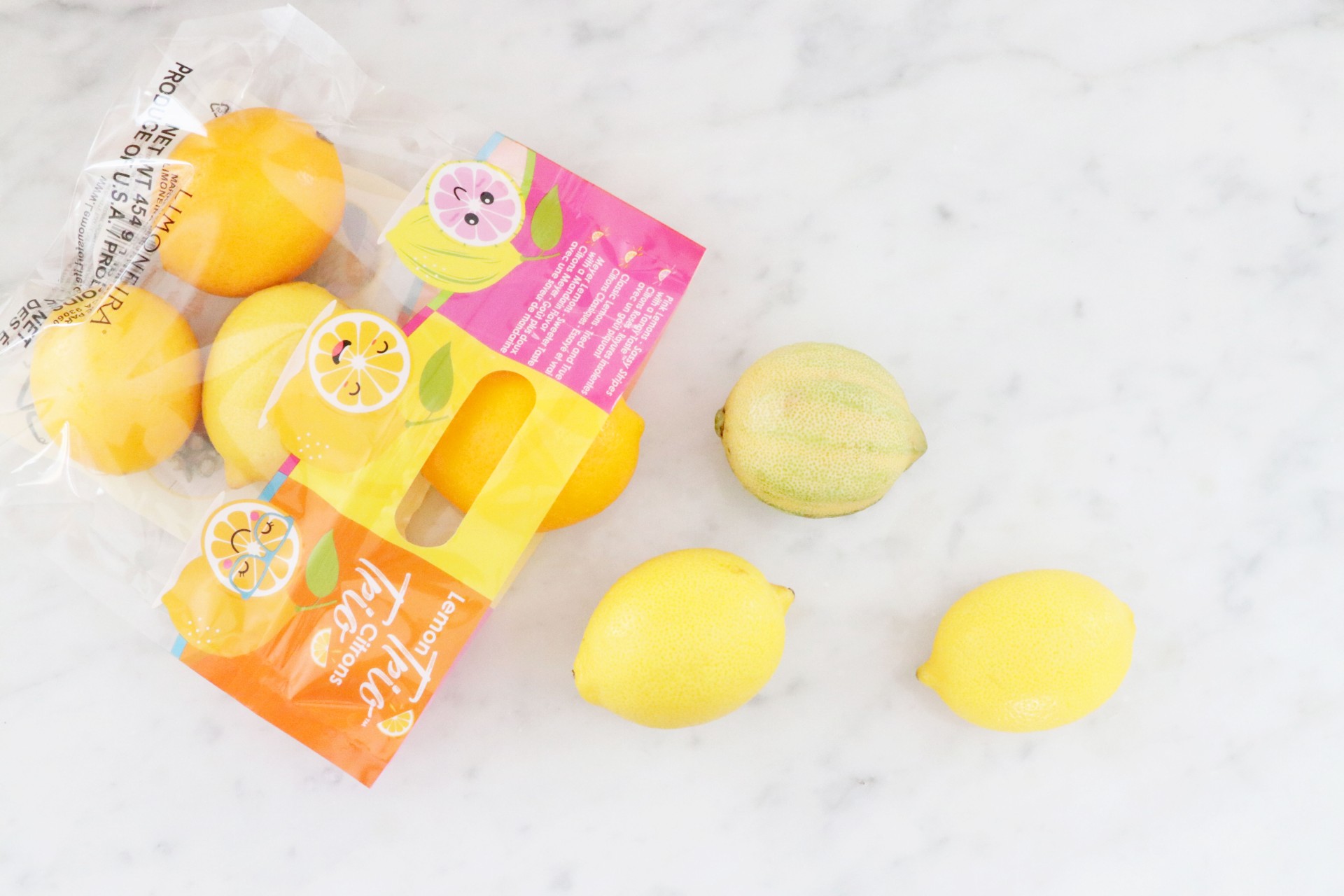 Then there's the natural beauty and even green cleaning applications—lofty purists for which lemons lend themselves to as well. Of course, one need not be a Michelin-starred chef to know that lemons are also one of the most versatile items in the grocery's produce aisle. Whether opting for Limoneira's Pink lemons, Meyer lemons or Classic lemons—or all of the above—there's a treasure trove of tasty ways for utilizing this edible yellow gold. In fact, one glance at Limoneira's online recipe section and you'll find abundant inspiration for savory and sweet dishes. Want to make the perfect Garlic Lemon Shrimp, Lemon-Thyme Bruschetta or Sour Cream Lemon Pie? They have you covered…and will help you expand your recipe repertoire lickety split.
Thanks to the beloved lemon and thanks to what I've learned through Limoneira's "Take a Heathy Stand" initiative, it's certain that we don't have to give up great taste to live our best lives. Sounds pretty sweet to me.
~~~
As the Executive Editor and Producer of "The Luxe List," Merilee Kern, MBA is an internationally-regarded brand analyst, strategist and futurist. As prolific consumer trends, lifestyle and leisure industry voice of authority and tastemaker, Merilee keeps her finger on the pulse of the marketplace in search of new and innovative must-haves and exemplary experiences at all price points, from the affordable to the extreme. The best-of-the-best across all product, service and travel categories—as well as noteworthy marketplace change makers, movers and shakers—are spotlighted in her exclusive cross-media platform that reaches multi-millions each month through several syndication channels: print and online publications as well as broadcast TV and terrestrial radio. Connect with her at www.TheLuxeList.com / Instagram www.Instagram.com/LuxeListReviews / Twitter www.Twitter.com/LuxeListEditor / Facebook www.Facebook.com/TheLuxeList / LinkedIN www.LinkedIn.com/in/MerileeKern.
Some or all of the accommodations(s), experience(s), item(s) and/or service(s) detailed above may have been provided at no cost or sponsored to accommodate this review, but all opinions expressed are entirely those of Merilee Kern and have not been influenced in any way.