AMERICA'S #1 INDIA-STYLE LASSI AND YOGURT BRAND ALIGNS WITH ANCIENT INDIAN VALUES OF HARMONY, BALANCE AND SELF IMMERSION
SPECIAL APPEARANCE BY SUPERMODEL RACHEL HUNTER AT EXPO EAST SEPTEMBER 12 & 13 RACHEL WILL BE OFFERING MEDITATION SESSIONS AND INSIGHT TO THE YOGI LIFESTYLE
New Brand Platform And Packaging To Be Showcased At Natural Products Expo East 2019 Booth #753, Hall E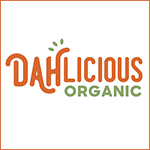 DAHlicious Organic, America's #1 India-style lassi and yogurt brand, will launch a new brand platform at Natural Products Expo East 2019, September 12-14 in Baltimore, MD. Marketing initiatives have been planned through the end of 2019 to communicate the new brand to trade and consumer audiences. The new brand platform includes brand values, points of difference, messaging, design and packaging (more details follow) and enhances all consumer-facing touchpoints. The core values of the new brand mirror the ancient Indian values of harmony, balance and taking time to enjoy each delicious moment of life.
For trade audiences, an all-new DAHlicious Organic booth will debut at Expo East, inviting attendees into a balanced and harmonious yoga studio environment that features yoga and a popular India-style lassi and yogurt bar for its clients. The lassi bar is open for business every day of Expo East, serving the entire line of dairy and plant-based products from DAHlicious Organic. Each morning attendees are treated to a special invitation: "take time" to join DAHlicious Organic at booth #753, Hall E and explore the new brand while enjoying specially-crafted, full-sized yogurt parfaits.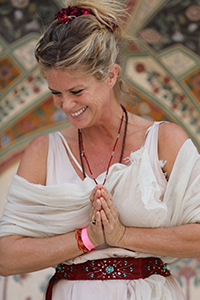 In addition, visitors can watch and interact with meditation and yoga expert, supermodel Rachel Hunter, as she educates on the enlightened lifestyle. Yoga enthusiasts and guests can ask questions as she provides insights on the harmony and balance that develops from the practice of yoga. She will be on-site each day from 12noon – 2pm for attendees to meet and greet with the Supermodel as she shares her personal tips on how to incorporate this lifestyle ideal into your daily life, which aligns with the overall ethos of the DAHlicious brand. Follow Rachel Hunter @RachelHunterx for more insight on her "Beauty of Soul" mantra and experience immersing in the culture of India.
Details On The New DAHlicious Organic Brand Platform
Reflect sacred Indian values.
DAHlicious Organic values now align with ancient Indian values: harmony, balance, and taking time to create and enjoy the beautiful and delicious moments in life. These ideals will be brought to life for the consumer through an integrated marketing program, strategically designed to reach the consumer in authentic and approachable way. This integrated marketing program is supported by the company's largest 12-month marketing budget to date.
Own India-Style: leadership and innovation in the yogurt category
DAHlicious Organic is owning leadership in the yogurt category, as America's #1 India-style lassi and yogurt brand with distribution in leading natural and mass retailers nationwide. "India-style" is positioned to be the next great origin story in yogurt category, offering retailers the chance to bring innovation to their set and excite consumers with an authentic and approachable brand story, ownable points of difference that result in a delicious product, great for digestive health.
Refined Brand Points Of difference
The company has refined its point of differences, to include "India-style," "slow-cultured" and "high probiotic – 15 billion live probiotics per serving" on all yogurts. "India-Style" and "Slow-Cultured" reflect the ancient Indian techniques of culturing yogurt at lower temperatures for longer times than most if not all modern-day yogurt brands. The result is a high-probiotic (all yogurts have 15 billion probiotics per serving), richly-textured, intensely-flavorful yogurt – great for digestive health. As many leading competitors do not declare actual probiotics count numbers, DAHlicious Organic remains committed to probiotic count transparency and will continue to state actual counts on its packaging. To reinforce this message, DAHlicious Organic is the first yogurt brand to make a probiotic count that is consistent per serving across all product lines. This was designed to provide the consumer understand a probiotic count that means "high probiotic" and make the associate 15 billion with DAHlicious Organic. These terms reflect the ancient Indian techniques of culturing yogurt at lower temperatures for longer times of all modern-day yogurt brands. The result is a high-probiotic (all yogurts have 15 billion probiotics per serving), richly-textured, intensely-flavorful yogurt – great for digestive health.
New Brand Name. "Dahlicious" is now "DAHlicious Organic" And "DAH!"
DAHlicious Organic has always made all of its yogurts USDA Organic. In order to externally communicate this legacy and continued dedication to making its products organic, the word "Organic" has been added to the name. Also, a new treatment of the word "DAHlicous" has been introduced, which highlights the "DAH" in all capital letters. This focus on the "DAH" is designed to stand for a moment of delicious discovery and an expression of enjoyment while taking time to savor the company's yogurts. Based on this idea, a secondary variation of the full brand name has been created, "DAH!" This is designed to quickly catch the consumers' attention in a friendly, positive and easy-to-remember way.
"DAH!" packaging and Related Marketing Campaigns.
"DAH!" is now the primary consumer-facing brand name, positioned on the front panels of new packaging, which will begin to hit store shelves in September. Packaging invites the consumer to "Take time to enjoy the harmony and balance of DAH!" Also, marketing campaigns will utilize "DAH!" to reinforce the new brand values. For example, a movement in social media has been created to "celebrate the moments of DAH!" using #momentsofdah. User & brand generated content depict moments in time when life in beautiful harmony.
New website. New Platform. New Storytelling.
On September 12, 2019, DAHlicious.com will launch on an upgraded platform with an enhanced UX and based on the new brand platform. Visitors will have a brand-centric experience, will discover new features and more storytelling – with more being added all the time.
Introduction Of A Brand Icon.
"Dharma" is a simple illustrated human figure in a meditative position, fully present in the moment. He is meant to inspire all to "take time" and appreciate each beautiful moment of life.
Ajeet Burns, President of DAHlicious Organic said, "The new DAHlicious Organic brand platform helps us reach a goal of communicating clearly, authentically and approachably who we are as a brand. The Indian heritage story is the foundation of our business and part of the history of the company's leadership team. It is reflected in our unique methods of yogurt-making and now will be evident in our brand."
Ajeet continued, "We expect 2019 to be our strongest year of sales growth to date. We have distribution with key retailers and grocers nationwide with new retail partners we will announce in 2019 and double as many more in 2020. Consumers are responding to our brand and product in the most positive way possible: with their wallets. Sales are strong now, with much of driven by repeat purchase. The quality of the DAHlicious Organic product speaks for itself. The new brand platform paired with appropriate budgetary support will exponentially increase sales well into the next decade."
DAHlicious Organic offers two lines of yogurt: 100% grass-fed organic whole milk dairy and cashew or almond plant-based. The dairy line is comprised of lassi (the Hindi name for drinkable yogurt) in 32oz, 10oz and 7oz bottles. The plant-based line is comprised of cashew drinkable yogurt in 28oz and 7oz bottles and almond cup yogurt in one 5.3oz size. Flavors include: Plain, Alphonso Mango, Field Strawberry, Wild Blueberry, Golden Milk, and Madagascar Vanilla
DAHLICIOUS ORGANIC™ CHOSEN AS NATURAL FOOD MERCHANDISER'S
"EDITORS' PICK" FOR BEVERAGE CATEGORY INNOVATION
Editor's Pick: 100% Grass-Fed Organic Whole Milk Strawberry Lassi
Honorable Mention: Plant-Based Cashew Blueberry Drinkable Yogurt
Ahead of Expo East, DAHlicious Organic has been chosen as "Editor's Pick" for their 100% Grass-Fed organic whole milk strawberry lassi by New Hope Network's Natural Food Merchandiser (NFM) for Beverage Category Innovation. The plant-based cashew drinkable yogurt has earned an honorable mention.
According to New Hope Network's Natural Food Merchandiser, "A departure from the traditional mango lassi, this USDA certified organic strawberry lassi offers a 'refreshing flavor change.' Made from 100% grass-fed dairy yogurt, each 7 fl. oz bottle serves up 15 billion live probiotics. Perfect for breakfast, lunch, or an on-the-go snack. Looking for plant-based? Try DAH!'s blueberry cashew yogurt drink instead."
DAHlicious Organic yogurts can be found primarily at Whole Foods Market, Fairway Market, Mom's Organic Market, and local Independent stores and online at www.dahlicious.com.
About DAHlicious Organic:
DAHlicious Organic is the leading India-styled Lassi and yogurt company in North America. The company's traditional, slow-cultured process, DAHlicious Flavor Notes and unique India-styled platform make its product lines a leader in the yogurt category. The company's products can be found in Costco, Costco Canada, Market Basket, select Safeway stores, Whole Foods and specialty grocery stores. DAHlicious Organic is a KEEN Growth Capital portfolio company. KEEN Growth Capital is a venture fund that invests in and develops early-stage food and wellness companies with meaningful social impact. Live DAHliciously! www.dahlicious.com
| Follow @Dahlicious on social media.
About Founders JD Sethi and Ajeet Burns:
DAHlicious founder JD Sethi was raised in Meerut, India, at the elbow of a mother whose talents with ghee, turmeric, and chili powder built both his love of good food, and educated his palate. As his young appetite grew more demanding, she sagely taught him to make his own lassi each morning. After a lifetime of learning the rhythms and character of the delicious and nutritious yogurt beverage, lassi, he now produces one of the finest lassis' in the world, from Leominster, Massachusetts.
Additionally, he has applied his considerable formulation talent to plant-based yogurts, yielding world-class almond and cashew-based versions. While looking to grow his fledgling business, JD serendipitously encountered an American-born, India-raised, fifth-generation Oregon entrepreneur by the name of Ajeet Burns. \ Together, their shared values and complementary passions are at the heart of the meteoric rise of DAHlicious — the finest lassi (and plant-based yogurt) on the market today. www.dahlicious.com