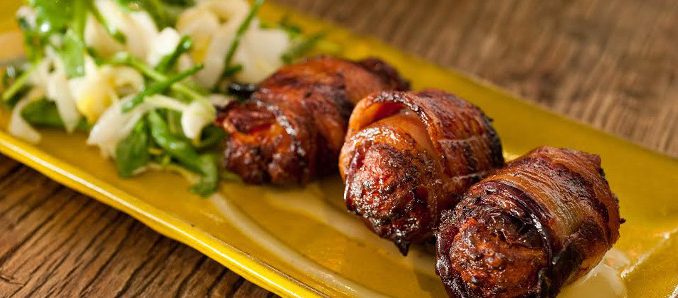 SUGARCANE raw bar grill SET TO OPEN IN THE VENETIAN IN LAS VEGAS THIS NOVEMBER, INVITING ALL TO…
"KICK BACK, EAT WELL AND STAY AWHILE!"

Award-Winning Chef-Partner Timon Balloo Helms Three Distinct Kitchens and Oversees the Brand's Signature, Globally-Inspired Small Plates Menu

SUGARCANE raw bar grill, the James Beard-nominated Miami eatery, will officially open its doors in Las Vegas this coming November. The 6,376-square-foot, 195-seat restaurant will be located in the Grand Canal Shoppes at The Venetian Las Vegas. SUGARCANE raw bar grill's celebrated culinary concept of globally-inspired small plates unites three distinct kitchens – an open fire grill, raw bar and traditional kitchen – and will be led by Executive Chef and Partner Timon Balloo alongside newly appointed Las Vegas Executive Chef Ryan Nuqui.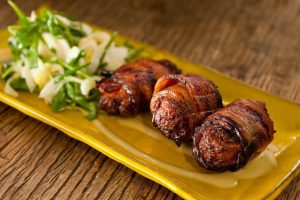 "I'm thrilled to bring the SUGARCANE raw bar grill concept – with its laid-back charm and global spirit – to the Las Vegas market. The energy of the city coincides perfectly with our bright, bold and exciting culinary experience, and now we have the opportunity to reach tens of thousands of guests from both the U.S. and around the world," said Chef Balloo.
"Las Vegas has solidified its position as a global culinary mecca, and we are honored to have the chance to bring such a unique and vibrant concept to the city," said Shimon Bokovza, Managing Partner of Samba Brands Management. "The newest iteration of SUGARCANE raw bar grill is a stunning visual and culinary evolution of the brand, while maintaining its unique spirit and soul."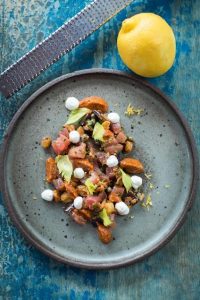 While the small plates take inspiration from all regions of the world, Balloo and Nuqui have created a menu that celebrates the region's local bounty.
"It is so exciting to bring the flavors of SUGARCANE raw bar grill to Las Vegas," said Chef Balloo. "One of my favorite dishes is the sea urchin tostada, with layers of oceanic sweet roe, clean crisp jalapeño and finished with an al pastor jam. Another great dish is the shellfish hot pot rice, creamy short grain rice cooked in a luscious broth with clams, cuttlefish and Alaskan king crab, which we know will be a Las Vegas crowd-pleaser."
Other new dishes featured on the Las Vegas menu include the Pig Ear Pad Thai with papaya salad and Baha Snapper en Papillote with an heirloom tomato sauce vierge.
The open fire grill will yield a mix of meats, seafood and vegetables, including Nduja Quail served with pommes purée and bone jus, Yellowtail Collar and Okinawa Purple Sweet Potato. The traditional kitchen shines with SUGARCANE raw bar grill's signature dishes including Bacon Wrapped Dates with linguiça and manchego, Brussels Sprouts with orange and sweet soy, Goat Cheese Croquettes with membrillo marmalade and most famously, the Duck & Waffle.
SUGARCANE raw bar grill "reinterprets" raw, providing a rotating selection of crudos and shellfish to include Kinilaw Kanpachi, prepared with coconut cane vinegar, citrus and puffed rice, and West Coast Snapper Ceviche, with aji amarillo, sweet potato and crispy maiz cancha.
Equal parts food and beverage, a 76-seat bar and lounge area offers a striking focal point with a vast rum display featuring one of the largest collections in Las Vegas. The restaurant will also offer SUGARCANE raw bar grill's signature libations, such as the Spice of Love and Tobacco Rum Old Fashioned. For those interested in a more intimate dining experience, SUGARCANE raw bar grill will also have a 535-square-foot private dining room that seats up to 22 guests.
Award-winning design firm Parts and Labor has created a space inspired by Old Havana that embraces Cuban and Latin American architecture and design. Organic textures, wrought-iron detailing and vintage lighting are seamlessly combined with modern design elements to create a space that is both eclectic and comfortable. A mix of custom-designed furniture pieces, cane-back chairs, inlaid wood flooring, and tray ceilings trimmed in rich red hues carry through the Cuban undertones.
About SUGARCANE raw bar grill Las Vegas
SUGARCANE raw bar grill is located in The Grand Canal Shoppes in the Venetian, a AAA Five Diamond luxury resort on the Las Vegas Strip. The new 6,376-square-foot space is located on restaurant row of the resort's casino level and will offer an all-day menu, Monday through Sunday, as well as lunch Monday through Friday, and brunch Saturday and Sunday. For more information, please visit sugarcanerawbargrill.com
About SUGARCANE raw bar grill
Globally-inspired small plates come from three distinct kitchens – an open fire grill, raw bar and traditional kitchen – overseen by award-winning Executive Chef and Partner Timon Balloo, inviting guests to "kick back, eat well and stay awhile." Embarking on a quest to celebrate the simple pleasures in life – eating well and celebrating with friends – the restaurant focuses on a "shared experience."
SUGARCANE raw bar grill has garnered widespread recognition, having received numerous awards including "Best New Restaurant" semi-finalist by the James Beard Foundation; AAA 4-Diamond rating for three consecutive years; "Best Restaurant" by Johnson & Wales; "Restaurant of the Year" by Eater; "Best New Restaurant" by Miami New Times and a three-star review by the Miami Herald.
About Samba Brands Management
Samba Brands Management (SBM) was founded by Shimon Bokovza, Danielle Billera and Matthew Johnson. The company operates SUGARCANE raw bar grill® and Bocce in Miami. Bokovza, Billera and Johnson are also the founders and managing partners of SUSHISAMBA and Duck & Waffle. With decades of combined restaurant experience, the company continues to expand their cutting-edge concepts. The company boasts unpredictable, impressive venues, spearheads visions that set trends in the industry, and places an attention to culinary excellence at the foundation of its success.
Save