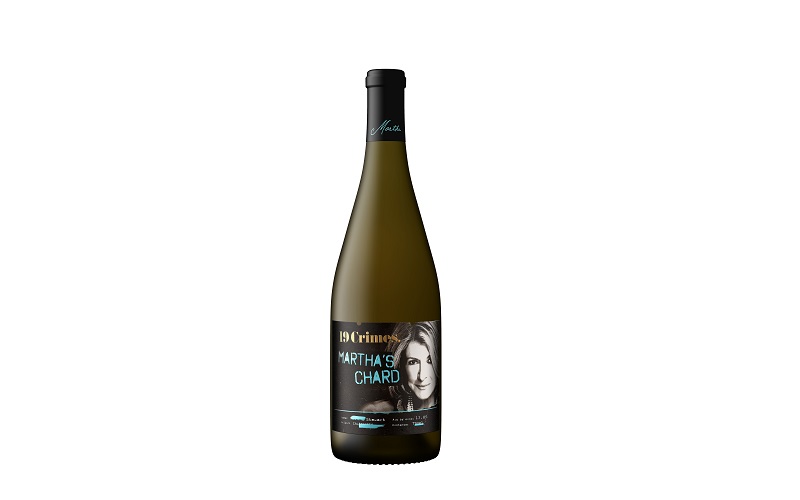 19 Crimes adds a new face to its lineup of boundary pushing and culture molding characters: the iconic Martha Stewart. An American businesswoman known for her entrepreneurial genius and ever evolving lifestyle, Martha adds another bullet to her already outstandingly long resume: winemaker. 19 Crimes Martha's Chard will be available in California in early January and will be distributed nationally on February 1, 2022. SRP: $11.99.
19 Crimes tells the true story of heroes who overcome adversity. This spirit lives on today through innovators like Martha Stewart, a self-made icon who turned her passion into a thriving business empire that has made her a household name around the world. Martha's new wine breaks the mold not only as 19 Crimes' first California Chardonnay, but also as a disruptor in the category. Martha worked side by side with 19 Crimes to create a wine that breaks preconceived notions of California Chardonnay – approachable and simultaneously as bold as her personality. Martha's Chard joins two previous California launches from 19 Crimes partner Snoop Dogg, 19 Crimes Snoop Cali Red and Rosé, in addition to a portfolio of Australian wines including the signature Red Blend that started it all.
John Wardley, Treasury Wine Estates Vice President Brand Marketing, Americas shares his excitement, "The release of 19 Crimes Martha's Chard comes as the brand has experienced explosive growth, delivering the Number 1 US Wine Innovations in both 2020 and 2021 for our first California wines with global icon, Snoop Dogg. Just like her creative collaborator and friend Snoop, Martha Stewart also embodies the spirit of 19 Crimes – disruption and culture creation. We couldn't be more excited to welcome another absolute icon of modern American culture to the 19 Crimes family."
Follow 19 Crimes on Instagram for the latest updates on 19 Crimes Martha's Chard at @19Crimes as well as www.19Crimes.com.