New clean label, whole grain rich option arrives as National School Breakfast Program expands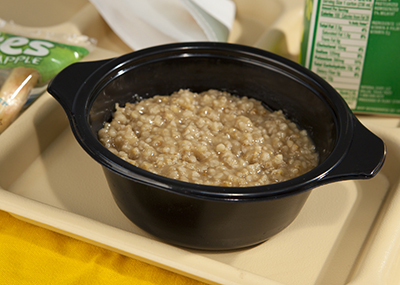 Steel-cut oats, water, and brown sugar. Breakfast just got even simpler thanks to JTM's new Steel-Cut Oatmeal with Brown Sugar—especially for the many school districts nationwide participating in the School Breakfast Program, which provides a morning meal for students who need one.
The new Steel-Cut Oatmeal with Brown Sugar comes in bulk 6/5 pound boilable/steamable bags for easy, traditional cafeteria-style feeding; as well as in a portion packed case of 36 individual ovenable/steamable bowls with handles that allow students to eat right inside the classroom—the new direction for breakfast at school.
"Reports from the School Nutrition Association have shown that bus schedules, students arriving late, and early school start times have limited participation in traditional, sit-in-the-cafeteria breakfast programs," said Brian Hofmeier, JTM's Vice President of Education Sales. "The trends are showing that serving breakfast in the classroom makes kids more likely to eat and focus on the day ahead."
Each six ounce serving of JTM's oatmeal provides one whole grain credit, meeting the new nutrition standards set in place for 2014 by the School Breakfast Program, which declare that half of all grains served with school breakfast must be whole grain rich. Steel-Cut Oatmeal with Brown Sugar is free of additives and many allergens—just three ingredients makes the breakfast option the perfect solution for schools working to keep nutritional labels clean.
"I'm proud to present a product with simple ingredients and high nutritional value for our schools," said Hofmeier. "We're committed to partnering with school districts to make sure kids are healthy, happy, and well-fed."
About JTM Food Group
Family owned and operated since 1980, JTM Food Group specializes in menu solutions that deliver superior results to the food service industry. Focused on customer service, quality and innovation, J.T.M. serves thousands of schools, restaurants, military and government organizations, food distributors and retailers throughout North America. In 2012, JTM was named the 77th largest private firm on the Deloitte Cincinnati USA 100 list, and in 2011, JTM was named one of the Cincinnati Business Courier's Fast 55, an award that recognizes the fastest-growing private firms in Greater Cincinnati. For more information, visit www.JTMFoodGroup.com.