Amid a new National Retail Federation report that consumers plan to increase 2023 Valentine's Day spending to nearly $26 Billion, up from $23.9 billion in 2022 and one of the highest spending years on record, it begs the question as to what the top "sweetheart swag" will be this year. While there are numerous tried and true holiday gift ideas for our loved ones, many of these perennial favorites now offer an innovative twist that levels up your gift giving game. Here are a few of my favorites this year for bar and beverage devotees.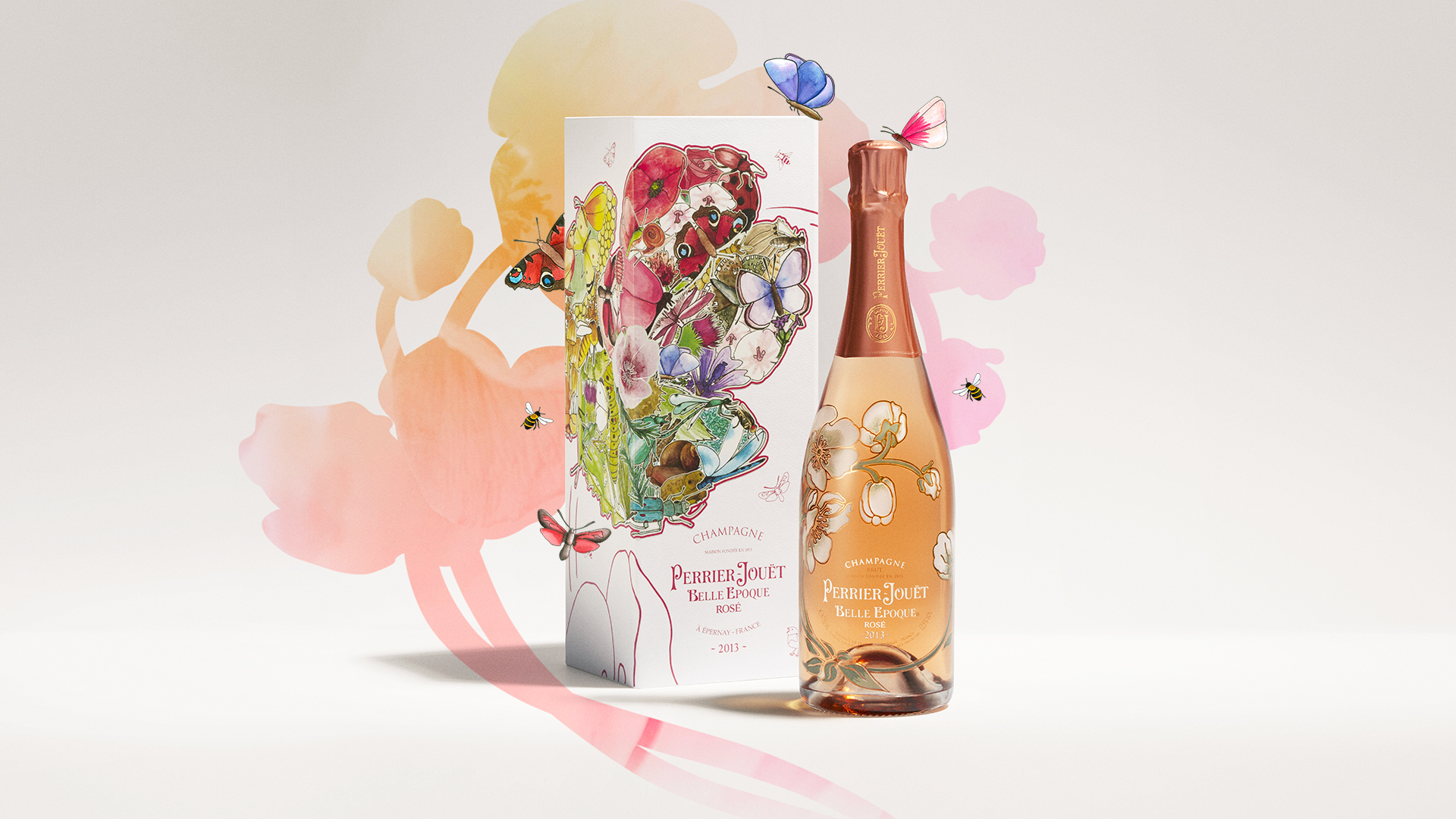 Perrier-Jouët's Belle Epoque Rosé 2013 Limited Edition Gift Box (https://www.perrier-jouet.com/))
In celebration of the 120th anniversary of Perrier-Jouët's Belle Epoque Rosé, Austrian design duo mischer'traxler partnered with the champagne house to create a limited-edition gift box for its 2013 Belle Epoque Rosé to toast the symbolic milestone. Wine lovers can expect the rosé's pale pink and copper bubbly sheen when poured into their glasses, as well as the pronounced notes of rose, peony, wild strawberries, raspberry and pink grapefruit. But it's mischer'traxler's transformation of master art maker Emile Gallé's 1902 Japanese anemone engraving that is the real draw of this special edition bottle. The design studio crafted its own unique vision of the classic brand emblem, entitled the Anemone of Biodiversity, which features 70 species from the vineyards of the Champagne wine region mixed and mingled in a vibrant, multi-layered representation of their interdependencies. The collaborative design illustrates the role all species—including mankind—play in the biological balance of the ecosystem to which they belong. And it is this magnificent and complex whole that Maison Perrier-Jouët is actively working to preserve, both in its vineyards and beyond. Since its formation in 1811, founders Pierre-Nicolas Perrier and Rose-Adélaïde Jouët's shared passion for art, nature and champagne have been passed down through generations—believing creative freedom and unconventional observation of nature is intrinsic to the history of champagne. These values shape Maison Perrier-Jouët to this day.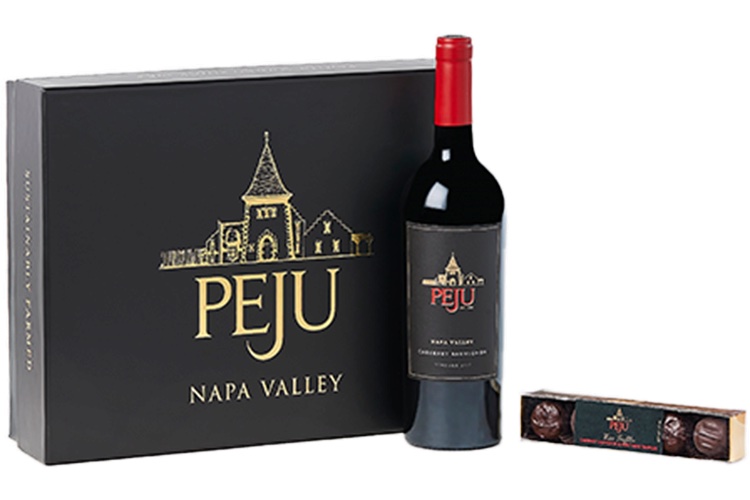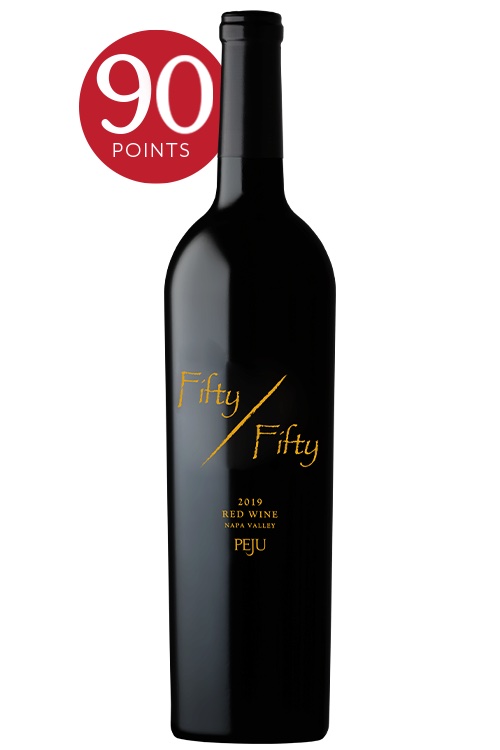 PEJU Winery Gift Set (https://www.peju.com)
A classic duo done the PEJU Winery way is its Cabernet and Chocolates gift set, which makes for a distinctly memorable—and delectable—treat. The Cabernet and Chocolates set features its 91-point Cabernet Sauvignon that offers drinkers a blend of wild blackberry, dark chocolate and candied orange rind notes and a silky finish. Paired with PEJU Cabernet truffles crafted by local chocolatier, Anette's Artisan Truffles, this decadent combination is elevated and neatly packaged in a handsome PEJU Winery gift box. But, for those who prefer to let the vino speak for itself, the award-winning winery's 2019 Fifty/Fifty is a highly acclaimed vintage worthy to gift on its own. It features aromas of black fruit, baking spice and cedar notes. Decadent boysenberry preserve flavors flow across the palate enhanced by white pepper and toffee caramel on the finish. This PEJU fan-favorite is a blend of 50 percent Merlot and 50 percent Cabernet Sauvignon, with the Merlot helping to soften the tannins of the Cabernet Sauvignon and lends a plush texture to this age-worthy wine. This year marks 40 years in the heart of Napa Valley for the family-owned winery, which is dedicated to making classic wines that reflect the unique character and quality of its six estate vineyards.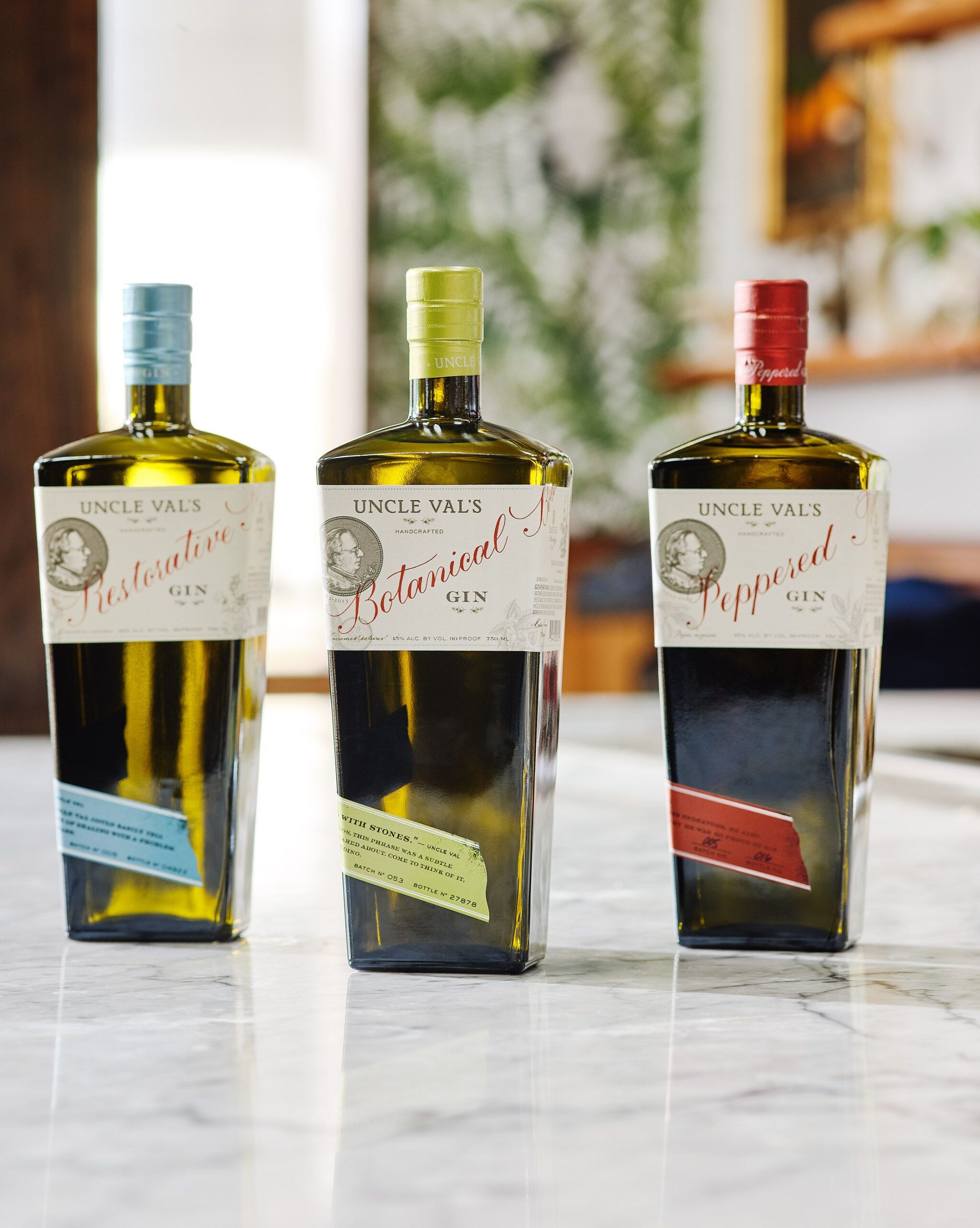 Uncle Val's Gin (https://www.unclevalsgin.com/)
Gin has become one of the fastest growing categories in the global spirits industry over the last few years and 3 Badge Beverage Corporation has expanded its portfolio of award-winning beverages to reach this audience with its ultra-premium Uncle Val's Gin. Handcrafted and 45 percent ABV, this smooth, sipping gin can be perfectly enjoyed on its own or in simple cocktails. Customers can choose from four flavors, including Uncle Val's Botanical Gin, Uncle Val's Restorative Gin, Uncle Val's Peppered Gin and Uncle Val's Zested Gin. The family-owned company is led by August Sebastiani out of an old fire station in Sonoma. True to its family-forward mission, Sebastiani developed the entire Uncle Val's line as a homage to his late uncle, Valerio Cecchetti—a physician with an affinity for gardening in his quant Italian town outside Lucca. The herbs Uncle Val grew were not only perfectly suited for the local cuisine, but also happen to make exceptionally unique and smoothly delicious gin. "Zested" is the latest expression to join the Uncle Val's Gin label, which evokes the bounty of his summer garden with perfumes of fresh citrus, crushed coriander and underlying notes of Bergamot tea, mandarin peel and clove. Tasters can also expect energizing flavors of ripe Crenshaw melon, crisp cucumber and tangy Kaffir lime, with hints of white pepper and allspice for a long, lingering finish. The brand suggests using Uncle Val's Zested Gin as a base spirit to add a touch of natural orange citrus to classic cocktails, such as negronis, mimosas or breakfast martinis. But, for gin purists, this beverage gracefully lends itself to enjoy neat or with a splash of natural soda.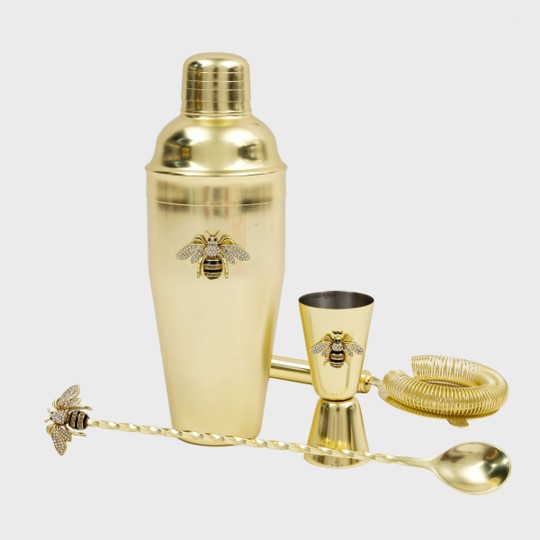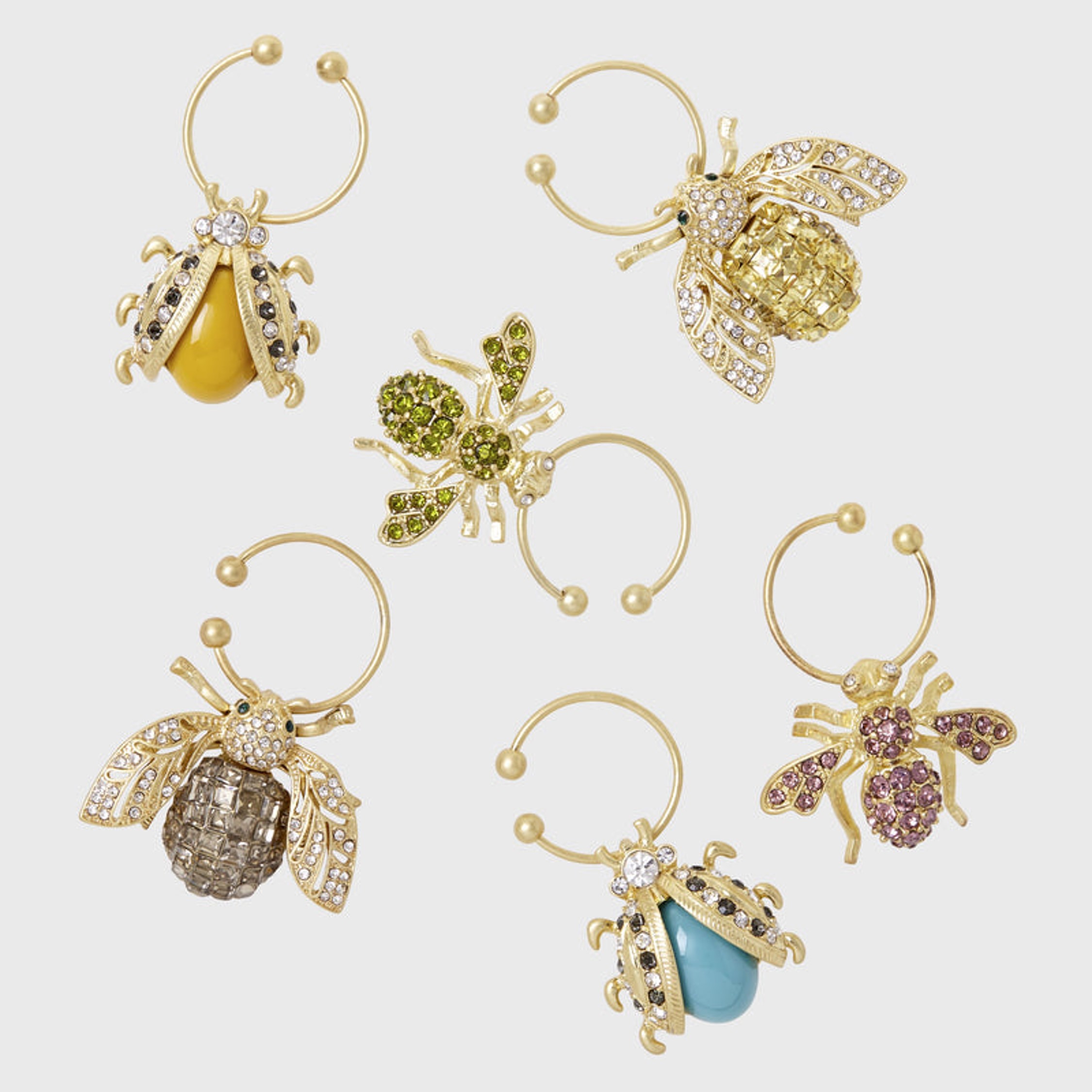 Bedazzled Barware from Joanna Buchanan (www.joannabuchanan.com)
Whimsy meets luxury with Joanna Buchanan's array of bedazzled barware that's as visually striking as it is functional. There's nothing more welcoming than a well-stocked bar, and especially one with a little sparkle. Buchanan's line of seasonal accessories, holiday décor and gifts offer an unexpected and delightful twist on the conventional—transforming the holiday season by adding a level of vintage sophistication and glamour that's a true standout in the marketplace. For example, its Stripey Bee Cocktail Shaker Set is a winning gift for anyone who loves a cocktail or likes to play bartender. This complete bar accessory set has been two years in the making, and comes beautifully boxed with an elegant gold-toned stainless-steel shaker, spoon, strainer and jigger. Inspired by a modern mix of color, texture, sparkle and Buchanan's own garden, the heirloom-quality Stripey Bee Cocktail Shaker Set sits perfectly with the brand's other Stripey Bee cocktail accessories for customers who desire to expand their collection. This includes Joanna Buchanan's Bedazzled Bee Wine Charms that continue with the bee theme. They are a special, sparkling way of marking your stemmed glass. Each eye-catching charm is a unique bug loaded with crystals and is sure to delight all your guests. The zinc, glass and resin-made Bedazzled Bee Wine Charms come in a set of six and are packaged in a gift box. They also epitomize a hostess gift that's sure to induce shock and awe.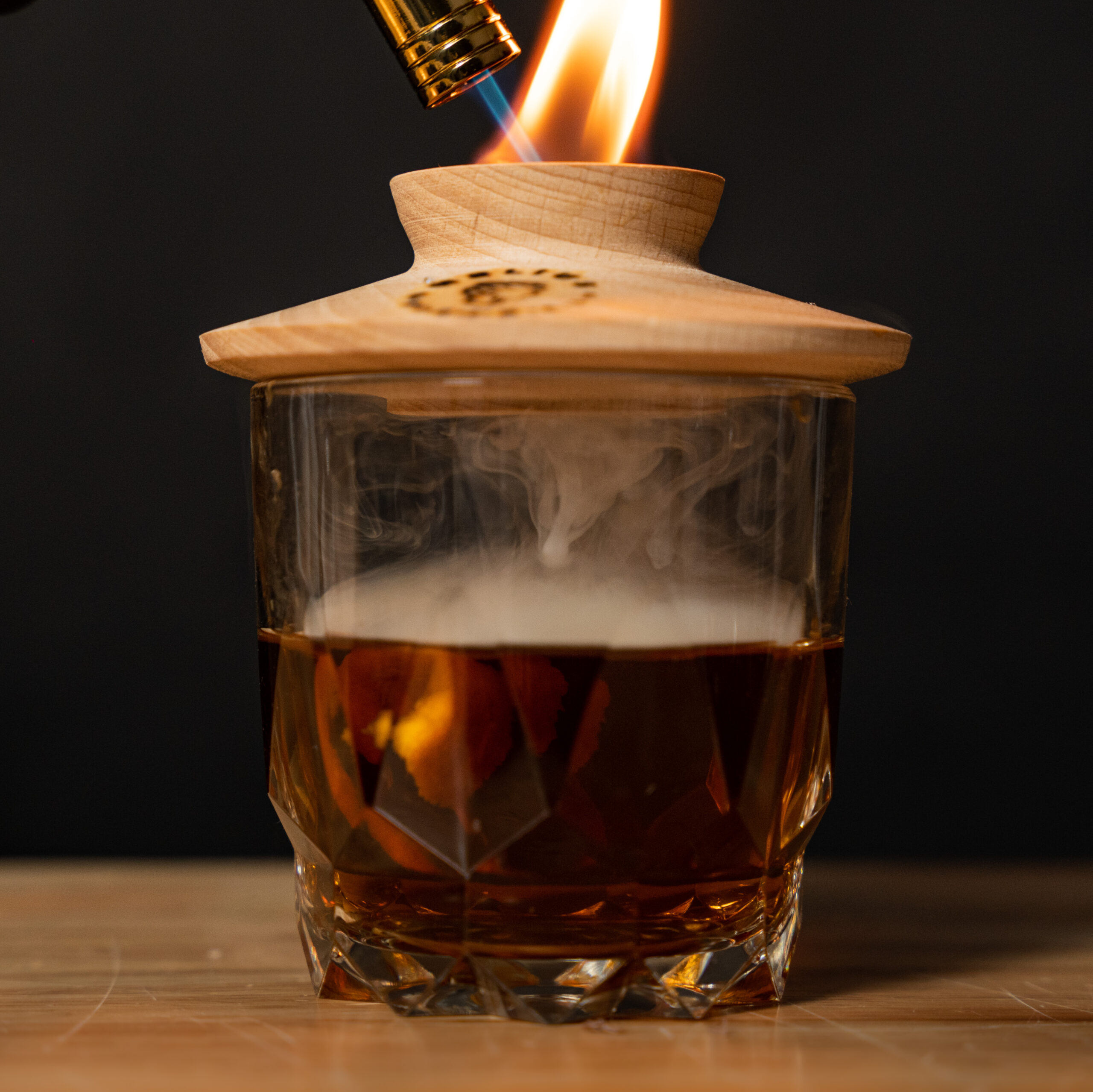 Smoked Cocktail Topper Kit from Helius Originals (https://heliusoriginals.com/)
Significantly, and easily, enhance your cocktail or mocktail experience with Helius Originals' Smoked Cocktail Topper Kit. The brand's signature cocktail chimney allows you to infuse food and drinks with premium Canadian smoke—elevating them with subtle earthy notes that bring favorite ingredients to life. . Along with the cocktail chimney, each Smoked Cocktail Topper Kit contains four tins of premium Canadian reclaimed wood shavings, a wood cocktail topper, a torch, a cleaning brush and a replacement screen packaged in a hand-stained wood box. Helius Originals suggests cocktails that are served stirred or a bit forward on the booze for this method of mixology, but at-home bartenders are encouraged to experiment with lighter spirits, cognac or even wine to craft a new take on old favorites. You can also put the cocktail topper to use for small food items, including meat and cheeses. With every ounce of smoke that cascades into your glass, you are creating a lasting experience for you and your loved ones to remember this holiday season. Based in Canada, Helius Originals creates eco-luxury products that require very little fossil fuel energy and divert materials from landfills. Its goods are sourced from reclaimed lumber, with the company actively collaborating with local sawmills to help build the Canadian labor industry and support other small business owners.
~~~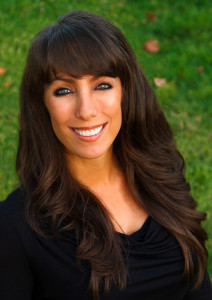 Merilee Kern, MBA is an internationally-regarded brand strategist and analyst who reports on cultural shifts and trends as well as noteworthy industry change makers, movers, shakers and innovators across all categories, both B2C and B2B. This includes field experts and thought leaders, brands, products, services, destinations and events. Merilee is Founder, Executive Editor and Producer of "The Luxe List" as well as Host of the "Savvy Living" lifestyle TV show that airs in New York, Los Angeles, San Francisco, Miami, Atlanta and other major markets on CBS, FOX and other top networks; as well as the "Savvy Ventures" business TV show that airs nationally on FOX Business TV and Bloomberg TV. As a prolific lifestyle, travel, dining and leisure industry voice of authority and tastemaker, Merilee keeps her finger on the pulse of the marketplace in search of new and innovative must-haves and exemplary experiences at all price points, from the affordable to the extreme. Her work reaches multi-millions worldwide via broadcast TV (her own shows and copious others on which she appears) as well as a myriad of print and online publications. Connect with her at www.TheLuxeList.com and www.SavvyLiving.tv / Instagram www.Instagram.com/MerileeKern / Twitter www.Twitter.com/MerileeKern / Facebook www.Facebook.com/MerileeKernOfficial / LinkedIN www.LinkedIn.com/in/MerileeKern.
Some or all of the accommodations(s), experience(s), item(s) and/or service(s) detailed above may have been provided at no cost or sponsored to accommodate if this is review editorial, but all opinions expressed are entirely those of Merilee Kern and have not been influenced in any way.
Source:
https://nrf.com/media-center/press-releases/consumers-plan-increase-valentines-day-spending-nearly-26-billion