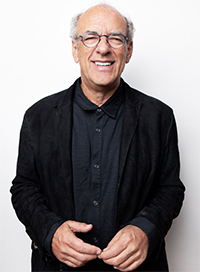 By Morgan Westling
Shep Gordon, often referred to as "the Supermensch," is known in the culinary world as a legend. In his mission to give chefs the appreciation they deserved, Shep Gordon became a celebrity himself with two notable works produced about his life—a documentary directed by Mike Myers titled, "The Supermensch: The Legend of Shep Gordon," and a book published by Anthony Bourdain titled, "They Call Me Supermensch." Shep Gordon never intended to rise to fame (doing the majority of his early work pro bono), but fame was unavoidable because his clients were immensely talented and Shep Gordon was prepared to change their lives forever. A chef was once considered hired help in the kitchen, but now, thanks to Gordon, the world sees them for the artists they are. F&B sat down with Gordon to talk about his journey and the impact he's made on aspiring chefs of all ages.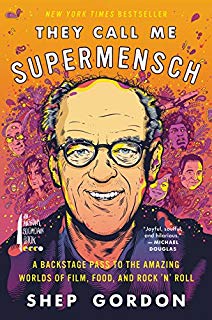 Shop Gordon was raised in Long Island, New York. He went to college in Buffalo and majored in Sociology. In the first stage of his professional life, Shep Gordon was solely focused on the entertainment industry. He flew to Los Angeles after college and was introduced to the Alice Cooper band in 1968. Shortly after their meeting, he became the band manager. Gordon says, "I don't know if you'd call it a job or not, but it was the first thing I did." For about five years, Gordon developed a reputation in the entertainment world managing a variety of artists, such as Teddy Pendergrass, Groucho Marx, and Raquel Welch. The first movie he produced, The Duellists, won the Cannes Film Festival in 1977. Gordon says this experience led him into his culinary ventures:
"I got taken to a restaurant in the South of France after winning the Cannes Film Festival. While I was there, I met a chef named Roger Vergé who was one of the founders of Nouvelle Cuisine, and he mentored me as a human, not as a chef. At one point, we realized that the skills I had developed as a manager of artists could help culinary artists get to notoriety. So, that's how Alive Culinary Resources started. I perceived a need that they had because chefs weren't really earning a living, so I did my culinary ventures pro bono. It wasn't really a business venture, it was more of a payback to Mr. Vergé and the other chefs who had fed me well."
Alive Culinary Resources was Gordon's talent agency through which he represented some of the most famous chefs to date. His client list included names such as Emeril Lagasse, Roy Yamaguchi, Wolfgang Puck, Alan Wong, and more. As Emeril put it, and as many now grace him with the title, "He single-handedly created Celebrity Chefs." When asking Gordon how he feels about holding such an esteemed title, he says, "I'm very proud of it. The phrase 'Celebrity Chef' was a vehicle to get the culinary artists the attention they deserved, so it encapsulated itself in what the public was enticed by, which was Celebrity Chefs. But it was really just hard working, great chefs who became celebrities in the same way Picasso became a celebrity or Andy Warhol became a celebrity through their art. I see chefs as artists and I wanted them to get looked at in a different light, not just hired help in the kitchen."
Gordon played the leading role in the creation of Celebrity Chefs, and because of this, he also played a major role in the development of The Food Network. The Food Network has become one of the main platforms for chefs to receive fame and fortune, however, it has changed a lot over time. When talking about The Food Network, Gordon says, "I think it's all great. Anything that can highlight the artist is great. Like everything else, it has changed. When The Food Network started, I was very involved in it, and it was focused more on the culinary arts. As reality television became more and more popular and the concept of winners and losers started to permeate television, that bled over to the food channel, so there's more of that then there is focusing on the craft, but I still appreciate that it gets ratings. It still gives a platform for a lot of artists."
While The Food Network continues to develop, Gordon has left Celebrity Chefs in good hands. They will forever have an entertainment platform where people at home are interested in their craft. Aside from television, chefs are now more well-known than ever in the restaurant world. People will wait for months to eat at an exclusive restaurant that can boast about their prized (or famous) chef. Gordon has helped the world see food and cooking as an art form.
While managing these chefs for many years, Gordon also partnered in business with some of them. He created Emeril Spices with Emeril Lagasse, opened Humble Market Kitchen in Hawaii with Roy Yamaguchi, launched a small chain of Mexican restaurants called Maui Tacos with Mark Ellman, and opened Carlos' n Charlie's in Los Angeles (just to name a few).
Life has slowed down for Gordon in the past decade or so. He lives in Maui, walking the beach every day, and cooking for himself. While he still works from home and manages Alice Cooper, he's enjoying a more relaxed pace. He's involved in a lot of philanthropy and says, "I support the Maui Food Bank. We've supplied over 2 million meals now through a benefit we do every New Year's. It's very rewarding."
Over the course of his career, Gordon has made a name for himself in both the entertainment and culinary world. He is known as a legend—the Supermensch. When asked what advice he would give to other entrepreneurs in the food and entertainment industry he says, "Have a good time, drink some good wine, eat some good food, and feed the people who are hungry." We couldn't agree more. Thank you, Shep, for speaking with us!