A PARTNERSHIP THAT'S BEEN BREWING FOR 19 YEARS RESULTS IN A COLLABORATION OF A SPECIAL MILESTONE IPA AVAILABLE ONLY AT YARD HOUSE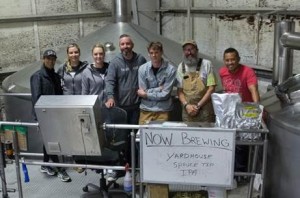 Rogue Spruce Tip IPA Gets Tapped December 7at Yard House Restaurants Coast-to-Coast
Since the very first Yard House opened its doors on December 7, 1996, along the waterfront in Long Beach, California, at least one tap handle (usually more) has been dedicated to Rogue Brewery. The longstanding relationship between Rogue and Yard House has resulted in a special, limited-release beer: Rogue Spruce Tip IPA, which gets tapped on December 7th at all Yard House locations.
It seemed inevitable that after 19 years the restaurant that catapulted craft beer to the forefront and the brewer that changed the brewing status quo would collaborate on a signature beer that can only be savored at Yard House. The restaurant's beverage team, led by Executive Chef Carlito Jocson and Beverage Manager Gregory Howard, made the pilgrimage to the brewery in Newport, Oregon, in early September to meet with Brewmaster John Maier and his team at Rogue to join forces in creating a commemorative brew.
"We're very excited about this partnership with Rogue," said Gregory Howard, beverage manager for Yard House. "From the very beginning, Rogue has been a part of our family and our menu at every Yard House location. They're true pioneers in the American craft brewing industry and have continued to evolve—challenging both the industry and themselves—to produce new and innovative styles."
With hints of citrus, spruce and fruit on the nose, Spruce Tip IPA comes through with solid caramel malt flavor mid-palate followed by a pleasant sharp, clean finish. When it came to brewing the Spruce Tip IPA no one had to forage for the right ingredients. That's because one of Rogue's farms is situated in Oregon's Willamette Valley on a sprawling parcel of land boasting its own crop of hops and barley, which are harvested along with several other vegetables and fruits that often find their way into the signature beers.
"Being part of the brewing process was such a great experience," added Carlito Jocson, executive chef for Yard House. "Our team was in the trenches working side-by-side with John Maier, who is considered one of the original American craft brewmasters. Both teams collaborated on the recipe taking John's lead. The result is a very innovative IPA that we're extremely proud of."
While spruce tips have been used to brew beer for centuries, very few breweries today offer such a varietal. During the brewing process, the Rogue and Yard House teams let the fresh spruce tips, grown in Sitka, steep in the brew temporarily imparting their flavors into the Spruce Tip IPA.
"It was a team effort and pleasure to brew with Yard House," said Rogue Brewmaster John Maier, "Using a revolutionary ingredient like spruce tips not only results in a unique ale worthy of a celebration, but the needles are also symbolic of our partnership with Yard House: evergreen. I can't wait for their guests to enjoy it."
The Spruce Tip IPA pairs nicely with just about anything on the Yard House menu, but is especially complementary to some of the offerings available on the restaurant's holiday menu, such as the Lobster Mac N Cheese and Apple Cider Brined Pork Chop.
The Spruce Tip IPA, which will be tapped at every Yard House location on Monday, December 7th, 19 years to the day since Yard House welcomed its first guest, is part of the restaurant's Chalkboard Series–seasonal beers and small-batch selections–that rotates frequently. Each location will receive a limited quantity of the Spruce Tip IPA that is expected to last through mid-January with select locations offering the beer by the bottle for those who want purchase it to enjoy it at home.