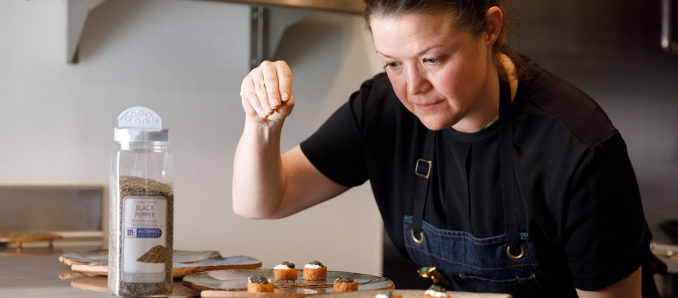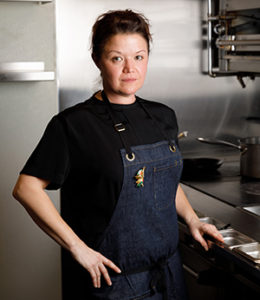 With her dishes winning accolades like ChefsFeed's "Best Things to Eat in San Francisco," Chef Kim Alter is a force to be reckoned with and double the success with her two establishments, Nightbird and Linden Room.
Originally from Laguna Beach, and a graduate of the California Culinary Academy, Chef Alter's commitment to flavour pairings, techniques and concept developments have earned her accolades including chef award nominations by James Beard and Food & Wine Magazine.
McCormick for Chefs recently caught up with Chef Alter in her kitchen to get the inside scoop on her inspiration for running two opposing establishments and how her flavorful creations can go hand-in-hand without concept overlap.
---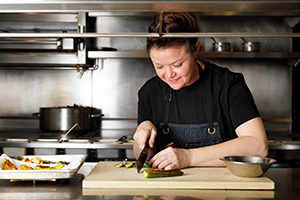 MCFC: At Nightbird Restaurant, you offer a 5-course tasting menu in a boutique-style setting while at Linden Room, your focus is on American craft cocktails. What was your inspiration behind not only the two locations but also the desire to run two very different types of establishments?
CHEF KIM: Inspiration was based on where I like to eat and drink. I really wanted a focused concept in Linden Room that was very stylized with Nightbird being a little more organic and something I could evolve into.
MCFC: Both of your restaurants spotlight a commitment to whole animal cookery and support of local farms. Share with us how your ingredients and flavors are incorporated into both Nightbird's and Linden Room's menus.
CHEF KIM: We try to utilize everything and having Linden Room makes that easier. For example, we have sous vide rhubarb on the menu in Nightbird, where we use the actual rhubarb, and then in Linden Room, we use the liquid it was cooked in for our cocktails. It acts as a substitute for sugar, adding sweetness, extra flavor and viscosity.
MCFC: Describe the role spices and seasonings play in the creation of your menus. How do your choices change from one restaurant to the other?
CHEF KIM: Spices are a big part of every dish. Since we have a themed menu, this makes it easier to hone in on a certain region or flavor profile. For example, we did a sanctuary menu, since San Francisco is a sanctuary city, and the spice profile was based on Syrian flavors. This involved using dry spices and cooking techniques representative of Syria. One was za'atar from which we made a "kibbe" dish but put our own spin on it.
With our last menu, we were making truffles that were paired with a cocktail and a walnut tuile that we served with a walnut drink.
---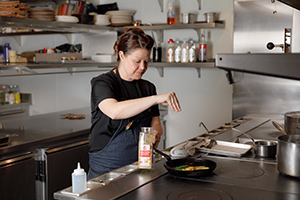 MCFC: As seasons change, which new flavors and ingredients can we expect to see making their way to the center-of-the-plate, or the center of the cocktail glass?
CHEF KIM: Now that it's officially spring, I am putting strawberries on my savory menu, rhubarb in our pastries and ending citrus usage in Linden Room. The strawberries are going to be charred with roasted fennel for inclusion in a quail dish. The quail itself is sautéed and placed on top of a green strawberry sofrito with warm quinoa salad that has been flavored with strawberry vinegar, roast fennel, raw strawberries, tarragon and foie gras fat.
MCFC: What advice would you give an up-and-coming chef who dreams of running two contrasting restaurant types?
CHEF KIM: Put your head down, work hard, listen to your clientele and stand behind your food and staff.
---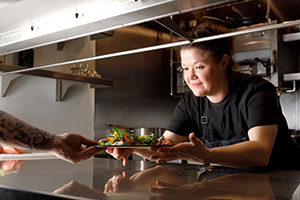 For more flavorful inspiration and recipes created by
Chef Kim Alter, visit:

Photos By: Nader Khouri