Walk-On's brings fresh Louisiana cuisine, fun game-day atmosphere to town, hosted by America's Cheerleaders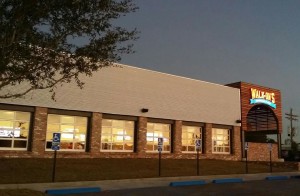 The 11,000-square-foot restaurant located at 5313 Common Street, near McNeese State, boasts more than 75 high-definition flat-screen TVs, over 50 beers on tap, custom pour-your-owntable taps, a banquet facility and a festive beer garden in the large outdoor patio. The restaurant will seat more than 300 guests and has brought roughly 220 new jobs to the city.
C.O. Vallet is a 35-year veteran of the service industry with deep roots in the local community. He had been searching for the perfect restaurant to introduce to the area for several years.
"Walk-On's is exactly what I was looking for and I think it's exactly what Lake Charles needs," said C.O. Vallet, the first franchisee to sign on with the growing chain. "I like to think of it as a sports bar with class: Truly magnificent Cajun-inspired food, a huge selection of draft beer and creative cocktails, friendly, attentive service and a fun atmosphere. There's nothing like it here, and I know the locals will love it."
Walk-On's menu features quality food made with the finest ingredients including Louisiana seafood and hand-pressed burgers, served in a fun "game day" atmosphere by America's Cheerleaders.
"I've been in the restaurant business for more than 20 years, and I've never seen a sports bar with a menu as distinctive as Walk-On's," said General Manager Greg Jackson. "Having grown up in Lake Charles and living most of my life here, I have no doubt this town is going to embrace Walk-On's with open arms."
Prior to the official grand opening, Vallet will be hosting an invitation-only VIP night on Friday, Nov. 20, where all cash bar sales will be donated to St. Jude's Hospital. Also on Friday, from 11 a.m. to 1 p.m., Walk-On's is inviting local first responders to enjoy a complimentary "Lunch-to-Geaux," to show its appreciation to the men and women in uniform.
In May, New Orleans Saints superstar Drew Brees and his wife, Brittany, bought into Walk-On's Enterprises as co-owners. Drew pointed out that Walk-On's is "a great place to bring my family, teammates and business colleagues" and that they were excited to help "expand the brand across the nation."
The newest grand opening marks the seventh Walk-On's location – two in Baton Rouge and one each in New Orleans, Lafayette, Houma, Shreveport and Lake Charles. Other locations areunder construction in Juban Crossing, Zachary, Covington and Lubbock, Texas. Several additional markets across the Southern United States are likewise on the drawing board.
"We took our time to make sure we were completely ready to franchise our brand, but once we announced our intentions, C.O. was right there at the head of the line," said Brandon Landry, co-founder and owner of Walk-On's Enterprises. "He's done an outstanding job building out his restaurant and hiring a terrific staff. Lake Charles is about to find out just how special a sports bar can be."
To inquire about franchising opportunities, qualified applicants may contact Walk-On's Enterprises President & COO Scott Taylor at franchise@walk-ons.com.
For a complete menu andmore information, visit WalkOnsEnterprises.com.
The Lake Charles Walk-On's will be open daily from 11 a.m. to 12 Midnight.
ABOUT WALK-ON'S ENTERPRISES
Walk-On's Enterprises is arguably the most distinctive restaurant company in America. Its concepts are fresh, fun and original, from Walk-On's Bistreaux & BarSM – voted ESPN's "#1 Sports Bar in North America" in 2012 – to Happy's Irish Pub and Walk-On's Catering. Additional growth lies ahead, as the company expands on its winning combination of delicious, affordable food and drinks presented in an uncommonly warm and friendly atmosphere. For more information, visit walkonsenterprises.com, or contact Ladd Biro at Champion Management at lbiro@championmgt.com or 972.930.9933.