April showers bring Apricot Liqueur cocktails
April and apricots go hand-in-hand…especially if those apricots come in liqueur form from Austria.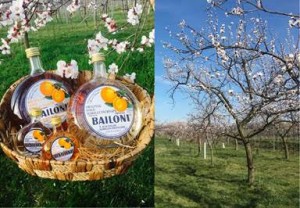 Bailoni Apricot Liqueurs are produced by a private distillery in Wachau, a picturesque valley in Lower Austria. The family-owned company has a rich tradition in distilling. In the 1930s, Wachauer Distilling focused on the production of premium apricot specialties, and has since become the preeminent producer of apricot liqueur in Austria. Since 1977, Wachauer Distilling has received the state coat of arms to acknowledge their quality products.
The apricot blossoming every April is a feast for the eyes for every visitor to the Wachau. The fruits are fully ripened by the end of July, when they are harvested. Hand-selected apricots are destoned, pressed and processed into apricot juice, providing the base product for Bailoni Apricot Liqueur.
In the United States, you can find Bailoni Apricot Liqueurs at specialty spirit and wine shops in most key U.S. markets. Gourmet specialties available for purchase online at http://hpsepicurean.com/shop/. Find more information about HPS Epicurean and Bailoni Apricot Liqueurs at www.hpsepicurean.com.
Apricot Blossom
4 mint leaves
1/4 oz simple syrup
1 ½ oz brewed orange spice tea, chilled to room temperature
1 oz medium-bodied rum
1/2 oz Bailoni Apricot Liqueur
1/2 oz lemon juice
Muddle 4 mint leaves and simple syrup in a cocktail shaker. Fill shaker with ice, add the remaining ingredients. Shake vigorously and pour into coupe or martini glass. Garnish with mint sprig.