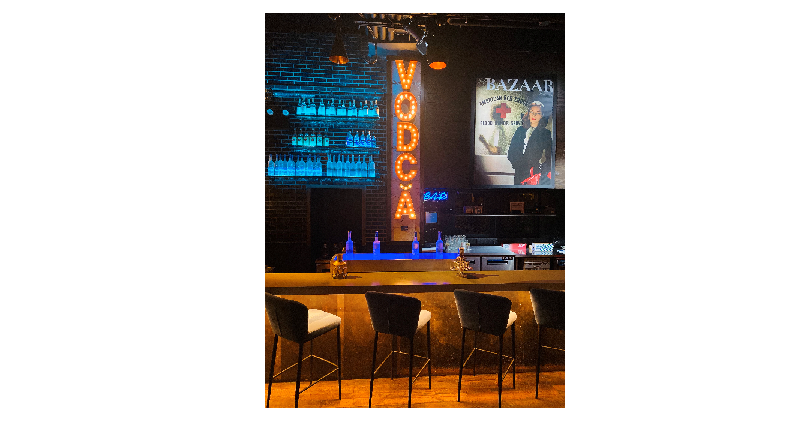 Bacall's Family Steakhouse, an all-new restaurant and vodka bar bringing homestyle cooking to the heart of Times Square, has announced that it will officially open its doors on September 17, 2021. Located at 220 West 44th Street (between 7th and 8th Avenue), Bacall's Family Steakhouse captures the spirit of New York City and Hollywood in the 1940s with its pairing of large portions of Jewish-Romanian inspired cuisine with classic Hollywood glamour. The restaurant officially opens its doors on the birthday of Dani Luv, famed troubadour of the Lower East Side for over 20 years, who will now be performing nightly at Bacall's.
"We are bringing a new and complete dining experience to the entertainment capital of the world proving that you can have great food and fun at the same time," commented Ken Sturm, owner of Bacall's Family Steakhouse. "Whether you are coming to Bacall's to share an affordable and delicious pre or post Broadway meal with your family, or if you're looking for a lively night out with friends where you can enjoy delicious comfort foods and cocktails along with laughs and sing-alongs courtesy of Dani Luv, we will have something for everyone."
Adds Dani Luv, "After not singing 'Hava Nagila' for a year and half I'm thrilled to be back playing in the same room as all you crazy New Yorkers. Let the good times roll! Also…don't forget your dancing shoes!"
Cuisine
The menu at Bacall's Family Steakhouse is inspired by the restaurant's muse, starlet Lauren Bacall, and her Jewish-Romanian upbringing in New York City. Featured menu items will include:
Appetizers and Salads & Soups
Fried Kreplach, Brisket and Onion Dumplings
Fried Kreplach, Brisket and Onion Dumplings
Chopped Chicken Liver, Challah Bread
Chiftele, Beef, Pork, Potato, and Dill Meatballs
Latkes, Apple Sauce
Applause Caesar, Challah Croutons, with or without Gefilte Fish
Matzoh Ball, Carrots, Celery, Dill
Family Platters
House Smoked Brisket, Potato Latkes
Chopped Steak, Waygu Beef, Fried Mushroom Crepes, Gravy
Seared Salmon, Dill and Basil Butter, Pan Fried Barley
Lower East Side Veal Chop, Breaded, Pan Fried
Duck Confit, Orange Spiced Glaze, Stir Fried Barley
Stuffed Trout, Beurre Blanc, Braised Fennel
There will also be pre-theatre offerings and burgers and sandwiches such as:
Chicken Fried Steak Schnitzel, Country Dumplings, White Gravy
Rotisserie Chicken, Kugel
Bucharest Pasta, Lamb Bolognese, Rigatoni, White Sauce
Stuffed Red Peppers, Beef, Rice, Parsley
How to Marry a Millionaire Burger, Ground Waygu Sirloin, Brioche Roll, Lettuce Tomato, Cheese
Latke Steak Stack, Shaved Steak, Caramelized Onions, Swiss, Greens
Additional menu highlights are "The Show Stopper" (Betty's Roumanian Steak Platter, Stuffed Cabbage, Roasted Vegetables) and "Dani Luv's After 8 Special Cuts" – Dry Aged Tomahawk for 4, Compound Butter; Wagyu Strip, Bone Marrow Butter; and Angus Flat Iron, Chimichurri.
Dry Aged Tomahawk for 4, Compound Butter
Bacall's Family Steakhouse will have homemade specialty desserts as well:
The Big Sleep "Papanasi," Betty's Classic Favorite – Roumanian Donut
16 Layer Cream Cake, Milk Chocolate or Raspberry Drizzle
Rugelach, Assorted
Chocolate Babka, NYC Favorite
Hollywood Bowl, Waffle Bowl Sundae
For The Table, Hungarian Pull-Apart Cake with Vanilla Ice Cream
The Big Sleep "Papanasi," Betty's Classic Favorite – Roumanian Donuts
Bacall's will also offer a Kids Menu with a selection of classic favorites like a hamburger and fries, spaghetti with red sauce, grilled cheese with fries, chicken fingers with mashed potatoes, and macaroni and cheese with carrots.
Vodcã Blast
The hallmark of the bar program at Bacall's Family Steakhouse will be vodka service from its premier Vodcã Bar. The Vodcã Blast offering will include bottles of top shelf vodka served tableside encased in an ice block with a choice of mixers or shot glasses, and upon request, alongside cucumber cups or a private table side ice luge.
Décor and Private Events
With chandeliers and candid shots of legends Lauren Bacall and Humphrey Bogart as the backdrop to the quintessential New York City dining experience offered at Bacall's Family Steakhouse, patrons are enveloped by Hollywood glamour and hospitality as soon as they step foot into the elegantly decorated restaurant and bar. Bacall's Family Steakhouse will also be available to host private standing and seated events throughout the restaurant's spaces including its Vodcã Bar, Marquee Bar, The Champagne Room, The Camel Room, and The Boxer Room.
Bacall's Family Steakhouse is located at 220 West 44th Street (between 7th and 8th Avenue), New York, NY 10036. The restaurant will be open from Thursdays to Sunday offering dinner service from 4:00pm to 11:00pm, and brunch service Saturdays and Sundays from 11:30am to 3:00pm. For reservations call 212-944-2474 or email contact@bacallsnyc.com.
For more information on Bacall's Family Steakhouse, please visit www.bacallsnyc.com or follow Bacall's Family Steakhouse on Instagram @bacallsnyc.com.