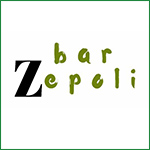 Located on the corner of Broad and Summer Streets in downtown Stamford, CT, Bar Zepoli opened in September of 2017, offering a multi-sensory experience from its stunning décor and eclectic Italian-American menu, to the location's private event spaces and stately wine room. This month, Owner Abey Joseph, General Manager Darren Hill, and Chef Kevin O'Neill introduced their new menu to patrons, a more casual approach to everyone's beloved Italian cuisine.
"We listened to our customers and kept all of their favorites dishes on the menu, "says Darren of creating the new menu, "The idea was to create a menu with dishes that people could enjoy on a regular basis and that made them feel at home."
Favorites include; house-made arancini with parmesan and mozzarella cheese served with Bolognese; eggplant rollatini stuffed with ricotta and topped with gran padano and marinara; baby beet and arugula salad tossed with toasted pine nuts, goat cheese, oranges, and balsamic dressing; and tender charred octopus served with fingerling potatoes and marinated grape tomatoes. New small plates include; Zepoli chicken wings with roasted garlic and parmesan; French onion soup with caramelized onions, herb crostini, and melted gruyere; and a Waldorf salad of mixed greens, sweet grapes, celery, toasted walnuts, blue cheese, crisp apples, dressed with whole grain mustard aioli.

Bar Zepoli's thin-crust Margherita pizza with San Marzano tomatoes, basil, and fresh mozzarella can still be enjoyed or try the new roasted butternut squash pie with sage, red onion, kale, and mozzarella. New and reinvented pasta dishes feature a classic Cacio e Pepe spaghetti with toasted peppercorns and parmesan cheese, Zepoli ravioli with whipped ricotta filling, wild mushroom cream, topped with arugula and crispy pancetta, and an over-the-top D'anatra gemelli pasta with a rich, long-braised duck ragu. Market fresh fish and filet mignon with a red wine demi-glaze share the stage with juicy burgers, chicken parm, and hearty panini sandwiches (lunch item).
Visit Bar Zepoli for breakfast and grab a quick croissant or muffin and coffee to go for just $5. Or start your day in a relaxed setting and enjoy a Zepoli B.E.C. with scrambled eggs, cheddar cheese, and smoked bacon on a brioche bun. There's also Texas French toast topped with mixed berry compote, maple syrup, and whipped cream, and healthy muesli soaked in almond milk and served with crisp granola, fresh fruit, and chopped nuts. Bar Zepoli takes breakfast to the next level with their delicious Sunday Brunch. Menu highlights include a jumbo lump crab cake eggs Bene, and decadent lemon ricotta pancakes with fresh whipped cream and caramelized apples.
The beautiful bar setting is warm and inviting. An accessible and global wine list has been thoughtfully curated. Creative cocktails, premium spirits, and craft beer round out the beverage program. Local musicians are featured on the weekends (check Facebook for schedule).
Private dining room options are available.
Open 7 days/nights, including early morning breakfast
75 Broad Street, Stamford, CT
Courtyard by Marriott
203.353.3319
www.barzepoli.com