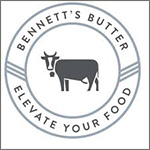 Bennett's gourmet flavored butters come in 6 delicious flavors that can be used for cooking, baking, snacking, or even eaten by the spoonful.
While Trader Joe's pioneered the Everything Bagel Seed craze, Bennett's spreadable Everything Bagel Butter is taking the trend to the next level and is it's best-seller.
Bennett's Butter can be used on everything from a marinade, finishing butter, a yummy new way to roast your potatoes, popcorn seasoning, in baking your favorite holiday dishes, or simply spread it on your favorite toast. It's also tempting to simply eat by the spoonful. It recently shelves of 300+ supermarkets for $5.99 per 6 oz cup and is also available online in 6-packs for $35.00.
Bennett's Butter Co.'s will instantly take home cooks' meals up a notch this holiday season and beyond, taking the guesswork out of seasoning. It is currently available in the following flavors:
Cinnamon + Brown Sugar Butter
Everything Bagel Butter
Roasted Garlic Butter
Blueberry Butter
Mushroom Butter
Sriracha Jalapeno Butter
As background, Chef Austin Orwasher started making compound butters from scratch to cook with because he realized it was a simple way to create more flavorful food. In his experience cooking with friends and family, he found that they were always nervous and intimidated about working with spices and seasoning. They never knew how much to use, what flavors worked well together, and they were so focused on following a recipe to a T. Cooking should be about taste and flavor. It should be fun. Austin wanted to create something that would take the guesswork out of seasoning and give home cooks confidence in the kitchen.