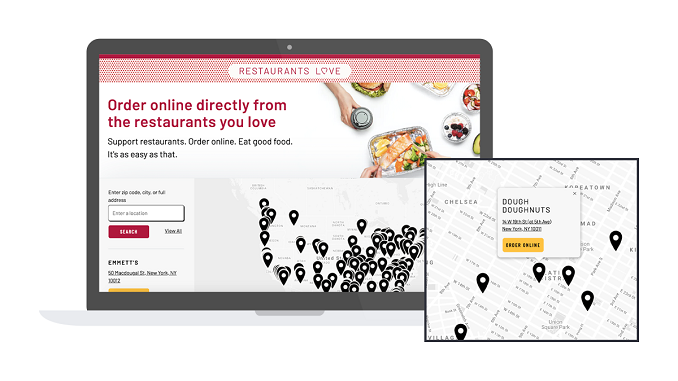 BentoBox, a hospitality platform that empowers restaurants to own their presence, profits and relationships, today announced the launch of Restaurants.Love, a website that helps diners support their favorite local restaurants with guilt-free online ordering.
At a time when restaurants are almost entirely reliant on online ordering to bring in revenue, it is vital that they keep every penny from pickup and delivery orders. Third-party services like Grubhub, Caviar, and UberEats often charge commissions as high as 35%, taking away nearly the entire profit of an online order and making it much more difficult for restaurants to survive.
Restaurants.Love provides an easy-to-use directory that enables diners to order directly from thousands of local favorites. By ordering directly, diners both save money on hidden third-party fees, which can make orders 91% more expensive, and ensure that restaurants keep the whole check.
"Restaurants are the pillars of our communities," said Krystle Mobayeni, Co-Founder and CEO of BentoBox. "As diners, we want to do all we can to support them with online orders, but third-party delivery services often take too much of a cut to make those orders profitable for restaurants. We're proud to launch Restaurants.Love today, so that diners can feel good about their pickup and delivery orders at a time when restaurants need their support."
Participating restaurants include neighborhood staples, such as Cheesetique in Alexandria, Va., Mucci's Italian in St. Paul, Minn., and Union Square Hospitality Group in New York City. Many Restaurants.Love locations also offer a simple checkbox that gives diners the ability to contribute $1.99 to a COVID Relief Fund for the restaurant at checkout.
Other Restaurants.Love locations are even leveraging their websites to drive donations for healthcare workers. Reunion, an Israeli cafe in New York City, for example, encourages customers to order a "Meal for our Healthcare angels," which Reunion then delivers to front-line healthcare workers in New York.