To A 'Battle Of The Beers' For The Big Game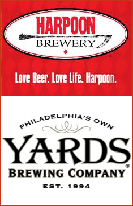 Ahead of the Big Game on Sunday, February 4, Harpoon Brewery is wagering against Philadelphia-based Yards Brewing Company that the New England Patriots will reign supreme over the Philadelphia Eagles. As the teams prepare for kick-off, the breweries are putting their best beers on the line, betting that the loser will pour the winning brewery's beer for one day following the big win. For further bragging rights, the losing brewery's staff will be required to wear the winning team's gear.
"While we'd like to try Yards Brewing Company's delicious ales someday, we're confident we'll be serving nothing but lots of Harpoon after the big game next weekend," said Dan Kenary, CEO & Co-founder of Harpoon Brewery. "When the Patriots take home the W, we'll be celebrating with a cool pint of Harpoon IPA and smiles on our faces, knowing that everyone at Yards Brewing Company is doing the same. Go Pats!"
As part of this friendly competition, both breweries will donate a portion of earnings to local charities in Boston and Philadelphia, in an effort to give back to their home cities. Locally in New England, Harpoon Brewery will donate $1 for every pint of Harpoon Fresh Tracks sold in the Beer Hall and $10 for every keg of Harpoon Fresh Tracks sold in Boston to The Gillian Reny Stepping Strong Center for Trauma Innovation at Brigham and Women's Hospital, an organization committed to transforming trauma care for civilians and military heroes that was founded in the aftermath of the 2013 Boston Marathon bombings. In Philadelphia, Yards Brewing Company will do the same for each pint and keg of Philly Pale Ale sold, donating to Prevention Point, an organization working on the front lines of the opioid crisis in Philadelphia.
The winning brewery will be announced on social media – surely shortly after Tom, Bill and the rest of the Patriots celebrate by accepting their sixth big trophy after the game. Please follow Harpoon Brewery and Yards Brewing Company for updates and some friendly football trash talking.
About the Harpoon Brewery:
The Harpoon Brewery was founded in 1986 by beer lovers who wanted more and better beer options. When the Brewery was founded, Harpoon was issued Brewing Permit #001 by the Commonwealth of Massachusetts, since it was the first to brew commercially in Boston after a dormant period of about 25 years. Harpoon's line of craft beer features its award winning IPA and UFO beers, along with special seasonal selections. In 2000 Harpoon purchased a second brewery in Windsor, VT, making Harpoon the 19th largest craft brewer in the US. Harpoon has since introduced the limited batch 100 Barrel Series and the as well as the all-natural Harpoon Craft Cider made from freshly pressed apples.
More info on the Stepping Strong Center can be found here: http://give.brighamandwomens.org/stories/stepping-strong-homepage/