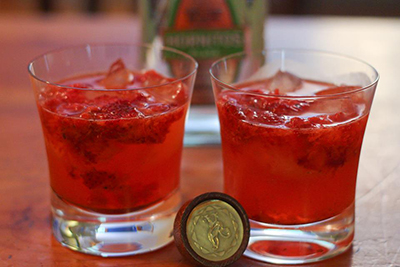 Nobody wants to take the blame for messing up the booze at a summer BBQ, especially on 4th of July! Your readers will impress their family and friends by mixing up a pitcher of the Strawberry Fireworks or saluting their buddies with Hornitos Lime Shot. No matter what their preferred option is, Hornitos Tequila is sure to spark the fireworks at your BBQ and show you why Hornitos is Not Just Any Tequila.
Strawberry Fireworks
Ingredients:
3 parts Hornitos Plata Tequila
Handful of fresh strawberries
Juice from 1 lime
2 teaspoons superfine sugar
Fresh pepper
1 cup club soda
Preparation:
Put strawberries in a small pitcher and mash to your desired consistency.
Add juice, club soda, Hornitos Plata and combine along with 4 good grinds from the pepper mill.
Fill 2 glasses halfway with ice and divide drink among glasses.
Hornitos Lime Shot takes the process out of the whole tequila experience. No need for blenders or the traditional tequila ritual, this shot already combines the salt + tequila + lime! Serve the shot chilled in a glass for the ultimate Lime Shot experience.
About Hornitos Tequila
The Hornitos family of tequilas keeps Don Francisco Javier Sauza's legacy alive, using the same high standards to cultivate the best and most flavorful agaves, molding them into premium tequilas that everyone can enjoy. He brought the celebrated spirit to new heights with the agave-robust Reposado, broke the rules to create a crystalline Plata, went above and beyond tequila standards to make an ultra smooth and aromatic Añejo, revolutionized the shot occasion with Lime Shot, and now his legacy lives on with our latest innovation Hornitos Black Barrel — reinforcing that Hornitos is Not Just Any Tequila. For more information please visit www.hornitostequila.com